Dent Family Crest, Coat of Arms and Name History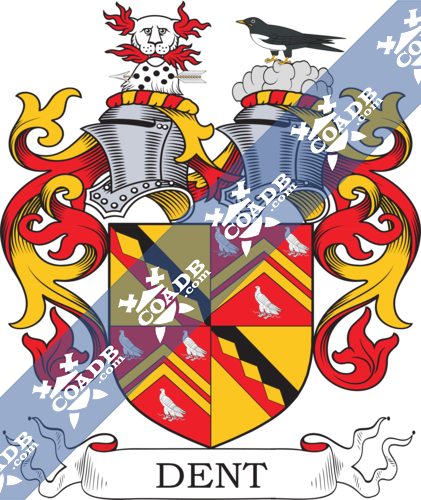 Dent Coat of Arms Gallery
Don't know which Coat of Arms is yours?
We can do a genealogical research. Find out the exact history of your family!
Learn More
DENT
Dent is thought to have originated from one of two sources. The first and most likely origin, is geographical, taking its name from locations in Yorkshire and Cumberland called Dent. The name of these locations derived from the medieval words "Denet" or "Dinet" which are Anglicized versions of the ancient Irish "dinn" or "dind" meaning "hill". The second source of origin is thought to possibly be from the medieval French word "dent" which translates to teeth, so it is thought to have been a nickname relating to someone who had an appealing smile.
When looking into the history of surnames, it is apparent that they may derive from a variety of sources. In the case of Dent, they may be formed from things such as defining physical traits, a familiar geographical location or a topographical landmark found near the individuals home or birthplace or the name of the village in which the person lived. People also made use of patriarchal or matriarchal names, reference to an individual's occupation was also a common source of surnames.
The use of surnames did not become a common practice among the general population in most of Europe until the 16th century, until that time surnames were used mostly among the nobility. As the towns and cities of Europe began to grow in size, replacing the smaller villages of earlier times, surnames proved to serve at least two practical purposes. First, it allowed the distinguishing of people, one from another. Secondly, they allowed governments an easier way to track people for census, tax, and immigration records. Because literacy was an attribute found primarily among the noble class, the clergy, and government officials.
However, one apparent issue with the record keeping of the time was the lack of continuity in the spelling of many names, a fact which could be attributed to a lack of spelling guidelines used by the scribes and record keepers. This is apparent in the variations found of the name in the afore mentioned records. Variations in the spelling of the name found in older records include but are not limited to; Dent; Dentte; and Dentt.
One of the earliest record of any variation of this surname is that of Waltheed de Dent which appears in records from the Durham Priory dated 1131 from 1563 during King Henry I's reign. Aside from church records maintained by churches, governments also kept immigration records and taxation records as well, some of which date back to the 12th century.
With the discovery of America and the addition of other countries to the British Commonwealth such as Canada, Australia and New Zealand, the use of surnames helped with the tracking of immigrants as well. One of the first recorded immigrants to America bearing the surname was Francis Dent who arrived and settled in Salem Massachusetts in 1630. Thomas Dent was one of the early settlers in Canada, arriving in Nova Scotia in 1749. Harry, Jane, and Sarah Dent are some of the earlier settlers to Australia, arriving and settling in Adelaide in 1839 and James Dent was an early settler to New Zealand, arriving and settling in Wellington in 1856.
Worldwide, the highest concentration of people with the surname Dent are found in Australia, the United Kingdom, New Zealand, the United States, and Ireland. State by state, the largest percentile of those with the surname Dent is in Georgia and West Virginia.
There are many notable people with the surname Dent. Sir Alfred Dent, born in London, was an entrepreneur and British colonial merchant.
He was educated at Eton College after which he became a partner in the family business, Dent & Co., eventually becoming head of the firm. Dent's other business ventures included chairmanship of the Shanghai Electric Construction Company, and directorships of the London County and Westminster Bank, the Chartered bank of India, Austria, and China, and the Royal Exchange Assurance Corporation. In 1898, Dent was made a Knight Commander in the Order of St. Michael and St. George.
Julia Boggs Dent was the wife of Ulysses S. Grant, the 18th President of the United States. Julia was from an area near St. Louis, Missouri. She and Grant were married for thirty-seven years and had four children.
Blazons & Genealogy Notes
1) (Shortflatt Tower, Belsay, Newcastle-on-Tyne). Quarterly, 1st and 4th, or, on a bend per bend gu. and sa. three fusils conjoined of the field, for Dent; 2nd and 3rd, gu. two chevronels or, betw. three hawks belled ar., for Hedley. Crests—1st, for Dent: A panther's head affrontee erased, with flames issuing from the mouth and ears, transpierced by an arrow barbed and flighted, the pheon towards the dexter, all ppr.; 2nd, for Hedley: A swallow rising out of clouds ppr.
2) (Sudeley Castle, co. Gloucester). Motto—Concordia et industria. Erm. on a bend nebuly az. three lozenges of the field. Crest—An heraldic tiger's head erased erm. semic of lozenges az. flames issuing from the mouth ppr.
3) (co. Leicester). Gu. a chev. and a bordure engr. ar.
4) (London). Sa. a fesse dancettee ar. in chief three escallops or. Crest—A demi wolf saliant sa. charged on the neck with a collar dancettee ar.
5) (London). Ar. on a bend sa. three fusils erm.
6) (Dent, near Newcastle-on-Tyne). Ar. on a bend az. three lozenges erm. Crest—A tiger's head erased erm. maned sa. vomiting flames of fire ppr.
7) (Wandsworth Common, co. Surrey). Ar. on a bend sa. three lozenges erm. Crest—A tiger's head couped ar.
8) (Ribston Hall, co. York, and Winterton, co. Lincoln). Motto—Patientia et perseverantia. Ar. on a bend betw. two cotises engr. sa. three lozenges erm. quartering az. three cranes ar. on a chief or, two roses gu. Crests—1st: A demi tiger sa. collared ar. resting the sinister paw on a lozenge erm.; 2nd: On a mount a crane, in the beak a rose slipped, and resting the claw on a serpent nowed, all ppr.
9) Vert a buck's head or, within a bordure engr. of the second.
10) Gu. two bars and a canton ar.