Denton Family Crest, Coat of Arms and Name History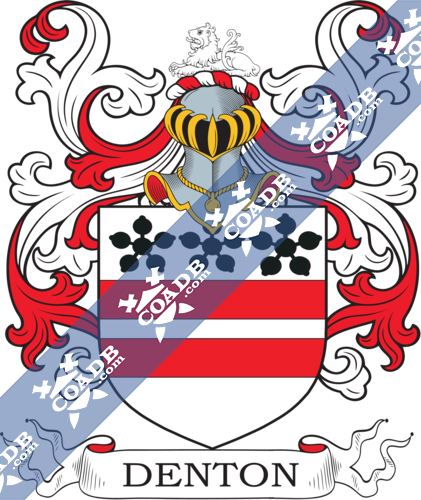 Denton Coat of Arms Gallery
Don't know which Coat of Arms is yours?
We can do a genealogical research. Find out the exact history of your family!
Learn More
Denton Origin:
England, Scotland
Origins of Name:
The Denton surname derives from English geographical locations, originating from many locations named Denton in pre 7th century England. The surname Denton is a combination of pre 7th century words. The Old English word "denu" which means valley combined with the Old English word "tun" meaning farm or settlement. Some of the many known geographical locations of Denton are Denton in the parish of Otley in the west Riding, Kent, Cumberland, Lancashire, Lincolnshire, Durham, Cambridgeshire, Cumbria, Norfolk, and many others.
Variations:
More common variations are: Dinton, Denetun, Danetone, Dentuna, Dentun, Dodintone, Dennton, Deniton, Dentone, Dentoni, Deanton, Dentona, Dentony, Dewnton, Deenton, Dentaon
History:
England:
The first known recorded spelling of the Denton surname was Aelfweard aet Dentune in 972 in Northumberland. This family line of Dentons could possibly be a branch of the Barons of Tatershall, descending from Eudo Dapifer, a Norman aristocrat who was steward to William the Conquerer.
William de Denton was recorded in 1271 in Lincolnshire in the Fine Court Rolls. Richard Denton was recorded in 1403 in Yorkshire in the Yorkshire Records.
Jacob Denton left London in 1635 for the New World. He was one of the first line of Denton to arrive in America. He left London on the ship "Thomas" set to sail for Virginia.
A large colony of Dentons reside in Denton Hall, Denton, Harrogate district of North Yorkshire.
The surname Denton is the 825th most common name in Great Britain. The highest concentrations are in E Riding of Yorkshire, Somerset, Oxfordshire, Norfolk, and Greater Manchester.
Ireland:
The Denton surname first appeared in Ireland in the Province of Ulster by Scottish and English immigrants mainly in the 17th century. In the Northern Counties of Ireland, many descendants of these immigrants can still be found today.
United States:
Reverend Richard Denton II was born in Hertordshire, England in 1603. He left for America in 1630, and almost 20 years later in 1659 he returned to England. He would become the first Presbyterian ministore in Colonial America. It is speculated that Richard Denton II might be the person who established the Presbyterian Church in America. It is believed that he is the forefather of all Dentons in the United States.
In 1630, Richard Denton would arrive in Boston, Massachusetts. 3 years later, in 1633 Jacob Denton would settle in Virginia. In 1635, Richard Denton settled in Connecticut. At the young age of 20, Jacob Denton arrived in Virginia in 1635. In 1658, Henrick Denton landed in Virginia as well.
In the 18th century, Trephana Denton arrived in Virginia in the year 1719. Later, during the 19th century Gideon Denton would arrive in 1805 in America. Where he settled it is not known. In 1812, in New York, Charles Denton at the age of 34 would settle down. In 1821, Mr Denton would arrive in Mobile, Al. The first Dentons would arrive in California in the middle of the 19th century. Christino Denton would settle in San Francisco in 1850. In 1850, another Denton would settle in San Francisco – J Denton.
Canada
Simon Denton would settle in Novia Scotia in 1749. In 1750, Eliza Denton would also arrive in Novia Scotia, along with her sibling Mary Denton and her father Simion Denton. Over 20 years later Joseph Denton would settle in Canada too, there was no relation between him and the previous Denton line however. Canada would be home for many Dentons throughout the 19th and 20th century.
Here is the population distribution of the last name Denton:
33,000 in the United States (mainly in Tennessee), 9,000 in England, 2,000 in Australia, 2,000 in South Africa, 1,000 in Canada
Notable People:
Daniel Denton (1626), American colonist and writer. He led an expedition into New Jersey and would buy what is now known as Elizabeth, New Jersey. He wrote the first description of the area in the English language.
George Chardin Denton (1851-1928), British colonial governor of Gambia. He was born in England and would go on to become the Secretary of Lagos, and then later the Governor of Gambia.
George Denton (1864 – 1926), American politician. He was the US Representative from Indiana. His son was Winfield Denton.
John B. Denton (180 – 1841), American lawyer, preacher, and soldier. He was the namesake for Denton County, Texas, and the city of Denton Texas. He would learn how to read and write from his wife. He was famous for his battles against Native Americans.
John Bailey Denton (1814-1893), English civil engineer and surveyor
Blazons & Genealogy Notes
1) (Denton Hall, co. Cumberland; settled at Denton, temp. William I., alter five descents; the heiress of Sir Richard Denton m. Adam Copley, whose grandson, Richard Copley, left an only dau. and heiress, wife of Adam de l'Hall, who assumed the name of Denton). (Hillesden, co. Bucks, bart., extinct 1714. Edward VI. granted that place to Thomas Denton, descended of a very ancient family; his descendant, Edmond Denton, was created a bart. 1699, and d.s.p. Hillesden passed to the heir male of the family; the eventual heiress, Elizabeth, dau. of Alexander Denton, m. George Chamberlain; their dau. m. Wenman Roberts, Esq., ancestor of the Earl of Leicester). (Warnell, co. Cumberland, descended from Denton, of Denton. Charles Denton, Esq., of Warnell. sold this estate to Sir James Lowther, 1773). (Thomas Denton, temp. Henry VIII., m. Joan, dau. and co-heir of Thomas De la Laund, by Katherine, dau. of Lionel, Lord Welles. Visit. Leicester 1619). Ar. two bars gu. in chief three cinquefoils sa. Crest—An eagle sa.
2) (Ambrosden, Fifield, and Hampton Poyle, co. Oxford. Edward Denton, of the latter. Visit. 1574. Nicholas Denton, 26 Edward III.). Same Arms. Crest—A lion couchant ar.
3) (Cardew, co. Cumberland, descended from Denton, of Denton. George Denton sold the estate to Sir John Lowther, 1688). Same Arms (martlets instead of cinquefoils). Crest—A martlet sa.
4) (cos. Buckingham, Lancaster, and Oxford). Same Arms. Crest—A lion couchant or.
5) Ar. a lion ramp. sa. (another, collared or).
6) Ar. a fesse gu. in chief three martlets of the second.
7) Gu. a chev. betw. three crescents ar.