Denver Family Crest, Coat of Arms and Name History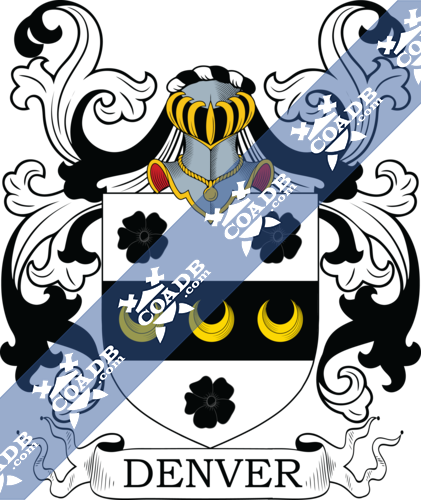 Denver Coat of Arms Gallery
Don't know which Coat of Arms is yours?
We can do a genealogical research. Find out the exact history of your family!
Learn More
Denver Origin:
England
Origins of Denver:
This very interesting surname is of Anglo-Saxon origin and is a geographical name from a place so called near Downham Market in Norfolk, which noted as "Danefella, Danefaela" in the Domesday Book of 1086, and as "Denever" in the Feet of Fines in 1200. The placename itself is a combination of the Olde English pre 7th Century "Dena Faer," which means "the entrance of Danes." Perhaps a place where Danes arrived or where they regularly passed in. During the Middle Ages, when the movement for the purpose of job-seeking was becoming more common, people often took their old hamlet name as a source of recognition, thus resulting in a wide variation of the name from its real origin. The surname itself first shows in the mid-13th Century. Other early examples of the surname contain as Walter de Denver in the year 1257 in Norfolk and William de Denver, Lord of Denver (1257).
Variations:
More common variations are: Denever, Deniver, Denaver, Denover, Denvera, Denvoer, Dennver, Denvere, Dnver, Denniver
England:
The surname Denver first appeared in Norfolk where "this name, derived from the town of Anvers, was born by Roland D'Anvers, who came thence to the invasion of England. He was an offspring of the families of D'Anvers or Culworth, advanced to the degree of baronets in 1642, of D'Anvers of Dantsey, promoted under the title of Danby, and D'Anvers of Horley." Early poll records showed Ralph de Anuers, Danuers in the Pipe Rolls of Berkshire in 1230. The Hundredorum Rolls of 1273 noted Ralph de Anvers in Oxfordshire.
The very first recorded spelling of the family was shown to be that of Ebrad de la Denver, Lord of Denver, dated about 1189, in the "Feet of Fines of Norfolk." It was during the time of King Richard I who was known to be the "The Lionheart," dated 1189 – 1199. The origin of surnames during this period became a necessity with the introduction of personal taxation. It came to be known as the Poll Tax in England.
Ireland:
Many of the people with surname Denver had moved to Ireland during the 17th century.
United States of America:
Some of the individuals with the name Denver who arrived in the United States in the 19th century included Felix Denver and E.Denver, who landed in Baltimore in 1831.
Here is the population distribution of the last name Denver: United States 1,379; Philippines 644; England 462; Brazil 302; South Africa 237; Russia 205; Germany 168; Ukraine 135;; Australia 123; Ireland 120
Notable People:
Robert Osbourne "Bob" Denver (January 1935 – September 2005) was an American comedic actor. He represented Gilligan on the television series Gilligan's Island and the beatnik Maynard G. Krebs on the 1959–1963 TV series The Many Loves of Dobie Gillis.
James William "Jim" Denver (October 1817–August 1892) was an American leader, officer, and advocate. He gave services in the California state government, as an officer in the United States Army in two wars, and as a Republican representative of the United States House of Representatives from California.
Henry John Deutschendorf, Jr. (December 1943–October 1997), was known professionally as John Denver, was an American singer, composer, record producer, activist, actor, and generous person.
Karl Denver (December 1931–December 1998) was a Scottish singer, who, with his band had a series of UK hit singles in the early 1960s. Most notable of these was a 1961 version of "Wimoweh," which showed off Denver's falsetto yodelling record.
Matthew Denver (1870-1954), was an American financier, son of James Denver.
Denver Beanland (born 1945), is an Australian political leader.
Denver Lopez (born 1980), is a retired Philippine Basketball Association player. He was born in the year 1980.
Denver Nicks is an American reporter and cameraman.
Denver Pyle (1920–1997), was an actor and film star.
Blazons & Genealogy Notes
1) (co Essex). Sa. a chev. or, betw. three crosses crosslet fitchee ar. Crest—A demi lion ramp. az. holding with both gambs a cross crosslet fitchee or.
2) (co. Norfolk). Ar. on a fesse betw. three cinquefoils sa. as many crescents or.