Derby Family Crest, Coat of Arms and Name History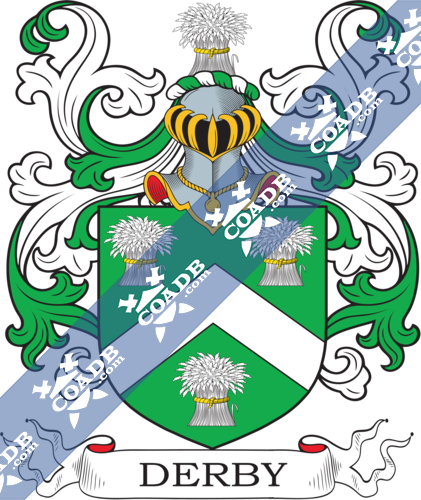 Derby Coat of Arms Gallery
Don't know which Coat of Arms is yours?
We can do a genealogical research. Find out the exact history of your family!
Learn More
Derby Origin:
England
Origins of Derby:
The origin of this unique surname evolved originally from Derby and is a locational name from various places in England known to be "Derbyshire" or "Lancashire" or rather "Darby"in Lincolnshire. However, most of these names of various places had evolved originally from the ancient Old Norse "dujar" meaning a deer and "byr" or also a "farm" or "Settlement". It was developed irrespective of different formations of spellings. The location known as Derby in Derbyshire are known as "Doeraby" as early as 917 A.D. "Anglo-Saxon Chronicle". The name of Domesday book was changed to "Derbei" in a city known as Lancashire. Former inhabitants of any place that were displaced, uprooted, and eventually moved to a new city or region for necessity of occupation were gifted with locational surnames, they were generally identified by the title of their respective birthplace. The very first recording of surname was in the 13th Century. The developmental names included Edelota Darby in "The Hundred Rolls, Oxfordshire" (1278), that formed to be the modern titles as Darby.
Variations:
Most common variation are: Derbay,Derbey,Deruby,Dearby,Dereby,Duerby,Derbby,Deraby,Doerby.
England:
The origins of the surname Derby were in Yorkshire where people there held a family seat from early times. The very first recording spelling of the family was shown to be that of Roger de Derby, dated 1160-1182, in the "Register of Antiquities, Lincolnshire". It was during the time of King Henry II who was known to be the "Builder of Churches", and took place in "Pipe Rolls of Yorkshire". The origin of surnames during this period became a necessity with the introduction of personal taxation. It came to be known as Poll Tax in England. Surnames all over the country began to develop, with unique and shocking spelling varieties of the original one. On November 12 1570, one Alice Derby married Thomas Chandler in Hampshire.
Ireland:
Many people of the Derby family also moved to Ireland during the 17th century.
United States:
People with the Derby surname also settled in United States beginning in the 17 century. Many times Europeans fled due to famine and a new life. Many would end up throughout the United States and Canada. John Derby and Edward Derby settled in the year 1630 in New England and Massachusetts. Robert Derby arrived in Virginia in 1656 as well as Thomas Derby in Maryland in the year 1669. In the year 1821, Kitty Derby whose age was 29 would eventually settle in America. The following century saw many more Derby surnames arrive.
S Derby, S S Derby, B Derby and H Derby are the people who arrived in San Francisco, California in 1851.
Canada:
People of the Derby family who settled in Canada include Mr Benjamin Derby U.E 'DARBY' who settled in Canada c. 1784.
Australia:
Frances Derby arrived in Adelaide, Australia aboard the ship "Louise Baillie" in 1849.
New-Zealand:
There are many people who landed in Auckland,New-Zealand. John N Derby landed in Auckland, New-Zealand in 1843. In the years 1863 and 1872, Jonathan Derby and Edward Derby arrived in Auckland, New-Zealand aboard the ships "Queen of Beauty" and "Naomi". John Derby who was a farm laborer and Elizabeth arrived in Wellington, New-Zealand aboard the ship "Cartvale" in 1874. They were 30 years old.
Here is the population distribution of the last name Kingston: United States 7,700; England 1,355; Canada 515; South Africa 274; Ghana 3,035; Mexico 209; France 208; Jamaica 321; Australia 215; Suriname 320;
Notable People:
Brown Derby (1914-2000) was a Scottish actor.
Dean Derby (1935) He was a famous National Football League player.
Ethel Roosevelt Derby (1891-1977) was the youngest daughter of Theodore Roosevelt. She played an important role in preserving his legacy.
Elias Hasket Derby (1739-1799), was an American merchant.
George (1823-1861), was an American humorist
George Derby(baseball) was an America Major League Baseball pitcher.
James Cepahas Drby (1818-1892) was an American book publisher.
Orville Adalbert Derby (1851-1915) was an American geologist who worked in Brazil.
Sylvester Derby (1892), a head coach of football of an American college.
Blazons & Genealogy Notes
1) Vert a chev. betw. three garbs ar. banded or. Crest—A garb, as in the arms.
2) Ar. three cinquefoils and a canton gu.
3) Per chev. crenellee az. and or, three eagles displ. counterchanged. Crest—A dromedary ppr.
4) (Walton, co. Leicester; Edward Derby. Visit. Leicester, 1619). Ar. a fess betw. three sinister wings sa.