Dominick Family Crest, Coat of Arms and Name History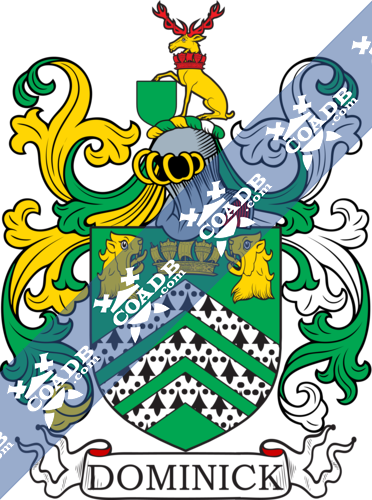 Dominick Coat of Arms Gallery
Don't know which Coat of Arms is yours?
We can do a genealogical research. Find out the exact history of your family!
Learn More
Dominick Origin:
Spain
Origin of Dominick:
This surname is listed with almost two hundred and fifty spellings and found all over the western world, this very famous name is noted as being of old Spanish origin. It derives from the Roman Latin word "Dominicus", which means "attachment to the superior God," and from "Dominus," which means superior or skillful. The name provided an impression of the motivation of the Spanish martyr "Dominicus", who organized the Dominican system of priests. The addition of components "ez" or "es" when they occur are nicknames; they derive from the Latin word "icus" and mention "son of". Surnames derived from particular names are the most ancient of surnames, and in the Christian world are frequently combined with the twelve "Crusades" when different European kings lead a journey to try to take the Holy land, and especially Jerusalem, from the Muslims. As a result of the expedition, it became modern in Europe to name children, especially sons, after religious characters. Recordings of the surname taken from civil and religious documents consist of Ambrosio Domingues, at Chiclana, Cadiz, Spain, in 1537, Fernando Dominguez, born at Jerez de la Fronterna, Cadiz, in 1544. Dennys Dominicus, who was buried at St James Parish, Clerkenwell, London, in 1576, and the wedding of Blas Dominguez to Catalina de Balbuena, at Santa Maria Magdalena, Valladolid, on January. The royal monogram related with the name has the blazon of a green shield, embellished with two golden pillars combined at the center by a black chain, and exceeded by a black eagle.
Variations:
More common variations are: Dominicko, Dominiack, Dominicky, Dominieck, Domianick, Dominaick, Dominicke, Doominick, Domminick, Dominnick.
England:
Robert Domenyk was listed in the Calendar of Letter Books of London in 1405.
The very first recorded spelling of the family was shown to be that of Dominicus de Buketon, dated 1326, in the register of England known as "The fines Roll." It was during the time of King Edward II who was known to be the "Edward of Caernafon," 1307 – 1327. The origin of surnames during this period became a necessity with the introduction of personal taxation. It came to be known as Poll Tax in England. Surnames all over the country began to develop, with unique and shocking spelling varieties of the original one.
United States of America:
Individuals with the surname Dominick settled in the United States in two different centuries respectively in 18th, and 19th. Some of the people with the name Dominick who settled in the United States in the 18th century included Casper Dominick at the age of 33, who landed in Pennsylvania in 1738. John Dominick, who landed in South Carolina in 1738, and Maria Dominick, who arrived in New York, NY in 1749 and Andreas Dominick who arrived in America in 1752.
Some of the people with the surname Dominick who settled in the United States in the 19th century included James Dominick who arrived in New York, NY in 1830. I Dominick at the age of 25, landed in New Orleans, La in 1850. B Dominick at the age of 29, arrived in New Orleans, La in 1858. Dominick Dominick, who arrived in Iowa in 1885 and Theodore Dominick, who landed in Mississippi in 1895.
Canada:
People with the surname Dominick settled in Canada in the 18th century. Some of the people with the name Dominick who settled in the Canada in the 18th century included Mr. Francis Dommick U.E. who settled in Carleton [Saint John City], New Brunswick about 1784. Mr. Thomas Donaho U.E. who settled in Saint John, New Brunswick about1784.
Here is the population distribution of the last name Dominick: United States 5,353; Tanzania 15,177; Germany 403; Australia 117; Scotland 59; Canada 147; South Africa 347; Brazil 366; Malaysia 152; New Zealand 45.
Notable People:
Dominick Rojelio Cruz (born 1985) is an American mixed martial artist and entertainer.
Dominick Miserandino (born 1972) is an American businessman, writer, and journalist.
Dominick Cafferky (died 1971) was a famous Irish lawmaker.
Dominick John Dunne (1925 – 2009) was an American author, researcher, and composer.
Dominick Muermans (born 1984, in Geleen, Netherlands) is a Dutch racecar driver.
Peter J. Dominick (born 1975) is an American entertainer and talk radio personality.
Blazons & Genealogy Notes
Notes: (Great Marlow, co. Bucks ; granted 1720). Blazon: Vert three chevron ermine in chief a naval crown between two lions' heads erased or. Crest—A stag sejant or, attired gules gorged with a naval crown of the last, reposing his dexter foot on an antique shield vert.