Dotson Family Crest, Coat of Arms and Name History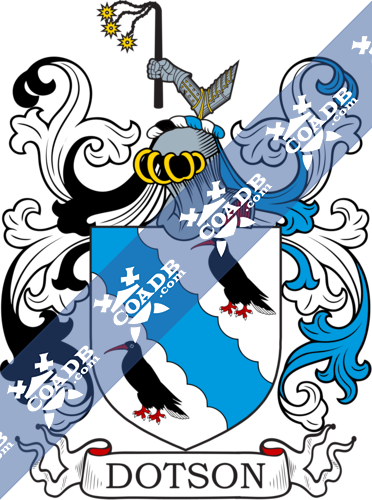 Dotson Coat of Arms Gallery
Don't know which Coat of Arms is yours?
We can do a genealogical research. Find out the exact history of your family!
Learn More
Dotson Origin:
England, Wales, Germany
Origins of Name:
The surname Dotson is branded unusual by many, because it is a variant of the surname Dodson. Dodson is derived from a paternal element, often adding O' or –son to the name itself, often meaning that one with the last name Dotson, is the son of Dodde, or Dudda. These names, Dodde, or Dudde, Dode, Dogge, or Dodge, are derived from the pre seventh century Old English names of Dudda and Dodda, which come from a Germanic root word dudd or dodd meaning "something rounded." Dudd or dodd were often used to describe a squat, corpulent man, or perhaps a bald man. This word is derived from "dod" which means to bare, or cut off. This patronymic name is recorded in the Old English Byname Register for Hampshire, and the Domesday book of 1086 for Dorset. Variations of this name are based on the literacy of the recorder, as well as the area in which the person was born.
Variations:
More common variations are:
Dotson, Doddson, Dodson, Doteson, Dottson, Dodseson, Dods, Dodds, Daddson, Dudson, Dodding
History:
England:
The Welsh surname Dotson was a named that originated in Cheshire, but then moved across the North in Yorkshire, Hampshire, Lancashire, Durham, and then to the South in Cornwall, Kent, Middlesex, Essex, and the city of London. This name is derived from the pre-seventh century Dudda and Dodda, and is a patronymic name that comes from the Germanic root name "dudd" or "dodd" meaning a short, stout man. Thus, Dotson means "the son of dudd or dodd." The earliest record of the surname Dotson was found in the Old English Byname Register for Hampshire, and is found with the name Aelfward Dudd. Fifty years later, Aluric Dod was mentioned in the Domesday Book of 1086 for Dorset. As a reminder, the Domesday book covered the "Great Survey" of England and Wales under the reign of King William the Conqueror. As the Poll Tax of Yorkshire was being implemented in 1379, Aeluric Doddes and Magota Dodson were written in the Feudal Documents from the Abbey of Bury St. Edmunds in Suffolk. The surname Dotson is specific to the Cornwall area, and can be traced back to 1581, with a William Dotson, who was christened in Mawgan in Meneage, Cornwall. The specific evolution to the name Dotson, in Heye, Cornwall, was awarded a family Coat of Arms, but it is important to know that there can be multiple Coat of Arms for the same surname. Some of the people with the surname Dotson later moved to Ireland and Scotland. In Scotland, those with the Dotson surname are mainly located in Lanarkshire County. In Wales, those with the surname Dotson are mainly found in the Eastern part of the country.
United States:
While migrating from England, the United States of America was a popular destination for those with the surname Dotson. In the seventeenth century, Abra Dotson came to the United States in 1663, and landed in the state of Virginia. Later, in the early twentieth century, Janet Dotson emigrated to America in 1905, at the age of thirty. In 1908, just three years later, twenty-seven-year-old Mrs. W.C. Watson, Pauline Dotson, and five-year-old Florence Dotson all emigrated to the United States. In the year 1911, twenty-one-year-old Annie Dotson settled in the United States after traveling from Tonypandy, Wales. All of these emigrations occurred during The Great Migration, and these people with the Dotson surname became a few of the first settlers in America with this surname.
Dotson Today:
United States 35,406
Philippines 258
England 70
Canada 66
Australia 33
New Zealand 817
Russia 21
Guyana 9
Ukraine 4
India 3
China 3
Notable People:
Amber Dotson, who is a country music artist in America
Alphonse Alan Dotson (born in 1943) was a defensive tackle (football player) in America
Lt. William A. Dotson (died in 1964) was a previous Officer in Charge of the Ice Reconnaissance Unit of the Naval Oceanographic Office, he later had the Dotson Ice Shelf, in Antarctica, named after him and this conquest
Carlton Dotson, who was a basketball player in America
Earl Christopher Dotson, who was a National Football League (NFL) offensive tackle in America
Robert Charles "Bob" Dotson (born in 1946) an American journalist, specializing in broadcast journalism, for NBC News
Delon Dotson, businessman and technologist in America, the CEO and founder of PalmTree Technology, which is a tech company based in New York City
Richard Elliot Dotson (born in 1959) was previously a right-handed pitcher in Major League Baseball (MLB)
Blazons & Genealogy Notes
Notes: (Heye, co. Cornwall). Blazon: Argent a bend engrailed azure between two Cornish choughs proper. Crest—A dexter arm in armour proper garnished or, holding a scourge with four lashes sable handle garnished, and the lashes ended with spur-rowels gold.