Dove Family Crest, Coat of Arms and Name History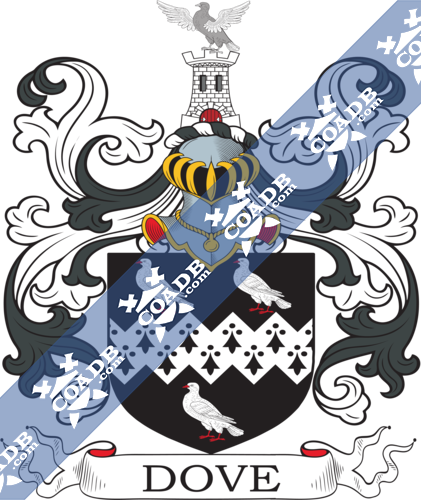 Dove Coat of Arms Gallery
Don't know which Coat of Arms is yours?
We can do a genealogical research. Find out the exact history of your family!
Learn More
DOVE
There are several origins to the surname Dove. The first states the surname came from the medieval usage of the word dove as a nickname for a person with a gentle nature or in reference to a person who kept doves. The medieval word dove came from the old English word "dufe" or the the old Norse word "dufa", both of which translate to mean "dove". The second source of origin states the surname is the Anglicized version of the Scottish given name "dub" or "dubh" which translates to "dark" or the patronymic name MacDuff or McDuff which translates to "son of Duff.
As the origins of the surname Dove shows, surnames can derive from a variety of sources. They could be formed by the use of patriarchal or matriarchal names. Reference to an individual's occupation was also a common source of surnames. Surnames also came from things such as defining physical traits, a familiar geographical location or a topographical landmark found near the individuals home or birthplace, the name of the village in which the person lived, and so much more. Soon, surnames would come not just to represent an individual but whole families.
The use of surnames did not become a common practice among the general population in most of Europe until the 16th century, until at time, surnames were used mostly among the nobility. As the towns and cities of Europe began to grow in size, replacing the smaller villages of earlier times, surnames proved to serve at least two practical purposes. First, it allowed the distinguishing of people, one from another. Secondly, they allowed governments an easier way to track people for census, tax, and immigration records.
One of the earliest recordings of the surname, Duncan Duff, appears as the signature of a witness in the "Charters of the Priory of Beauly" dated 1275. Because literacy was an attribute found primarily among the noble class, the clergy, and government officials. Due to this fact, rules and guidelines for spelling were lax as well as many of those who were literate had a tendency to spell phonetically. What may have sounded one way to one person may have sounded different to another, this resulted in a variety of spellings of the same name, examples include but are not limited to; Dove; Doves; Dow; Dowe; McDow; and Dowes.
After the founding of America, Canada, and other lands abroad, migration began to occur in greater volume than ever before. Some of the first immigrants to America were Sara Dove who arrived and settled in Virginia in 1704 and Timothy Dove who arrived and settled in Virginia in 1713. Eiter and Daniel Dove were some of the early settlers to Canada, arriving and settling in Nova Scotia in 1750. John Dove was one of the early settlers to Australia arriving in New South Wales in 1832 and James Dove was one of the early settlers to New Zealand arriving in Nelson in 1842.
Worldwide, the highest concentration of people with the surname Dove are found in Slovenia, the United Kingdom, Australia, Canada, and the United States. By state, the largest percentile of those with the surname Dove live in Virginia along with a large concentration throughout the southeastern United States.
There are many notable people with the surname Dove. Thomas Dove, the son of Sir William Dove of Upton, was the bishop of Peterborough. Dove received his education at Cambridge and Oxford where Queen Elizabeth I nominated him as one of the first scholars of Jesus College. Dove received his Bachelor's and Master's degree from Pembroke College, Cambridge. He was ordained in 1578 becoming vicar of Saffron Walden in County Essex. Dove was a much noted preacher counting Queen Elizabeth I as one of his most ardent partisans.
Patrick Edward Dove of Lasswade, Scotland was a noted economist, scholar, and author. He is also a descendant of Sir William dove and Bishop Thomas Dove as well as other distinguished clergymen, landowners and members of the Royal Navy. His father was Lieutenant Henry Dove who fought in the Napoleonic wars.
Patrick Dove was most well known as the author of The Theory of Human Progression. The book discussed the science of politics. The book was praised by many scholars and economist of the age such as; Thomas Carlyle, Sir William Hamilton, and Charles Sumner.
Blazons & Genealogy Notes
1) (East Bransboth, co. Suffolk). Sa. a fesse dancettee erm. betw. three doves close ar. beaked and legged gu. Crest—On a tower ar. a dove wings expanded ppr.
2) (Stradbroke, co. Suffolk; Robert Dove, citizen of London, second son of Henry Dove, of the former place. Visit. London, 1668). Same Arms, a crescent for diff. Crest—A dove ar. wings sa. charged with a crescent, as in the arms.
3) (Camberwell, co. Surrey; granted 23 Jan. 1572). Per chev. az. and vert, three doves ar. beaked and legged gu. Crest—In a chaplet vert, banded or, a dove ppr.
4) Ar. on a chev. betw. three water bougets sa. a mullet of the first. Crest—A dove wings expanded ppr. in the beak a branch vert.
5) Az. a cross formee betw. four doves volant ar. beaked and legged gu.