Druitt Family Crest, Coat of Arms and Name History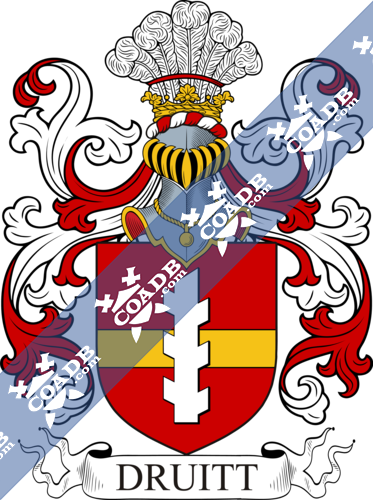 Druitt Coat of Arms Gallery
Don't know which Coat of Arms is yours?
We can do a genealogical research. Find out the exact history of your family!
Learn More
Surname, meaning, origin and etymology
A study of the etymology of the surname "Druitt" reveals that the name originated from Oxfordshire where members belonging to families associated with this surname had seats as Lords of the Manor. The surname itself is believed to be one of the diminutives of the name "Drew" which reached the shores of England in the aftermath of the conquest of 1066 by the Normans. The name was introduced at first in Old French variants of itself "Dru", "Driu" and "Dreu". The Normans themselves espoused the name from the ancient German name "Drogo" which is deemed to have been derived from the old Saxon name "drog" which translates to ghost or phantom.
Surname, meaning, origin and etymology
The name was generally well renowned in Europe and particularly in France owing to its association with the name of one of the sons of "The Great Charlemagne". The first emergence of Druitt as a family name was observed in the year 1186 in the form of Walter Druet who held several estates in that Oxfordshire. The name seems to have gone through a period of constant evolution and development as far as its spellings are concerned with several different variants of it being recorded in historical records over the course of centuries. Some of the recorded spelling variants include; Drewett, Dreweatt, Drywet, Drewitt, Drouet, Druitt, Drooit, Droit among several others. The first instance of recording of spelling of the surname is dated as far back as 1185 in "Records of the Templars in England" during the reign of the king (King Henry 11) renowned by the title "The builder of Churches". Early recordings of the different variations of the name include it being recorded as "Drogo" in the book Domesday in 1086. Furthermore, the name was mentioned in its diminutive form "Druet" in Curia Rolls of Suffolk in 1206.  A certain Thomas Drewett married a certain Rose Wallis in London on 3rd of June, 1689.
Early American and New World Settlers
The names of some of the earliest settlers in American with the family surname "Druitt" include migrants from Newfoundland who settled in Maine, Virginia and Carolinas in the 18th Century.
Blazons & Genealogy Notes
(Ireland). Gu. a bar or, surmounted by a staff raguly ar. in pale. Crest—Out of a ducal coronet or, a plume of five ostrich feathers ar. banded gu.