Drummond Family Crest, Coat of Arms and Name History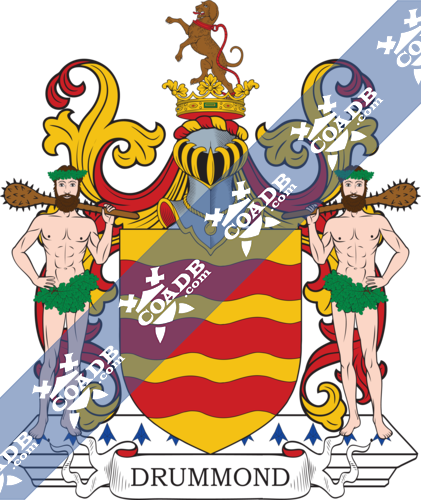 Drummond Coat of Arms Gallery
Don't know which Coat of Arms is yours?
We can do a genealogical research. Find out the exact history of your family!
Learn More
Surname Meaning, Origin, and Etymology
This is an old surname originally from Scotland, and it is derived from various locations. It comes from the Gaelic word "dromainn" which at the same time comes from "druim," meaning "ridge."
The oldest households of this family were located in the area known as Perthshire, which is currently the county of Perth, located in the central area of Scotland. This location was the oldest seat of the family in which they held different castles such as Drummond Castle, kept by the Earl of Ancaster and located south west of Crieff, and Drummond Hill. Both were in Perthshire.
One of the first spelling variations of this surname appeared with Gilbert de Drummyn – chaplain to Alwyn, Earl of Levenax – who witnessed a charter around 1199 at the time of the reign of King William, also known as "The Lion of Scotland." But, the first time it is shown in its definitive form, Drummond, was with Malcom de Drummond, who also was witness to many charters by Gillemichel Edolf in 1270 and Gilbert De Dromund of Dumbretan in 1296.
Spelling Variations
As was common with surnames at that time, there were several spelling variations for this last name, which caused it to appear differently on the records, but they all referred to the same family. This happened due to the evolution of the language, the introduction of other languages, and the lack of rules for written language. As a result of these factors, Drummond can be found in old documents in any of the following ways: Drumond, Drumman (Gaelic), Drummyn, and many others.
Popularity & Geographic Distribution
The Drummond surname is not a rare one around the world. It holds the 8,306th position in the rank of most common surnames, and approximately 65,206 people around the word have it. The country with the highest amount of Drummonds is the United States, and Jamaica is the country with the highest density of people with said surname. All of this information is taken from the census of 2014.
Early Bearers of the Surname
The oldest record of the Drummond surname is from 1296 and refers to Gilbert De Dromund of Dumbretan, whose name appeared on an oath of loyalty to Edward I of England. Then years later there was a Malcolm Beg received the lands of Perthshire from Robert the Bruce for his services in the Battle of Bannackburn in 1314, and then he was known as Malcolm de Drummond. Then, the leaders of the Drummond clan at that time, John Drummond, appears in the record of his wedding in 1345.
History, Genealogy, and Ancestry
Malcolm de Drummond played a key role in the independence of Scotland and in the Battle of Bannockburn. Thanks to his remarkable performance, Robert the Bruce gave Malcolm the lands of Perthshire. Years after this, Malcolm's granddaughter, Annabella, had a son in 1394 who would later become King James I of Scotland. John Drummond, the chief of the clan during 1345, married the heiress of the Montfichets, so he became John Drummond of Stobhall and added more lands to the clan. John had a sister, Margaret Drummond, who married David II of Scotland; however, they never had any offspring. Annabella Drummond, daughter of John, married John Stewart in 1357, who later became King and was known as Robert III of Scotland.
Years later, Malcolm de Drummond's great-grandson, Sir Malcolm, inherited Stobhall Castle from his aunt, Queen Margaret Drummond. He had a brother named John Drummond who become a Member of Parliament and earned the right to become the first Lord Drummond. John had a daughter named Margaret – who was a mistress of King James IV – and shortly thereafter died.
Then, the chief of the clan, Sir Malcolm Drummond, married Isabel Douglas, Countess of Mar and was killed in 1403. The leadership of the clan passed to Malcolm's brother, John Drummond, whose great-grandson was John Drummond, the first Lord of Drummond.
James Drummond, a descendant of John Drummond, father of Margaret, earned the title of Earl of Perth in 1605 and died in 1611. He was succeeded by his brother John, and then his sons became the new Earls of Perth.
Early American and New World Settlers
Several bearers of the Drummond surname decided to travel to the New World in search of a new life. Over the years, they arrived in countries like the United States. Among the most notable Drummonds are: Gawen Drummond, who got to New Jersey in 1667, and Patrick Drummond, who arrived in New England during 1729. In 1731, Michael Drummond made Virginia his new home, and Joseph Drummond did the same in 1783. Andrew Drummond got to Boston in 1768 and decided to settle there, while John Drummond decided to make Brunswick, North Carolina his new residence in 1775.
This continued during the 19th century, as Walter Drummond arrived in Georgia in 1812 at the age of 47, and James Drummond arrived in New York in 1817. There was also Catherine Drummond, who also reached New York but in 1820. Adam Drummond and Stewart Drummond arrived in New York as well in 1831 and 1833, respectively.
Canada also received Drummonds from other nations, especially from the US, since many were forced to leave for being loyal to Great Britain during the American Revolution. Among the Drummonds that reached Canada, we can find Lt. Capt. Peter Drummond U.E. who reached Haldimand, Ontario in 1780, and Ann Drummond U.E. and Jacobina Drummond U.E., who both got to Carleton (Saint John City), New Brunswick in 1784. The initials U.E. in their names stand for United Empire, which is a reference to Great Britain. This was a way of showing that they were still loyal to the crown.
There were Drummonds who got to Canada in the following century such as Andrew T. Drummond, who arrived in Montreal in 1815, William Drummond, who got to Nova Scotia in 1841, and Jane Drummond who arrived in the same city during 1844.
Mottoes
It was common at the time for families to have a motto that expressed their values or their code of conduct. It was something they used to represent themselves and distinguish themselves from others. The family could choose whether to make it a part of their coat of arms or not. In the case of the Drummond family, the motto was "Gang warily" which can be translated from Scottish Gaelic to English as "Go carefully." It may have been used when saying goodbye to someone.
Grantees
We were unable to locate any documented grantees for the Drummond family.
Notables
There were several people with the Drummond surname that had an important impact in their respective societies, and some even left a legacy for the benefit of others. Among the most important ones were Thomas Drummond (1797-1840), an
engineer and statesman from Scotland, Henry Drummond (1851-1897), a Scottish evangelist and theologian, and Dugald Drummond (1840-1912), a steam locomotive engineer and designer from Scotland. Other notable Drummonds include Alice Elizabeth Drummond (1928-2016), an American actress who was nominated for a Tony Award; John Willie Drummond (19191-2016), an American politician who was a Member of the South Carolina Senate from 1966 until 2088; Garry Neil Drummond Sr. (1938-2016) an American business executive, philanthropist, and CEO of the Drummond Company, and Sir John Richard Drummond CBE (1934-2006), a British arts administrator and BBC executive.
Blazons & Genealogy Notes
1) (Lord Drummond, Earl of Perth, attainted 1715, restored 1853). Or, three bars wavy gu. Crest—On a ducal crown a sleuthhound ppr. collared and leashed gu. Supporters—Two sav
ages with clubs over their shoulders, wreathed head and middle with oak, and standing on a compartment of caltraps az. Motto—Gang warily.
2) (Logie Almond, co. Perth). Or, three bars wavy gu. within a bordure of the last. Crest—A dexter arm from the shoulder, holding a broadsword in the hand all ppr. Motto—Nil timeo.
3) (Viscount Strathallan). Quarterly, 1st and 4th, or, three bars wavy gu.; 2nd and 3rd, or, a lion's head erased within a double tressure flory counterflory gu. Crest—A goshawk with wings displ. ppr. armed, jessed, and belled or. Supporters—Two savages, wreathed head and middle with ivy, with clubs on their shoulders ppr. Motto—Prius mori quam fidem fallere.
4) (Cromlix and Innerpeffry, co. Perth). The same quartered coat within a bordure gu. Same Crest. Motto—Lord have mercy.
5) (Riccarton). Quarterly, 1st and 4th, or, three bars wavy gu. within a bordure az. ; 2nd and 3rd, ar a lion ramp, az., for Crichton. Crest—A lion ramp. az. Motto—Dum spiro spero.
6) (Kildies). Or, three bars wavy gu. a bordure az. charged with eight mullets ar. Crest—A garland of laurel ppr. Motto—Si recte facies.
7) (Strageath, co. Perth). As the last, only three mullets, in fess point a crescent ar. for diff. Crest—A dexter arm in armour from the shoulder embowed, the hand bare, holding a faulchion ppr. Motto—Caute sed intrepide.
8) (Bellyclone, co. Perth). Or, three bars wavy gu. surmounted by a naked man in pale naiant grasping in the dexter hand a sword, and having his sinister hand and feet in action all ppr. Crest—A dexter hand holding a spear ppr. Motto—Per mare per terras.
9) (Invermay, co. Perth). Or, three bars wavy gu. on a canton ar. a fountain az. Crest—A hand holding a flaming heart erect ppr. Motto—Loyal au mort.
10) (Cultmalindie, co. Perth). Or, three bars wavy gu. in fess point a man's heart counterchanged. Crest—A hand grasping a man's heart ppr. Motto—Cum corde.
11) (Colquhalzie, co. Perth). Or, three bars wavy gu. in chief as many stars az. Crest—A rock surmounted of a turtle dove ppr. Motto—Sto mobilis.
12) (Blair, co. Perth, now represented by George Horne Drummond, of Blair Drummond, as heir of line). Or, three bars wavy gu. each charged with an escallop of the field. Crest—A nest of young ravens ppr. Motto—Dominus providebit.
13) (Hawthomden, co. Edinburgh, 1672). Or, three bars wavy gu. within a bordure of the last. Crest—A Pegasus ppr. maned and winged or. Motto—Hos gloria reddit honores.
14) (Hawthornden, 1823). Quarterly, 1st and 4th, as the last; 2nd and 3rd, az. three bears' heads ar. muzzled gu., for Forbes. Same Crest and Motto. Supporters—Two savages wreathed head and middle with laurel, holding dubs over their shoulders ppr.
15) (Walker-Drummond, of Hawthomden, bart., 1826). Quarterly, 1st and 4th, counterchanged as the last; 2nd and 3rd, ar. three pallets gu. surmounted of a saltire counterchanged having thereon a heart, ppr. on a chief engr. az. a crescent betw. two mullets of the first, for Walker. Crest, Motto, and Supporters, as the last.
16) (Williams-Drummond, of Hawthornden, bart., as now borne). As the last, but substituting for Walker, in the 3rd quarter, ar. a lion ramp. sa. head, paws, and tuft of the tail of the field, for Williams. Same Crest, Motto, and Supporters.
17) (Midhope, co. Perth). Or, three bars wavy gu. within a bordure of the last charged with eight crescents of the first. Crest—Three stars chevronways or. Motto—Ad astra per ardua.
18) (Concraig, co. Perth). Per fess wavy or and gu. Crest—Two arms ppr. drawing an arrow to the head in a bow or. Motto—Marte et arte. Supporters—Dexter, a savage, wreathed head and middle with oak, holding on his dexter shoulder a club ppr.; sinister, a knight armed at all points, the visor of his helmet up, a spear resting in his sinister arm ppr.

19) (Megginch). Per fess wavy or and gu. in chief a lion ramp. of the last. Same Crest and Motto; or, since 1846, the plain coat, with supporters of Concraig.
20) (Sir Gordon Drummond, G.C.B., 1816). Per fess wavy or and gu. in chief a martlet sa. Crest Issuing out of a mural crown two arms drawing an arrow in a bow all ppr. Motto—Marte et arte.
21) (Lieut. Francis C. Beresford-Drummond, 7th Dragoon Guards, 1875). Quarterly, 1st, 2nd, and 4th, as Viscount Strathallan; 3rd, ar. semee of cross crosslets fitchee three fleurs-de-lis sa. within a bordure wavy erm., for Beresford. Crest—A falcon rising, hooded, jessed, and belled ppr. charged on the breast with a mullet or. Motto—Lord have mercy.
22) (Heathcote-Dummond; exemplified to Clementina Elizabeth Heathcote, relict of Gilbert, first Lord Aveland, now Baroness Willoughby d'Eresby in her own right, upon her assuming the additional surname of Drummond, 16 Nov. 1870). Or, three bars wavy gu. on an escutcheon of pretence over the arms of Heathcote.
23) (Marchmont Herald). As Drummond, within a bordure gu. charged with eight Cornish choughs ppr. Crest—A garb or, thereon a Cornish chough feeding ppr. Motto—Ex hoc vivo.
24) (Sir George Drummond, Provost of Edinburgh). As Drummond, in chief a martlet betw. two crescents gu. Crest—A pheon or. Motto—Consequitur quodcunque petit.
25) (Carlowrie). As Drummond, a mullet surmounted of an annulet for diff. Crest—A dexter hand holding a curling a stone. Motto—Have at all.
26) (Pitkellony). As Drummond, in chief a boar's head erased gu. Crest—A sword and garb saltireways ppr.