Duckworth Family Crest, Coat of Arms and Name History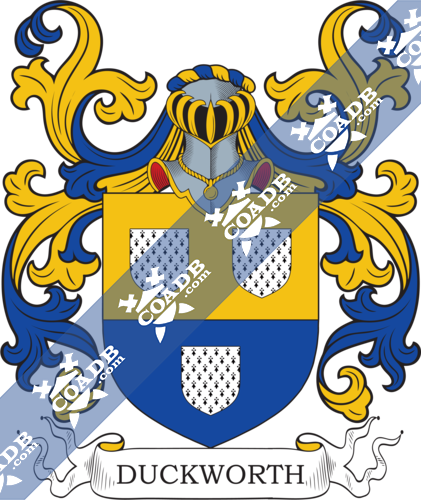 Duckworth Coat of Arms Gallery
Don't know which Coat of Arms is yours?
We can do a genealogical research. Find out the exact history of your family!
Learn More
Surname Name Meaning, Origin, Etymology, & Spelling Variants
This Anglo-Saxon last name is a locational one meaning "of Duckworth", which was an estate in Oswaldtwistle, a township in the parish of Whalley in county Lancashire. The locale was spelled Dokeward during the reign of King Edward III of England (1327-1377). Another source (British Family Names by Henry Barber published in 1894) claims two different origin theories. First, the surname may derive from Dikewid, a locale in Cargidan.  Secondly, this source states it may derive from the Dutch personal name Duchwarder.  The name was anciently spelled Dykewarde. Yet another source states it's a habitational name from Duckworth Fold in the borough of Bury, Lancashire. It derives from the Old English word fuce (duck) and wordh (enclosure). Yet another theory, mentioned in Mark Antony Lower's Patronymica Britannica, is that it was an officer who cared for and maintained dykes. Another possible etymology is that it derives from the Old English personal (first) name Ducca and the word worth (homestead) and hence literally translated "Ducca's homestead".
Popularity & Geographic Distribution
The last name ranks Montgomery ranks 2,803rd in popularity in terms in the United Status as of the 2000 Census name is highest rank in the following four states: Mississippi, West Virginia, Georgia, and Missouri. The name ranks 1,461st in England, and ranks highest in the following fourcounties: Lancashire, Yorkshire, Cheshire, and Cumberland. It also is common in other English speaking countries: Australia (2,629), South Africa (5,921), Canada (5,195), New Zealand (2,380), Scotland (2,871), Wales (2,864th), and Ireland (14,048th). The 1890 book Homes of Family Names by H.B. Guppy states "Duckworth is the name of a seat in Whalley parish. John Duckworth was minister of Haslingden in 1681. A family of Duckworth resided at Empingham, Rutlandshire, in the 16th and 17th centuries: the vicar in the reign of Elizabeth bore this name".
Early Bearers of the Surname
The first known bearer was Hugo de Duckworth who was recorded in Rotuli Oblatis et Finibus in 1216 AD. The Poll Tax of Yorkshire in 1379 AD lists two bearers of this last name: Henricus Dukeworth and Johannes Dukeworth.
History, Genealogy, and Ancestry
The famous genealogist Bernard Burke's book "The Landed Gentry" discusses one branch of this family:  Duckworth of Orchardleigh. It begins with a discussion of Reverend William Arthur Duckworth of Orchardleigh Park in Somerset. He was educated at Eron and Trinity College Cambridge. He was born in 1829 and in 1859 he married Edina Campbell, daughter of John, Lord Campbell and Lady Strathden, with whom he had seven children: Arthur Campbell (1870), Herbert Strathden (1872), Frances Evelyn, Florence Helen, Mary Campbell, and Margaret Edina. Burke states this family held lands in Lancashire for several hundred years. George Duckworth, Lord of the Manor of Over Darwen, in the parish of Blackburn had issue: William, Samuel (Member of Parliament for Leicester), Eliza, and Anna (married Sir Thomas Coltman). The eldest son William was an Esquire, Justice of the Peace, and D.L. He was born in 1795 and in 1825 he married Emily, daughter of Robert Philips, and had five children with her: George (born 1826, Captain 5th Dragoon Guards), 2) William Arthur (mentioned above), 3) Russell (born 1830 and married Jeannette Clutterbuck), 4) Herbert (born 1822, Barrister-at-law), and 5) Sarah Emily. The family had a coat of arms or "family crest" with the following heraldic blazon: Argent, a cross pointed sable surmounted by a like cross or, in chief two gryphons' heads erased each surmounting four spear-heads conjoined in saltire proper with a crest that is a gryphon's head erased and surmounting four spearheads, conjoined as in the arms. They resided at Bryanston Square.
John Duckworth was born in 1670 in Lancashire, England. He married Ann Hopewell and had a son with her named William prior to his death in St. Mary's, Maryland, United States. William was born in 1695 in Burlington, New Jersey and married Grace C. Hunt. He had numerous issue with her: Abel R., Anna, Mary, William Jr., George, John M., Thomas, Joseph, and Anna. His son Joseph was born in 1718 in the same town and married Esther Ong in 1737. They had four children: Jacob, Joseph, Jeremiah, and William. His son Jacob was born in 1738 and married a woman named Charity Jane (last name not known) and had three issue with her: Benjamin, Joseph, and Wiliam. His son Benjamin was born in 1765 in North Carolina. He married Mary Smith and had numerous children with her: Elizabeth, Jacob, Mary W. (Anderson), Zabud, Joseph, Sarah, Charity (Thompson), Kezziah (Speed), Elnathan Daniel, James Cooper, Robert Crocker, and Hester O. (Guyton). His son Joseph was born in 1802 and married Mary Green. They had issue: Sarah Elizabeth (Johnson), Martha, Nancy Caroline (Thompson), Mary Mathilda (Keyes), Charity Pamelia (Craft), Benjamin Patterson, and Elnathan. His son Elnathan was born in 1841 in Mississippi. His daughter Sara was born in 1823 and married George Washington Johnston in 1842 and had numerous issue with him.
Patrick Duckworth, son of Joseph, was born in 1793 and married Sarah. He had two sons: Norval Robert and Columbus Joseph. Norval was born in 1833 in Mississippi. He married Phebe Ann Wafe and had three children with her: Mary Jane (Grissom), William (Carr), and James Columbus.
Early American and New World Settlers
The book Genealogical Guide to the Early Settlers, mentions one bearer of this last name: Charles Duckworth, a soldier in Philip's war (an attempt by Native American of southern New England to get rid of the recent English settlers, of Turner's company, left at Quaboag, 1676. Another early settler in early colonial America with this surname was Elizabeth Duckworth (Philadelphia, PA 1712).
Mottoes
The Duckworth family motto is 1) Discipline, fide, perseverantia, meaning "By discipline, fidelity, and perseverance", 2) *St. Domingo, 3) *Minorea
*This word is inscribed in gold letters on a hag held by one of the supporters, and refers to the services of the first baronet at the capture of that island. St. Domingo, in letters of gold on the chief of augmentation, commemorates the signal defeat of the French fleet by the squadron under the command of Vice-Admiral Sir J. T. Duckworth, K.B., in the Bay of St. Domingo, Feb. 6th, 1806.
Grantees
We have three coats of arms for the Duckworth surname depicted here. These three blazons are from Bernard Burke's book The General Armory of England, Ireland, and Scotland, which was published in 1848. The bottom of this page contains the blazons, and in many instances contains some historical, geographical, and genealogical about where coat of arms was found and who bore it. Later grantees of arms bearing this last name include: Charles Duckworth, Rector of Dodleston, Cheshire, and Prebend, of Chester, 11 June 1672, by W. Dugdale.
Notables
Famous people with this last name include: 1) Kevin Duckworth (1964-2008) who was an African American professional basketball player in the NBA who was best known for playing on the Portland Trailblazers in the late 1980s and early 1990s who won two division titles, 2) Gerald de l'Etang Duckworth (1870-1937) who was a British publisher, and 3) Richard Duckworth (1906-1983) who was a well-known English football (soccer) player and manager from Manchester.
Blazons & Genealogy Notes
1) (Over Barwen and Musbury, co. Somerset, and Beechwood, co. Hants). Ar. a cross pointed sa. surmounted by a like cross or, in chief two gryphons' heads erased, each surmounting four spear-heads conjoined in saltire ppr. Crest—A gryphon's head erased, and surmounting four spear-heads conjoined, as in the arms.
2) (Ashford, Kent) Per fesse, or and az. three escocheons erm.
3) (Topsham, co. Devon, bart.). Ar. on a chev. az. betw. two ducks ppr. in chief and a naval crown of the second in base a bomb fired betw. two estoiles or, on a chief wavy also az. the words "St. Domingo " within a branch of laurel, entwined with another of oak gold. Crest—A tower, the battlements partly demolished, from the top flames issuant ppr., on the sinister side a sea lion erect az. the paws pressing against the tower. Supporters—Dexter, a human figure, holding in the exterior hand a sword erect ppr. pommel and hilt or, around the head a halo composed of seventeen estoiles of the last, across the dexter shoulder a belt az. pendent, under the feet the hide of an ox ppr., sinister a British sailor habited ppr., holding in the exterior hand a flag-staff, thereon a flag of a rear-admiral of the White ppr. inscribed with the word "Minorca" in letters of gold. Motto—Discipline, fide, perseverantia.