Dwyer Family Crest, Coat of Arms and Name History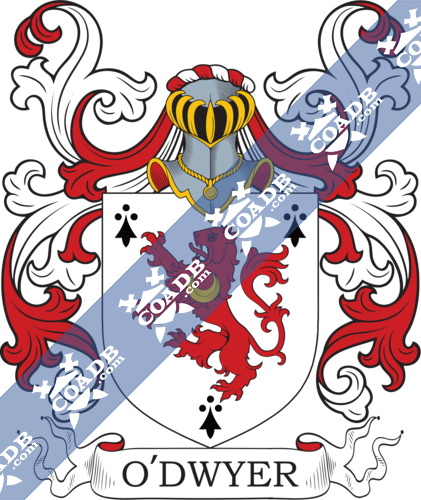 Dwyer Coat of Arms Gallery
Don't know which Coat of Arms is yours?
We can do a genealogical research. Find out the exact history of your family!
Learn More
O'Dwyer (Irish: Ó Dubhuir), also known as Dwyer, Dwyre, or Dyer is an Irish Gaelic clan-based most prominently in what is today County Tipperary. Their name means "dark coloured", about their progenitor Dubhuir mac Spealáin's hair colour. These are derived from the words dubh, which means black, and odhar or uidhir, which means uncolored. Another source has a slightly different explanation: "Descendant of the dark, tawny man; grandson of Dubhodhar (black Odhar)." And yet another note: "Said to be the Gaelic do-ire, a woody uncultivated place."
The O'Dwyers (in Irish O'Duibhir, a descendant of Duighir) were an important sept in Co. Tipperary, though not comparable in power or extent of territory with the nieghbouring great septs. Their lands were in Kilnamanagh, the mountainous area lying between the town of Thurles and the county Limerick. The O'Dwyers were always noted for their staunch resistance to English aggression and many are recorded in this connexion in mediaeval and early modern times. Although the O'Dwyers originally held a family seat in the barony of Kilnamanagh, they later branched to Clonyhorpa and Drumdromy in the same county. The eponymous ancestor of the O'Dwyers was Duibhir (sometimes spelled Duibhidir and Dubhiir), the 11th century chief of the sept.
The spelling variations of this surname consist of Dwyer, O'Dwyer, Dwire, Dwier, Dyer, Mac Duibher, O'Dubhuir, O'Duibhir, O'Duibhuir.
The O'Dwyer surname is the 39,117th most common surname in the world. There are currently 13.494 people who bear this surname. The top five countries that bear this surname are Ireland (7113), Australia (2843), England (2138), Canada (437), and United States (408).
A few of the more notable O'Dwyers in history are Michael Dwyer (1771-1825 who defined the English Government forces for five years, his end after being sentenced to transportation following his voluntary surrender in 1803, was to become a policeman in Australia. Rev. Edward O'Dwyer (1842-1917), the Bishop of Limerick, endeared himself to the people of Ireland by his manly stand on behalf of Sinn Fein and the men of 1916. In America Joseph O'Dwyer (1841-1898 was noted as a pioneer physician, particularly regarding the treatment of diphtheria. And William O'Dwyer (b. 1890) also had a remarkable career starting as an emigrant labourer from Co. Mayo he became Mayor of New York and one of the most notable of United States ambassadors.
The clan motto is Virtue Alone Ennobles. Notable persons who bear this surname are Edward F. O'Dwyer (1860-1922), American Chief Justice of the New York City court, Joseph O'Dwyer (1841-1898), Catholic American physician, Brian O'Dwyer (b. 1945), currently an American lobbyist and lawyer, Billy O'Dwyer (b. 1960), retired American professional ice hockey forward, Matt O'Dwyer (b. 1972), former American football player, Paul O'Dwyer (1907-1998), American politician and lawyer, Brigadier-General William O'Dwyer (1890-1964), American general, politician and diplomat, 100th Mayor of New York City (1946- 1950), Ambassador to Mexico (1950-1952), Phil O'Dwyer, American politician, Candidate for Mayor of Berkley, Michigan, Peter Paul O'Dwyer (1907-1998), American Democrat politician, Candidate for U.S. Representative from New York 21st District, 1948; Delegate to Democratic National Convention from New York, 1964, Kevin O'Dwyer, American Democrat politician, Alternate Delegate to Democratic National Convention from Ohio, 1928.
Blazons & Genealogy Notes
1) (a Sept seated at Muintir-Duibhidhir, a district in the present Barony of Kilnamanagh, co. Tipperary, deriving their name from Duibhidhir, Chief of the Sept. The Four Masters record that Thomas O'Dwyer, son of Conor, son of Thomas O'Dwyer, of Ormonde, was slain by the O'Kennedys, 1473). (Cadiz, in Spain; allowed by Hawkins, Ulster, 1776, to Anthony O'Dwyer, of that place, son of Dermot O'Dwyer, Captain of Grenadiers in the Irish Brigade in the service of Spain, who was fourth in descent from Edmond O'Dwyer, second son of Anthony O'Dwyer, of Kilnamanagh, Chief of the Sept, 1567). (Clonyhorpa, co. Tipperary, Fun. Ent. Ulster's Office, 1629, Darry O'Dwyer, Esq., of that place.) Ar. a lion ramp. gu. betw. three erm. spots. Crest—A hand couped at the wrist and erect, grasping a sword all ppr. Motto—Virtus sola nobilitas.
2) (Drumdromy, co. Tipperary; Fun. Ent. Ulster's Office, 1627, John O'Dwyer, Esq., of that place). Same Arms, a crescent for diff.