Dutton Family Crest, Coat of Arms and Name History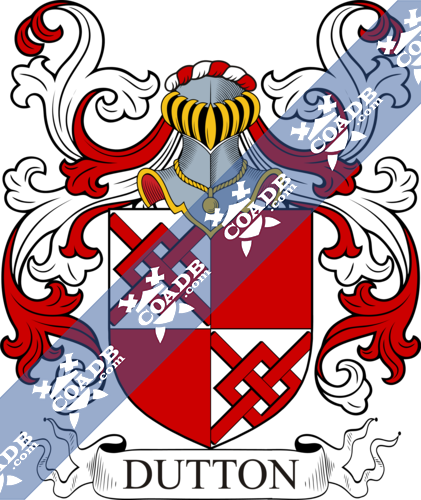 Dutton Coat of Arms Gallery
Don't know which Coat of Arms is yours?
We can do a genealogical research. Find out the exact history of your family!
Learn More
Surname Name Meaning, Origin, and Etymology
This last name is a local one meaning "of Dutton", which is a town in the parish of Ribchester in county Lancashire. A family bearer this name rose to prominence in Lancashire and West Riding of Yorkshire. The Cheshire locale is spelled Duntune and the Lancashire town is spelled Dotona in the Domesday Book of 1086 AD, which was a survey of England and Wales ordered by William the Conqueror. It derives from the Old English words dun (hill) and tun (town), and hence it literally translated to the hill farmstead. It is also possible the name derives from the Old English personal (first) name Dudd(a) or Dodd and it may mean Dudda's village.
Another source (Mark Antony Lower's Patronymica Britannica) states Dutton is an ancient Cheshire family of Norman descent having arisen from Rollo, the conqueror of Neustria and a Viking who was the first ruler of Normandy France and lived from 846-930 AD, and also asserts that the family founder in England was Odard, nephew of Hugh Lupus (the second Norman Earl of Chester and a great magnate of early Norman England born in 1047 AD), who granted him the barony of Dutton. Odard was a direct descendant of William, Earl of Eu. Hugh de Dutton was the Lord of the Manor in the era of King Henry II (1154-1189 AD). One source states that Odard's grandfather descended from Viking kings in Finland that can be traces all the way back to Gorr, the Sea King, who is supposedly the founder of Norway and also called Norr or Nori.
One old book, titled "The First Treating in General of Great-Brettain and Ireland" asserts the following: "Odard, also at times written as Udard, Hodard and Hudard, was one of five brothers (the others were Edard, Wolmere, Horswyne and Wolfath, a priest) recorded on the roll of the barons of Halton, who accompanied Nigell, a nobleman, when he came into England with William the Conqueror. Nigell gave the church of Runcorne to Wolfaith, and to Hudard he gave Weston and Great Aston (later divided into Aston Grange and Aston juxta Sutton".
Spelling Variations
Three spelling variants of this surname are Duttone, Duton, and Dytton. None of these last names are very popular: they don't rank in the top 150,000 surnames in the United States census of 2000.
Popularity & Geographic Distribution
The last name Dutton ranks 1,976th in popularity in terms in the United Status as of the 2000 Census. The surname ranks particularly high in the six following states: Georgia, Alabama, New Hampshire, Montana, Delaware, and Oklahoma. In England, the name ranks 754th and it ranks particularly high in the following five counties: Cheshire, Staffordshire, Shropshire, Warwickshire, and Lancashire. The name is common throughout the English speaking world:  Scotland (2,536th), Wales (742nd), Ireland (3,419th), Canada (3,318th), New Zealand (2,095th), Australia (1,318th), and South Africa (2,718th).
The 1890 book Homes of Family Names by H.B. Guppy states "The Duttons of Dutton were a very old and distinguished family, and were associated with the township of that name from the time of William the Conqueror to the reign of Charles II. John and Rowland Dutton, evidently of this family, were two Cheshire gentlemen who contributed £25 a-piece to the Spanish Armada fund in 1588. The Duttons are now numerous in the Nantwich district".
Early Bearers of the Surname
The earliest recorded bearer of this last name has been mentioned above: Odard de Dutton who was recorded in the Domesday Book. A one Henry de Dutton of Bispham in county Lancashire was documented in 1132 in the Lay Subsidy Rylands. Baines' Lancashire mentions one Richard Dutton, son of Ughtred and William de Dutton. The Preston Guild Rolls list one William Dutton in 1415 AD. An early marriage involving this surname was Thomas Dutton to Judith Jennings in London in 1579 AD.
History, Genealogy, and Ancestry
The first ancestor of the Dutton family recorded to history was Herluin II d'Amiens who was born around 890 AD. He had a son named Roger Amiens. Roger was born in 894 AD in Ponthieu, Somme, France. He had a son named Guillaume Ponthieu who was born in 915 AD in Montreuil. He married Maud de St. Pol and had numerous issue with her, including Richard St. Sauveur who was born in 880 AD in St. Sauver, Normandie. He married Sprota Normandie and they had a son named Niel. Niel was born in 911 AD in the same city. Niel had a son named Roger St. Sauver who was born in 940 AD. Roger married Adele Esproita deBeitagne and they had two children, one of which was named Niel. Niel was born in 964 AD and married Godhilda Bore and had a son with her, also named Niel. This Niel was born in 985 AD and he married Adele Brionne. They had five children, one of which was Tyves St. Sauveur de Cotentin. Yves was born in 1005 AD in Cotentin. He married Emme Bretagne and Gisele Chevreuse Beaumont. He left behind numerous issue including Odard Cotentin. Odard (also spelled udard, Hudad or Hudard) also bore the surname de Dutton. He was born in 1046 AD and married a woman named Alice. They had a son named Hugh Fitz-Odard Dutton born in 1086 in Dutton, Cheshire, England. He married Alice Picard in 1127 and they had a son named Hugh. This Hugh was born in 1128 AD in the same town and he married Margaret Risley and Alice Prescott and left behind numerous issue: Roger, Alice, Geoffrey, Hugh, Thomas, and Adam. His son Hugh III was born in 1155 in the same town. He married Isabel Massey and had issue with her: Katharine Dytton, Hugh IV, Adam, Alice, and Jeffrey. His son Hugh IV was born in 1172 and married Muriel Despenser. They had issue: Hugh V, Thomas, John, Adam, and Geoffrey. Sir Thomas de Dutton was born in 1214 in Cheshire, England and he married Philippa Standon in 1250 AD. They had children: Margaret (Venables), Hugh, Thomas, Robert, and Katherine. His son Hugh was born in 1253 AD. He married Margaret Risley and later Joan St. Pierre. He had the following children: Adam, Hancock, Margaret, Hugh, William, and Robert. His son Sir Hugh was born in 1276 AD and married Isabella Massey and later Joane Holand. He had the following issue: Catherine, Thomas, William, Geoffrey, Robert, and Hancock. His son Thomas was born in 1314 in Cheshire and married Eleanor Thornton. They had issue: Joanna (Haydock), Peter, Thomas, Edmund, Lawrence, and William de Hotton. His son Edmund Dutton was born in 1339 AD and he married Joan Minshull in 1363 and had two children with her: Peter and Hugh. Sir Peter (Piers) was born in 1367 and he married Elizabeth Butler and had children with her: Ellen, Thomas, Lawrence, Elizabeth (Doone), John, Richard, and Sybella. His son Sir John was born in 1403 AD. He married Margaret Savage and had many children with her: John, Thomas, Arnolde, Maud (Booth), Margaret (Egerton), Roger, Eleanor (Langford), Robert, Agnes, John, and Elizabeth. His son Sir Thomas was born in 1421 and married Anne Tuchet. They had many children together: Eleanor (Cholmondeley), Peter, John, Isabel (Southworth), Margaret (Vernon), Anna (Molyneux), Alice, Elizabeth (Bostock), and Lawrence.
Thomas Dutton was born in 1713 in Maryland. He married Lydia Baker in 1741 in Sussex, Delaware and had four issue with her: John, Margaret (Vint), Abel, Baker, and Jesse. His son John was born in 1741 in Delaware. He married Elizabeth Stephenson and they had a son named Abraham Derting who was born in 1790. He married a woman named Catherine and they had a son named Elkanah, born in 1821 in Tennessee.
David Randolf Dutton was born in Madison, New York in 1826 AD. He married Alcesta Susan Westover and later Amanda A. Odell Evans. He had two issue: Frank Perry and Emmagene Emily (Westover). His son Frank was born in 1850 in Barry County, Michigan. He married Alcesta Susan and had three issue with her: Susan Adelia, George, and Delmar D.
Early American and New World Settlers
The book Genealogical Guide to the Early Settlers, mentions two people bearing this surname: 1) John Dutton who arrived in America to an unknown location in 1630 (it is believed he fled persecution in England because he was a Quaker and came to Virginia aboard the Suzanne) and 2) Thomas Dutton, maybe the son of the aforementioned John, who was born around 1621 and lived in Reading. He had a wife named Susan and had numerous issue: Thomas (1648), Mary (1651), Susanna (1654), John (1656) and perhaps more at Woburn (Joseph, John, Sarah, James, & Benjamin). He moved to Billerica and he married Ruth Hooper when his wife Susan died. Other early people bearing this last name in colonial America include Debora Dutton (Virginia 1652), Dorothy (Virginia 1654), Abraham Dutton (Maryland 1663), and Henry Dutton (Virginia 1665). In Australia, a one Charles Christian Dutton arrived in Adelaide in 1839 aboard the ship Dorset.
Mottoes
The Dutton family motto is Servabo fidem, meaning "I will keep the faith".
Grantees
We have nine coats of arms for the Dutton surname depicted here. These nine blazons are from Bernard Burke's book The General Armory of England, Ireland, and Scotland, which was published in 1848. The bottom of this page contains the blazons, and in many instances contains some historical, geographical, and genealogical about where coat of arms was found and who bore it.
Notables
Famous people with this last name include: 1) Francis Stacker Dutton (1818-1877) who was the 7th Premier of South Australia, 2) Norman Alexander Dutton (1897-1987) who was a hockey player that became president of the National Hockey League, 3) Henry Dutton (1796-1869) who was the 38th Governor of Connecticut, 4) Henry Dutton (1844-1914) who was a pastoralist in Australia known as the Squire of Anlaby, and 5) Frank Kennan Dutton who was a police officer in South Africa who investigated and prosecuted people for war crimes during the Apartheid era.
Blazons & Genealogy Notes
1) (Hatton, co. Chester). (Dutton, co. Chester. Odard, the ancestor of this family, came in with the Conqueror; from him descend the Warburtons, of Arley). (Sherborne, co. Dorset, bart., extinct 1743. Anne Dutton, sister of the last bart., m. James Naper, Esq., of Loughcrew, co. Meath; her son, James Lennox Naper, succeeded to the estates and assumed the name and arms of Dutton; his son, James Dutton, was created, 1784, Lord Sherborne). Quarterly, ar. and gu. in the 2nd and 3rd a fret or. Crest—Out of a ducal coronet or, a plume of five ostrich feathers gu., az., or, vert, and tenne.
2) (Baron Sherborne). Same Arms, a crescent for diff. Crest—A plume of five ostrich feathers ar., az., or, vert, and gu. Supporters—Two wolves ppr. collared gu. charged with three garbs or. Motto—Servabo fidem.
3) (granted 1647, by Roberts, Ulster, to Lieut. Richard Dutton). Same Arms, a crescent for diff. Crest—Out of a ducal coronet or, a plume of five ostrich feathers, ar., gu., or, ar., and sa.
4) (co. Chester). Quarterly, ar. and gu. on the 1st and 4th quarters a fret of the last.
5) (co. Chester). Quarterly, ar. and gu. in the 1st and 4th quarters a bend sa., in the 2nd and 3rd a fret or.
6) Quarterly, ar. and gu. in the 1st a crescent of the second, in the 2nd a fret or.
7) (Bulkley and Cheadle, co. Chester). Ar. a fesse dancettee gu.
8) (William de Dutton, co. Chester, 17 Richard II.). A cross fitchee, the upper and two side pieces terminating in lozenges.
9) (granted to Frederick Hansbrow Dutton, Esq., of Dover Street, Piccadilly, and of Anlaby, in the cos. of Light and Eyre, in the province of South Australia, sometime Member of the Legislative Council of the said province). Quarterly, erm. and gu. in the 2nd and 3rd quarters a fret within an orle or. Crest—A fret fessewise gu. in front of a plume of five ostrich feathers alternately or and ar. Motto—Servabo fidem.