Eastwood Family Crest, Coat of Arms and Name History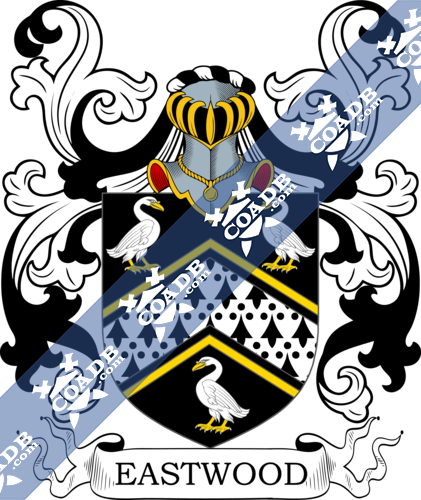 Eastwood Coat of Arms Gallery
Don't know which Coat of Arms is yours?
We can do a genealogical research. Find out the exact history of your family!
Learn More
Eastwood Origin:
England
Origins of Eastwood:
The Eastwood surname originally evolved from an Anglo-Saxon origin and is locational from the various places so termed as, for example in Essex and Nottinghamshire. However, most of these names of various places had evolved originally from the ancient Old English pre 7th Century "East", an easterly direction, with "wudu", a wood or forest, as in the case of Eastwood in Essex, first registered in the book of Domesday of the year 1086 as "Estuuda". However, the place in Nottinghamshire first registered in the Domesday document as "Estewic", and in the Pipe Rolls of 1166 as "Est Twait", which evolves from "East", as before, and "thwaite", a piece of cleared land. Locational surnames, like this, were usually obtained by a regional landowner, or by the King of the estates, and specifically by those ancient settlers of a place who had shifted to another land, mostly in seeking of work, and thereafter best recognized by the name of their birth origin. According to Early Recordings from Essex, Chapel Records included the naming of John Eastwood on June 1558, at Great Bentley, and the naming of William Eastwood in November 1590, at Cold Norton. A Coat of weapons gifted to a family of the name Eastwood is a black shield, an ermine chevron with two gold couple nearby, in the mid of three silver swans curved, the Crest is on a ducal band per pale gold.
Variations:
More common variations are: Eastwoode, Eastawood, Eastewood, Astwood, Estwood, Eastwod, Eastood, Eastwwod, Eastwodd, Astoto.
England:
The origins of the surname Eastwood were in Cheshire where people there held a family seat from early times.
The very first recorded spelling of the family was shown to be that of Adam de Estwde, dated 1221, recorded at Ely Cathedral, Cambridgeshire. It was during the time of King Henry III who was known to be the "The Frenchman," dated 1216 – 1272. The origin of surnames during this period became a necessity with the introduction of personal taxation. It came to be known as Poll Tax in England. Surnames all over the country began to develop, with unique and shocking spelling varieties of the original one.
Ireland:
Many of the Eastwood had moved to Ireland during the 17th century.
United States of America:
Individuals with the surname Eastwood settled in the United States in our different centuries respectively in 17th, 18th, 19th and 20th. Some of the people with the name Eastwood who settled in the United States in the 17th century included Edward Eastwood arrived in Virginia in the year 1621. Richard Eastwood who brought land and Richard Eastwood arrived in Virginia in the same year in 1642. John and Henry Eastwood arrived in Maryland respectively in the years 1667 and 1668.
The following century saw much more Eastwood surnames arrive. Some of the people with the name Eastwood who settled in the United States in the 18th century included Thomas Eastwood and Mary Eastwood who arrived in Virginia respectively in the years 1701 and 1717. Sarah Edward and Sarah Edward at the age of 16 landed in South Carolina in the same year 1774.
The following century saw much more Eastwood surnames arrive. Some of the people with the name Eastwood who settled in the United States in the 20th century included Abraham, Dienal, David, Thomas, Walter and William Eastwood all arrived in Pennsylvania in the mid of 1800. Joseph Eastwood came in New York in 1841.
Australia:
People with the name Eastwood who settled in Australia in the 19th century included John Eastwood and Joseph Eastwood an English prisoner from Lancaster aboard the same ship " Ann" in August 1809 and settled in New South Wales, Australia. John and Simeon Eastwood arrived in Adelaide, Australia aboard the same ship " Lady Lilford in the same year 1839, Henry Eastwood who was a baker at the age of 21 came to South Australia in 1855 aboard the ship " Punjab".
New-Zealand:
People with the name Eastwood who settled in New-Zealand in the 19th century included James, Charles, William, Ann M. Eastwood and Alfred H. Eastwood arrived in Auckland, New Zealand aboard the ship " Gertrude" in the year 1863.
Here is the population distribution of the last name Eastwood: United States 6,284; England 8,061; Australia 2,011; Canada 1,073; South Africa 1,242; Wales 316; Scotland 368; Northern Ireland 608; New-Zealand 568; Ghana 799.
Notable People:
Arthur Eastwood was a New Zealand rower.
Clint Eastwood is an American film producer, artist, director, writer, singer, and songwriter.
Freddy Eastwood is a Coventry City football player.
Greg Eastwood is a New Zealand rugby league football player.
Jim Eastwood is a Northern Irish businessperson.
Mike Eastwood is a famous player in NHL ice hockey.
Paul Eastwood is a British rugby league football player.
Blazons & Genealogy Notes
1) (Castletown Castle, co. Louth, originally from co. Nottingham; granted by Carney, Ulster, 1658, to John Eastwood, who was Sheriff and Lord Mayor of Dublin, temp. Charles II.). Motto—Oriens sylva. Or, three stags trippant sa. that in base standing under a tree ppr. Crest—A wild boar az. with a branch of acorns in its mouth ppr. The family, however, now use for crest, a stag couped at the loins ppr.
2) (Flockton Nettus, co. York; granted 1747). Sa. a chev. erm. with two couple closes or, betw. three swans ar. beaked and membered of the third, the two in chief respecting each other.
3) Same Arms. Crest—On a ducal coronet per pale or and gu. a lion pass. guard. per pale of the second and first crowned ppr.