Eaton Family Crest, Coat of Arms and Name History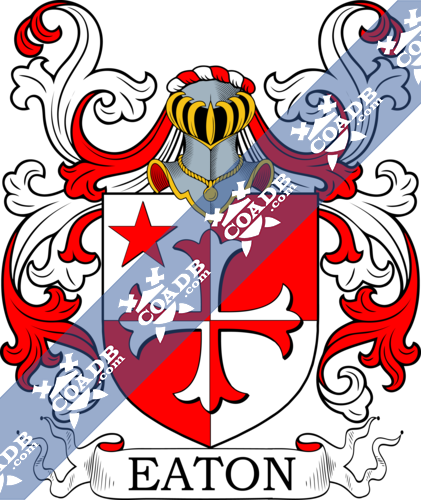 Eaton Coat of Arms Gallery
Don't know which Coat of Arms is yours?
We can do a genealogical research. Find out the exact history of your family!
Learn More
Eaton Origin:
England
Origins of Name:
The surname of Eaton is of an Anglo-Saxon origin, and it is a locational surname which derives from one of the many places named Eaton. These places are found in the midland and the north-midland of England, and are often named as deriving from the Old English Pre 7th Century word "ea" that is translated as meaning "river" and the suffix "tun" which is translated as meaning "enclosure" or "settlement." In 1086, these town names were recorded into the Doomsday Book, which consisted of a "Great Survey" throughout England. The names were recorded under various different spellings, such as Etone, Ettuna, Etune, and Ettone. Other places that are called Eaton are derived from the Old English "eg" which is translated as "island" or "low-lying-land" or "low-land" and the suffix "tun" which can also be translated to mean "settlement" or "enclosure." These names are also recorded in the Doomsday Book of 1086, and are spelled with the different variations of Eitone, and Eitune. In modern times, this surname has changed to be spelled as either Eaton, or Eyton.
Variations:
More common variations are:
Eiaton, Eeaton, Eatton, Yeaton, Ewaton, Eatone, Eaaton, Eton, Eayton, Eatoin
History:
England:
The first recorded spelling of the surname of Eaton is in the year 1273, and is shown to be that of Peter de Eton, who was recorded and mentioned in the Hundred Rolls of Huntingdonshire. This surname was recorded under the reign of King Edward I, who was commonly referred to throughout history as "The Hammer of the Scots". King Edward I reigned over his kingdom beginning in 1272 to the year 1307. Other recorded spellings of this surname include John Eaton, who was recorded as being christened in the year 1566 at St. Lawrence Jewry in London, and Edward Eaton and Clemence Jordan who were married at St. Mary's Woodchurch, in the year 1570 in the month of October. In England, those who bear the surname of Eaton originated in the county of Cheshire. Today, those who carry the surname of Eaton are often found in high concentrations in the counties of Lancashire, Yorkshire, Derbyshire, Nottinghamshire, Essex, Middlesex, and the city of London.
Scotland:
In the country of Scotland, those who bear the surname of Eaton are found in the counties of Angus, Midlothian, Renfrewshire, and Lanarkshire.
United States of America:
The European Migration was a movement of people from the European countries who had wanted a better life and left their homeland in search of one. Many of these people went to the United States of America, which at that time was reffered to as The New World or The Colonies, because this new land promised the freedoms that they were so hoping for. The first person to bear the surname of Eaton and was recorded as arriving in the United States of America was the Eaton family, made up of Francis Eaton, his wife Sarah Eaton, and their son Samuel Eaton who all arrived in the United States in Plymouth, Massachusetts, by sailing aboard the maiden voyage of "The Mayflower." These settlers were not just the first people to bear the surname of Eaton in the United States of America, they were among the first people in America ever. Those who bear the surname of Eaton are found in the various states of Massachusetts, New York, Texas, Oklahoma, Iowa, California, , Illinois, Maine, Michigan and the state of Virginia.
Eaton Today:
United States 55,118
England 12,427
Australia 4,276
Canada 3,647
South Africa 2,356
New Zealand 776
Mexico 707
Scotland 663
Wales 463
Kenya 314
Notable People:
Henry Smith Van Eaton (1826-1898) who was an American Democrat politician, and a Member of the Mississippi State Legislature, a U.S. Representative from Mississippi in the 6th District from the year 1883 to the year 1887
Mindy Van Eaton, who was an American Republican politician. She was also an Alternate Delegate to the Republican National Convention from Missouri in the year 2008
C. S. Van Eaton, who was an American Republican politician, and a Member of the Iowa State Senate in the 32nd District, who was elected in the year 1948
John Charles Eaton (1935-2015) who was an American composer, and a recipient of the Prix de Rome and was also a Guggenheim Fellow
Joseph W. Eaton (1919-2012) who was born with the name Josef Wechsler, and was a German-born American sociologist and anthropologist
Brigadier-General William Herbert Eaton (1906-1945) who was in the Supple Army Air Force in 1945 and was the American Assistant Chief of Staff.
Brigadier-General Ralph Parker Eaton (1898-1986) who was in the Carribean Command in 1948 and was the American Staff Secretary.
To receive a complete surname meaning report by PDF you can order our SURNAME MEANING PACKAGE for $129.   This report is great to share with family and friends.  It includes everything you see above plus any other information we can find on the specified surname.  It does take approximately 10 to 15 days for us to complete this custom report.
To receive a direct lineage & coat of arms search for your specific line(s) you can order one of our GENEALOGY PACKAGES ranging in price from $249 to $999.   All research is completed by a professional genealogist with over 30 years' experience.  All reports and coat of arms files are sent by email in PDF and JPG format.
Blazons & Genealogy Notes
1) (Blackden, co. Chester). Quarterly, ar. and gu. a cross patonce counterchanged in the first quarter a mullet of the second.
2) (Blackden, co. Chester). Later Arms (after their marriage with the Goosetreys) Ar. a chev. betw. three squirrels sejant gu.
3) (co. Chester). Ar. a chev. betw. three eagles displ. with two heads gu.
4) (Tolethorpe Hall, co. Rutland). Quarterly, 1st and 3rd, or, a fret az.; 2nd and 4th, or, a bend az. between three lions' heads gu. Crest—A lion or, bearing a bow ppr.
5) (Dunmoylin, co. Limerick, bart., extinct. Fun. Ent. of Simon, only son of Sir Simon Eaton, Bart., d. 19 Nov., 1684, buried next day in St. Patrick's Cathedral). Or, a fret vert.
6) (Chapell Bar, co. Nottingham). Motto—Vincit omnia veritas. (co. Wilts). Or, a fret az. Crest—An eagle's head erased sa. in the beak a sprig vert.
7) (Temple, 1687). Quarterly, ar. and sa. a cross patonce, counterchanged, the first quarter charged with a mullet of the second, a label for diff.
8) (Eaton, co. Chester). (co. Salop). Same Arms, without the mullet.
9) (co. Worcester). Sa. three bars ar.
10) Erm. a lion ramp. az. Crest—A crow's head erased sa.
11) Or, a fesse az. Crest—A boar's head erased, holding in the mouth a sword.
12) Ar. on a bend engr. sa. three bucks' heads cabossed of the first. Crest—Out of a ducal coronet or, a bull's head sa. armed ar.
13) Ar. semee of trefoils ppr. two annulets braced in the nombril point sa.
14) Sa. a chev. erm. betw. three leopards' faces or.
15) Gu. a bend wavy cotised or.
16) (Rainham, co. Essex). Same Arms, bend and cotises or. Crest—A stork ar. beaked and legged gu. holding in the beak an ostrich feather or.
17) Or, a cross sa.