Elford Family Crest, Coat of Arms and Name History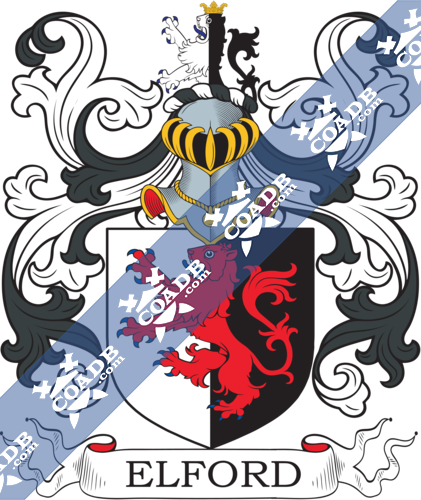 Elford Coat of Arms Gallery
Don't know which Coat of Arms is yours?
We can do a genealogical research. Find out the exact history of your family!
Learn More
Elford Origin:
England
Origins of Elford:
This unusual surname of English origin is a geographical name from a place so called, acquiring either from the Old English pre 7th Century particular name Ella, a short form of the many combined names with a first element "oelf" which means "elf" and "Ford" which means"fort", or, from the Old English pre 7th Century "alor", "elre" which means "alder tree" and "Ford". There is a place of this name in Staffordshire and another in Northumberland but the surname is now mainly in Devonshire. The placename was listed as Eleford in the Domesday Book of 1086. The surname records back to the mid-16th Century. Differences in the phrase of the spelling contain Ilford, Ellford, Elforde, Eillford, etc.. One, Edmond Ilford, son of John and Joan, named in March 1575, at St. Mary Abbot's, Kensington. Elizabeth Elford was named at St. Botolph without Aldgate in June 1594, and Robert Elford married Elizabeth Rashbrooke in September 1607 at St. Peter's, Paul's Wharf, London, during the rule of King James I of England and Scotland, 1603 – 1625. Surnames became necessary when governments introduced taxation. In England, this known as Poll Tax. Throughout the centuries, surnames in every country have continued to "develop" often leading to surprising alternatives of the original spelling.
Variations:
More common variations are: Ellord, Eleford, Eliford, Elaford, Whelford, Elleford, Elifford, Alford, Olford.
England:
The surname Elford first appeared in Northumberland at Elford, which records back to at least 1256 when it was noted as Eleford and had two possible origins as having acquired from the Old English particular name Ella or Ellen and Ford as in "ford of a man called Ella" and "fort where elder-trees grow." Elford is also a hamlet and local church in Lichfield District of Staffordshire that records back to 1002 when it noted as Elleford and later recorded in the Domesday Book of 1086 as Eleford. While this next hamlet is older, the Northumberland village is, where the first recordings of the name appeared.
Ireland:
Many of the people with surname Elford had moved to Ireland during the 17th century.
United States of America:
Individuals with the surname Elford landed in the United States in two different centuries respectively in the 18th, and 19th. Some of the people with the name Elford who arrived in the United States in the 17th century included John Elford, who arrived in Salem, Massachusetts in the year 1628. Richard Elford, who came to Jamaica in the year 1657. John Elford, who landed in Maryland in 1674. James Elford, who arrived in America in the year 1685.
The following century saw more Elford surnames come. Some of the people with the surname Elford who arrived in the United States in the 19th century included James M Elford, who arrived in Charleston, South Carolina in the year 1823.
Canada:
People with the surname Elford who settled in Canada in the 18th century included James Elford who settled in St. John's, Newfoundland, in the year 1757. Wills Terry Elford, who settled in Petty Harbour, Newfoundland in the year 1790.
Australia:
Some of the individuals with the surname Elford who landed in Australia in the 19th century included Priscilla Elford at the age of 19, a seamstress, arrived in South Australia in 1855 aboard the ship "Punjab."
Here is the population distribution of the last name Elford: England 1,237; Australia 912; Canada 842; United States 668; South Africa 201; Wales 181; New Zealand 78; Sweden 65; Scotland 39; Ireland 27.
Notable People:
John Elford (FL. 1966–1976), was an Australian rugby league football player.
Keith A. Elford was the priest of the Free Methodist Church in Canada.
Richard Elford (c. 1677–1714), was an English musician and entertainer.
Shane Elford (born 1977) is an Australian rugby league player.
Vic Elford (born 1935) was an English sportscar racing, rallying, and Formula One driver.
Sir William Elford, 1st Baronet (1749–1837), was an English banker, and freshman artist.
Blazons & Genealogy Notes
1) (Shipston, co. Devon. John Elford, temp. Henry VII., inherited Sheepster, co. Devon, from his mother, Joan Scudamore. Visit. 1620). (Bickham, co. Devon, created bart., 26 Nov. 1800; extinct 1837). Per pale ar. and sa. a lion ramp. gu. Crest—A demi lion ramp. erased per pale ar. and sa. ducally crowned or.
2) Quarterly, ar. and gu. in the second and third quarters a fret or, over all on a bend sa. three mullets of the first.