Elworth Family Crest, Coat of Arms and Name History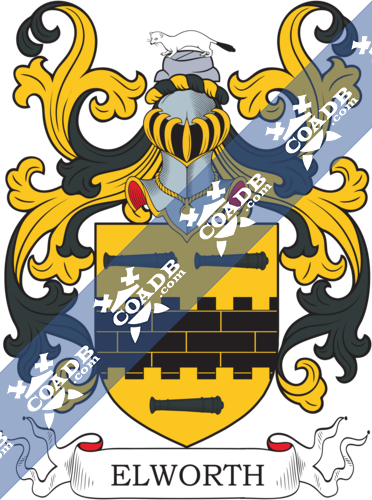 Elworth Coat of Arms Gallery
Don't know which Coat of Arms is yours?
We can do a genealogical research. Find out the exact history of your family!
Learn More
Origins of Elworth:
The old roots of the Elworth family name are in the Anglo-Saxon culture.  The name Elworth acquires from when the family resided in Cambridgeshire, where they acquired their name from the place-name Elsworth.  The place-name derived from the Old English particular name Eli and worth, an Old English word for farm.  The place-name converted literally as 1311's farm.  One relatively recent discovery that did much to regulate English spelling was the printing press.  However, before its design, even the most educated people noted their names according to sound rather than spelling.  The spelling variations of which the name Elworth has appeared include Ellesworth, Elsworth, Ellsworth, Elisworth, Ellisworth, Elsworthy and much more.
England:
The surname Elworth first appeared in Cambridgeshire at Elsworth, a church, in the union of Caxton and Arrington, hundred of Papworth. An old Saxon hamlet, it dates back to 974 when it first noted as Eleswurth.  By the Domesday Book of 1086, the place name had developed to Elesuuorde.  Elworth is a hamlet and an area of Sandbach, Cheshire but is rather recent in history so as to be an unsimilar origin of the surname.  Elworthy is a small hamlet and local church in the Brendon Hills area of Somerset.
United States:
An examination of early immigration records and tourist ship lists showed that people bearing the name Elworth arrived in North America very early as Josiah Ellsworth who settled in New England in 1620 and bought land there.  The Ellsworths were among the first travelers to land in the New World.  Later David Ellsworth landed in Massachusetts and shifted to Boston in 1767.  By 1852, John Ellsworth had traveled across the states to settle in San Francisco.
Blazons & Genealogy Notes
Or, a fesse embattled sa. masoned of the first betw. three chamber-pieces of the second. Crest—On a mount an ermine pass. ppr.