Enfield Family Crest, Coat of Arms and Name History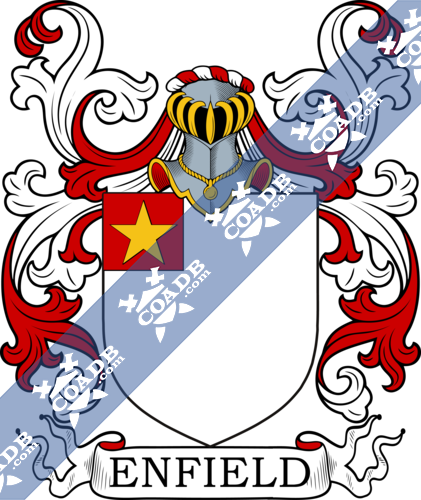 Enfield Coat of Arms Gallery
Don't know which Coat of Arms is yours?
We can do a genealogical research. Find out the exact history of your family!
Learn More
Origins of Enfield:
When the ancestors of the Enfield family moved to England following the Norman Invasion in 1066, they brought their family name with them.  They resided in the division of Berkshire, England.
Variations:
More common variations are: Einfield, Enefield, Enffield, Enfild, Enfeld, Anfield, Infield, Einfeld, Enfeldt, Enfiled.
England:
The surname Enfield first appeared in Berkshire where they were Lords of the Estate of Englefield. "This church, which contains 1379a. 3r. 16p., acquires its name from the Saxon word Ingle, a fire or beacon light and perhaps had its origin about the middle of the ninth century, when the Danes, having made themselves masters of Reading, sent out a patrol from their army to attack the Saxons, who settled here, and who drove them back with great loss."  Gilbert and Stephen held their land here from the Norman Chief resident, Williams FitzAnsculf c. 1086.  Enfield in a church in the union and hundred of Edmonton, Middlesex.  "This place is in Domesday Book called Enefelde, showing its situation among fields, or in the downed part of a forest."
United States of America:
Individuals with the surname Enfield landed in the United States in 18th.    Some of the people with the name Enfield who arrived in the United States in the 18th century included George Enfield who arrived in New Jersey in the year 1772.
Blazons & Genealogy Notes
1) (co. Essex). Gu. an inescutcheon or, an orle of eight martlets ar. Crest—A hand holding an escutcheon or, charged with a martlet ppr.
2) (co. Middlesex). Ar. on a canton gu. a mullet or, (another, ar.).
3) Barry of six gu. and ar. on a chief or, a lion pass. az. over all a bend sa.
4) Ar. on a canton sa. a mullet or, pierced gu.