Essington Family Crest, Coat of Arms and Name History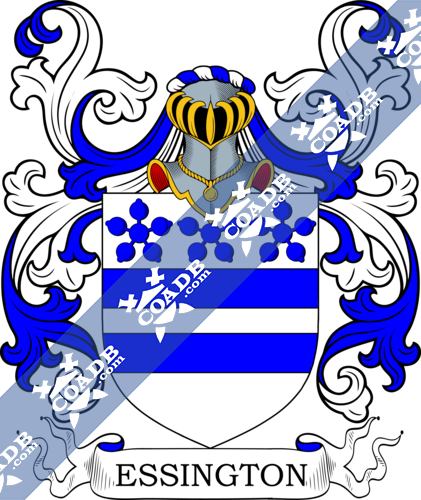 Essington Coat of Arms Gallery
Don't know which Coat of Arms is yours?
We can do a genealogical research. Find out the exact history of your family!
Learn More
Origins of Essington:
Before the last few hundred years, the English language had no fast system of spelling rules. For that reason, spelling variations commonly appeared in early Anglo-Saxon surnames.  Over the years, many variations of the name Essington noted, including Essington, Esington, Easington, Essinton and much more.
Variations:
More common variations are: Eussington, Esington, Easington, Ossington, Essengton, Assignton, yesington, Isington, Whassington, Ausington.
England:
The surname Essington first appeared in South Staffordshire, at Essington, a hamlet and local church that dates back to 996 when it noted as Esingetun.  By the Domesday Book of 1086, the place name had changed to Eseningetone.  The Domesday Book recorded Bseningetone as part of the Cuttlestone hundred, land held by William fitzAnsculf and comprised 2 hides of land and was large enough for 6 ploughs.  Countess Godgifu held the Hundred at that time on behalf of fitzAnsculf.  The place name means "farmland or the family or supporters of a man called Esne," from the Old English personal name "Inga" and "tun."
United States of America:
Some of the people with the name Essington who arrived in the United States in the 17th century included Thomas Essington, who landed in Virginia in the year 1635.  John Essington, who landed in New Jersey in the year 1681. The following century saw more Essington surnames arrive.  Some of the people with the surname Essington who arrived in the United States in the 19th century included Sarah Essington, who arrived in Virginia in the year 1703.
Blazons & Genealogy Notes
1) (Cowley, co. Gloucester; confirmed 28 July, 1610, by Segar, Garter). Ar. five fusils in cross or. Crest—A hand ppr. holding a fusil or.
2) (Ribbesford House, Bewdley, co. Worcester). Motto—Sea or land. Sa. on a cross ar. five fusils conjoined in cross az. Crest: On a mount vert a fusil fessways ar. in front of a cubit arm erect ppr. the hand holding a fusil.
3) (quartered by Haselrig, of Sutton Bonninton, co. Notts. William, son of Simon Haselrig, Lord of Haselrig, co. Leicester, temp. Henry V., m. the dau. and co-heir of Sir Robert Essington. Visit. Notts, 1569). Ar. two bars, and in chief three cinquefoils az.
4) (Halsted, co. Lincoln). Az. on a chev. betw. three grieces or, five mullets of the field. Crest—A horse's head erased ar.