Estrada Family Crest, Coat of Arms and Name History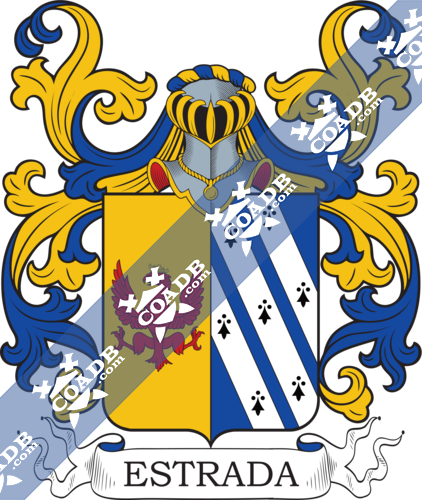 Estrada Coat of Arms Gallery
Don't know which Coat of Arms is yours?
We can do a genealogical research. Find out the exact history of your family!
Learn More
Estrada Surname Name Meaning, Origin, History, & Etymology

This popular last name is primarily Spanish and Catalan and developed as a habitational name referring to a person who lived in or was from any of several places/towns named Estrada, from the Spanish word estrada, meaning road, which ultimately derives from the Latin word stata (from sternere, meaning to strew or cover), a term used to denote a paved way. Such roads were crucial during medieval times throughout Christendom to allow the flow of people and goods across long distances, helping lead to the economic advancement of Europe and the modern western world. Some spelling variants or names with similar etymologies include Estarada and Estradaa.
The book Surname Dictionary of the Heraldic and Genealogical Encylopaedia states the following in regard to this surname: "…It had its primitive and very ancient parcel in the place of Estrada, that is part of the Ayuntamiento (municipality) of Val de San Vicente and the Judicial District of San Vicente de la Barquera, that today belongs to the province of Santander (at present, Autonomous Community of Cantabria), but that in antiquity was included in the Asturias of Santillana, that comprised part of the provinces of Oviedo and Santander. On top of a rock, you can still see in the said place an ancient tower, and in it a shield with an eagle, which is the coat of arms of Estrada".
Popularity & Geographic Distribution
The last name Estrada ranks 298th in popularity in the United Status as of the 2000 Census. The name ranks particularly high in the following five states: California, New Mexico, Arizona, Texas, and Nevada. In Spain, the name ranks 386th. In Portugal, it ranks 1,350th. The surname Estrada frequency/commonness ranks as follows in the Latin and South America: Mexico (49th), Guatemala (12th), Colombia (173rd), El Salvador (108th), Honduras (120th), Nicaragua (73rd), Peru (139th), Cuba (81st), Costa Rica (238th), Panama (233rd), and Venezuela (313th).
Estrada Family Tree & Estrada Genealogy
One of the earliest known ancestors or progenitors of this family was a man named Grimaldo who was born sometime between 929. He had a son named Oton. Oton had a son named Sancho Duque de Estrada, Duque de Santilla, who was born sometime before 1060 AD. The following is a lineage from him:
Ossoris Duque de Estrada, I Señor del Castillo San Vicente Barquera (born before 1060 AD)
Gutierre Ossorio Duque, I Señor de Casa Estrada (born in 934 AD at Santillana del Mar, Cantabria, España)
Sancho Garcia de Estrada, II Señor de Casa Estrada (born before 1060 AD)
Fernán Sánchez de Estrada, Conquistador de Avila (born in 994 AD at Santillana del Mar, Cantabria, España)
Gonzalo Fernández de Estrada (born 1020 AD). The aforementioned Gonzalo had two sons: Rodrigo Gonzales de Estrada (had son named Fernan Ruiz de Estrada) and Rodrigo Fernandez de Estrada (had a son named Fernan Ruiz Duque de Estrada born c. 1080 AD).
Ramon Estrada was born around 1820 AD. He married Dolores Parra. They had a son named Ponciano Estrada who was born around 1840. He married Prospera Saenz and had a son with her named Jose. This son, Jose Isauro Ines de Jesus Estrada, was born in Rancho Colorado, Chhihuahua, Mexico in 1874. He married Maria de la Luz Transito Refugia Morales and they had a son named Carlos. This Carlos Estrada was born in 1912. He married Maxima Gomez and had a daughter with her.
Early American and New World Settlers
Some of the earliest settlers in the New World bearing this surname include: Diego de Estrada (1513), Alonso de Estrada (1516), Francisco de Estrada (1527), Benito de Estrada (Venezuela in 1534), and Pedro de Estrada (New Spain in 1577, later became Mexico).
Mottoes
I have identified three Estrada family mottoes:
1) Gratia Plena (Full of Grace)
2) Ave Maria (Holy Mary or Hail Mary)
3) I am the house of Estrada, founded on this rocky outcrop I am older than Velasco and to the king I owe nothing*
*This is the family's motto according to Estrada.bz, which also mentions the Estrada's had an ancient rivalry with the Velasco family.

Grantees
We have over 6 coats of arms for the Estrada surname depicted here. These 6 blazons are from Jean Baptiste Rietstap's book Armorial General, which was published in 1861, as well as several other sources. The bottom of this page contains the blazons, and in many instances contains some historical, geographical, and genealogical about where
Notables
There are hundreds of notable people with the Estrada surname. This page will mention a handful. Famous people with this last name include: 1) Henry Enrique "Erik" Estrada (1949) was an American actor best known for his role in the TV series CHiPs, born in East Harlem, Manhattan, New York, 2) John Learie Estrada (1955) who was a Sergeant Major of the U.S. Marine Corps and the US Ambassador to Trinidad and Tobago from 2016-2017, 3) Horacio Estrada Jimenez (1975) who was a pitcher in the MLB from 1999-2001 for the Milwaukee Brewers and Colorado Rockies, born in San Joaquin, Venezuela, 4) Marco Rene Estrada (1983) who was a pitcher in the MLB from 2008-2018 for the Washington Nationals, Milwaukee Brewers, and Toronto Blue Jays, born in Ciudad Obregon, Mexico,
5) Genaro Estrada (1887-1937) who was a Mexican writer, academic, and statesmen, best known for the Estrada doctrine, which stated the Mexican government would acknowledge all foreign governments, regardless of how they came to power, 6) David Estrada (1988) who is an American professional soccer player whose senior career dates back to 2006 and goes to 2018, playing for the teams such as the Seattle Sounders in the MLS, born in Morelia, Mexico, 7) Juan Jose Estrada (1963-2015) who was a Mexican boxer from Tijuana who was a onetime WBC International and onetime WBA World Super Bantamweight Champion, 8) Enrique Estrada Reynoso (1890-1942) who was a Mexican General and Secretary of National defense born in Moyahua, Zacatecas, 9) Mario Lopez Estrada (1938) who was an engineer and real estate developer who became involved in the telecommunications business and became  Guatemala's first billionaire, and 10) Natalia Estrada (1972) who was an actress, model, and TV presenter born in Gijon, Asturias, Spain.
Blazons & Genealogy Notes
1) Espagne – Parti au 1 d'or à l'aigle de gueules couronné d'or au 2 d'azur à trois bandes d'argent ch de sept mouchetures d'hermine de sable 2 3 et 2English: Per pale 1st or with an eagle gules crowned or 2nd azure three bendlets argent charged with seven ermine tails sable 2 3 and 2.
2) Castille – De gueules au lion d'argent couché au pied d'un palmier d'or le tout soutenu d'une terrasse de sinopleEnglish: Gules a lion argent laying on the ground at the foot of a palm tree or all standing on a mount vert.
3) Marquis de Fougerolles – Guyenne – Écartelé au 1 de gueules au palmier d'or posé sur une terrasse de sinople au lion léopardé d'argent couché sur la terrasse (Estrades) au 2 d'azur à la fasce d'argent acc de trois têtes de léopards d'or (La Pole-Suffolk) au 3 écartelé en sautoir de sinople et d'or le sinople chargé d'une bande de gueules bordée d'or l'or chargé des mots AVE MARIA en pal à dextre et GRATIA PLENA à senestre en lettres d'azur (Mendoîa) au 4 de gueules à sept losanges d'argent 3 3 et 1 (Arnoul) Couronne Supports deux lionsEnglish: Quarterly 1st gules a palm tree or placed on a mount vert a lion passant argent laying on the ground on the mount 2nd azure a fess argent accompanied by three heads of a leopard or 3rd quarterly per saltire vert and or the vert charged with a bend gules fimbriated or the or charged the words AVE MARIA palewise to the dexter and GRATIA PLENA to the sinister in letters azure 4th gules with seven lozenges argent 3 3 and 1 crowned, Supporters two lions.
4) Comtes d'Estrades – Guyenne – Fer de reliure du XVIIIe Siècle – Écartelé au 1 d'argent au sautoir d'azur cantonné de quatre aigles de gueules (de Rune alliance du XVIIe s) au 2 contre-écartelé d'or et de gueules à quatre rocs d'échiquier de l'un en l'autre et sur le tout un écu ovale d'azur à la fleur-de-lis d'or (le Normand du Fort alliance de 1691) au 3 contre-écartelé en sautoir de sinople à deux bandes de gueules bordées d'or et d'or aux mots AVE MARIA à dextre et GRATIA PLENA à senestre écrits en lettres d'azur aux flancs du quartier (de Mendoze ascendance d'une alliance de 1579) au 4 de gueules à trois maillets d'argent 2 et 1 Sur le tout d'Estrades (Sur ce cachet comme sur un fer de reliure du XVIIIe s le lion est passant sur une terrasse devant un arbre et non couché devant un palmier comme il serait régulier)English: Quarterly 1st argent a saltire azure having in each quarter one of four eagles gules 2nd against quarterly or and gules four chess rooks counterchanged and overall an oval shield azure with a fleur de lys or 3rd quarterly per saltire vert two bendlets gules fimbriated or and or the words AVE MARIA to the dexter and GRATIA PLENA to the sinister written in letters azure in the flank of the quarter 4th gules three mallets [big head small handle] argent 2 and 1.
5) (Comte) – Hérault – Un cachet utilisé au XVIIIe siècle par la comtesse d'Estrades, et conservé aux archives de l'Hérault, offre une combinaison différente des quartiers – Écartelé au 1 de gueules à un palmier de sinople devant lequel est couché un lion d'argent le tout soutenu d'une terrasse du second (Estrades) au 2 d'azur à la fasce d'argent acc de trois têtes de léopards du mesme (Pole Suffolck) au 4 contre-écartelé en sautoir a) et d) de sinople à deux bandes de gueules bordées d'or b) d'or aux mots AVE MARIA d'azur en flanc c) d'or aux mots GRATIA PLENA d'azur en flanc (Mendoze) au 4 de gueules à sept fusées d'argent aboutées et accostées posées 3 3 et 1 (Arnould)English: Quarterly 1st gules with a palm tree vert in front of which is laying on the ground a lion argent all standing on a mount of the second 2nd azure a fess argent accompanied by three heads of a leopard of the same 4th quarterly per saltire a) and d) vert two bendlets gules fimbriated or b) or the words AVE MARIA azure in the flanks c) or the words GRATIA PLENA azure in the flanks 4th gules with seven fusils argent conjoined and side by side placed 3 3 and 1.
6) (Comte) – France – Jeton de Godefroy comte d'E. maréchal de France 1675, chevalier des ordres du Roy 1661, gouverneur de Dunkerque, maire de Bordeaux, Viceroi d'Amérique, mort en 1686 – D'azur au chevron surmonté d'un monde croisé et acc de trois croissantsEnglish: Azure a chevron surmounted by an orb [globe] charged with a cross and accompanied by three crescents. [No tinctures given]
7) En campo de gules, dos cangrejos, de sable, puestos en faja.