Everton Family Crest, Coat of Arms and Name History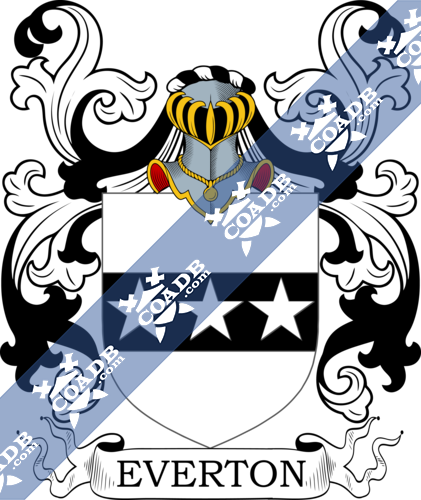 Everton Coat of Arms Gallery
Don't know which Coat of Arms is yours?
We can do a genealogical research. Find out the exact history of your family!
Learn More
Everton Origin:
England
Origins of Everton:
This unique name is of Anglo-Saxon origin and is a geographical surname acquiring from any one of the places called Everton in Bedfordshire, near Biggleswade in Lancashire, now forming a north-eastern district of Liverpool and in Nottinghamshire, near Bawtry. The place in Bedfordshire was noted as "Euretone" in the Domesday Book of 1086, as is the place in Nottinghamshire, while Everton in Lancashire shows as "Evretona" in Early Lancashire Charters of 1094. These places share similar meaning and origin, which is "the boar farm," from the Olde English pre 7th Century "eofor," which means hog, with "tun," which means Hamlet, farmland, enclosure. Geographical surnames, like this, derived by local landholders, and the king of the castle, and particularly by those old citizens of a place who had shifted to another area and were there best recognized by the name of their mother town. Examples of the name from Parish Records contain the wedding of William Everton and Grissell Massone at St. Olave's, Old Jewry, London, in January 1571, and the naming of Phillip, son of John Everton, at Holy Trinity, Chester, in Cheshire, in July 1607. A Royal symbol given to a family of the name represents a black stork, beaked gold, on a silver shield.
Variations:
More common variations are: Evertton, Yeverton, Evertone, Overton, Everdon, Averton, Uverton, Evarton, Iverton, Yverton
England:
The surname Everton first appeared in Lancashire, but other civils is quite possible as the name acquired from the Old English "eofor" and "tun" which meant "farmland where the wild boars seen." Naturally, this Old English expression could apply to many locals. Although, the name has two quite different entries in the Domesday Book of 1086, Eureton in Bedfordshire, Evreton in Nottinghamshire and Everdone in Northamptonshire.
The very first recording spelling of the family was shown to be that of Alured de Euerton, dated about 1212, in the "Hundred Rolls of Cambridgeshire." It was during the time of King John who was known to be the "Lackland," dated 1199 – 1216. The origin of surnames during this period became a necessity with the introduction of personal taxation. It came to be known as Poll Tax in England.
Ireland:
Many of the people with surname Everton had moved to Ireland during the 17th century.
United States of America:
Individuals with the surname Everton landed in the United States in two different centuries respectively in the 17th, and 19th. Some of the people with the name Everton who arrived in the United States in the 17th century included Sarnil Everton, who came to Virginia in 1665. Samuel Everton, who landed in Maryland in 1665.
The following century saw more Everton surnames arrive. Some of the people with the surname Everton who arrived in the United States in the 19th century included James Everton who came in New Orleans in 1823. Harnet Everton settled in Nantucket in 1823. John Everton, who landed in New York in 1830. Julia Everton arrived in Boston in 1850. A Everton at the age of 33, arrived in Texas in 1886.
Here is the population distribution of the last name Everton: Brazil 6,121; United States 1,143; England 903; South Africa 858; Algeria 536; Australia 234; Canada 153; New Zealand 102; France 86; Scotland 46
Notable People:
Chloe Everton, (b. 1979), is a British sports presenter.
Clive Harold Everton was born in September 1937. He is an old English veteran BBC snooker author, reporter, and old professional snooker player. He usually is considered as the official voice for snooker, on account of his knowledge of the game for over forty years.
James Everton, (b. 1992), is a British radio reporter.
John Scott Everton (March 1908–January 2003) was an American college administrator and politician. He got an education at Colgate University Divinity School, Cambridge, and Yale. He worked on the research staff at the Ford Foundation. He gave services as president of Kalamazoo College in 1949-53, and as U.S. Ambassador to Burma in 1961-63.
Blazons & Genealogy Notes
1) (Balstead and Newton, co. Suffolk). Ar. on a fesse betw. three crosses patonce sa. as many fleurs-de-lis or. Crest—A buck's head erased or, pellettee, attired sa.
2) (co. Warwick). Ar. on a fesse sa. three mullets of the field.
3) (Coleshill, co. Warwick. Her. Visit.). Sa. a chev. ar. betw. three pears or.
4) Ar. a stork sa. beaked or.