Farley Family Crest, Coat of Arms and Name History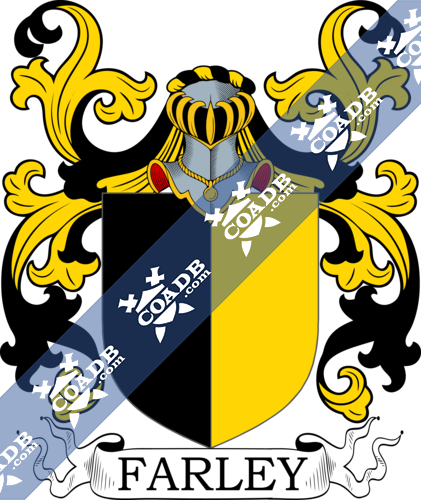 Farley Coat of Arms Gallery
Don't know which Coat of Arms is yours?
We can do a genealogical research. Find out the exact history of your family!
Learn More
Farley Origin:
England, Scotland
Origins of Name:
The surname of Farley is of an Anglo-Saxon origin, and has to do with the location of places called Farley or Farleigh across England. When someone moved to a new place in search of work, it was commonplace for their surname to reflect the location of their birth place. Consequently, people from Counties Berkshire, Derbyshire, Hampshire, and Staffordshire who resided in or near towns bearing the name Farley or Farleigh are likely to be branded with the surname of Farley (or some variant spelling of this surname). These town names are derived from the Old English, pre 7th Century word "fearn" which means fern, and "leah" which is a wood or clearing. Thus, the Farley surname literally translates to "a fern-covered clearing) which means that the original bearer of the name most likely lived in or near such a physical landform.
Variations:
More common variations are:
Farwley, Farleya, Fairley, Fairlie, Fearley, Farrley, Faerley, Fareley, Faraley, Farlley,
History:
England:
The first recorded spelling of the surname Farley was in the "Medieval Records of Glastonbury Abbey" in Somerset, and was recorded as William de Ferlecheia, and dated 1189, under the reign of King Henry II, who was known as "The Builder of Churches," and ruled from the year 1154 to the year 1189. In England, this name originated in the town of Somerset, and the early recordings of this surname were recorded in church records and the Doomsday Book of 1086. The Doomsday Book recorded a "Great Survey" of all of Europe. In the Doomsday Book of 1086, Farley Hill, which is located in Berkshire, was first recorded with the spelling Farleie, and the place in Hampshire was recorded as "Ferlege," whereas in Staffordshire, Farley was logged as being spelled "Fernelege" in the Doomsday Book for Staffordshire County, and noted as "Farleye" in Inquisitiones Post Mortem" which was dated for the year 1273.
Scotland:
In Scotland, those who carry the surname of Farley are often found in the counties of Fife, Lanarkshire, Aberdeenshire, Midlothian, Stirlingshire, and Kincardineshire.
United States:
During the European Migration, it was common for these disgruntled European citizens to migrate to the United States in search of something better for them and their families. Among these citizens were people who carried the surname of Farley. These people with the surname of Farley who migrated to America settled in the states of Virginia, Massachusetts, Delaware, New York, New Jersey, New Hampshire, Tennessee, Pennsylvania, Ohio, Michigan, Alabama, and Indiana. The first recorded people who bore the surname Farley that emigrated to the U.S. were Thomas Farley and his wife Jane Farley, who were noted in a Muster of the Inhabitants of Virginia in the year 1624, and were believed to have landed in America via sailing on the "Ann" in the year 1623.
Ireland
The Farley name in Ireland is of English origin. It was sometimes adopted by families of the Gaelic O'Fearghaile Sept of Counties Cavan and Longford. They would sometimes adopt the surname Farley instead of the more common Farrel or Farrelly. The Farley surname together with its varients are very widespread in Ireland, and the name Farley itself is very popular in Cavan County.
Australia and New Zealand:
During the 19th century, many settlers moved to Australia and New Zealand. In New Zealand, Henry Farley, who was twenty-six years of age, was the first recorded Farley to inhabit New Zealand, and arrived aboard the ship named the "Duke of Edinburgh" in the year 1873. Three years later, in the year 1876, John William Farley, his wife Betsy Farley, and their children, William and Rosa Farley sailed aboard the ship named the "Waimea" and landed in Wellington, New Zealand.
Farley Today:
United States 43,283
England 6,415
Australia 3,004
Canada 2,055
Brazil 1,431
Liberia 1,377
South Africa 694
Germany 437
France 404
Ghana 399
Notable People:
Walter Farley (1915-1989) who was a children's author from America whose work mainly surrounded horses, wrote The Black Stallion in 1941, and wrote others in that series
Terri Farley, who was an author from America, and wrote Seven Tears into the Sea
Kevin Farley (born 1965) who is a stand-up comic and America actor
Joseph Francis Farley (1889-1974) who was the ninth Commandment of the United States Coast Guard from 1946 to 1949
John Patrick Farley (born in 1968) who is an actor from America
John Harrington Farley (1846-1922) who was the 27th and the 34th Mayor of Cleveland, Ohio, and was an American politician
Jennifer "Jenni" Farley (born in 1986) who is an American TV personality
James Indue Farley (1871-1948) who was a three-term Member of the United States Congress from Indiana, and was an American politician
James Thompson Farley (1829-1886) who was a Speaker of the California State Assembly in 1856, and was an American politician
James Farley (1888-1976) who served as Postmaster General from 1933 to 1940, and was an American politician
Blazons & Genealogy Notes
1) (co. Warwick). Per pale sa. and or.
2) Or, three pales sa. Crest—An antelope's head erased, pierced through the neck by a short spear ppr.
3) (Effingham, co. Surrey). Motto—Tollit peccata mundi. Per pale or and erm. a cross crosslet gu. on a chief dancettee of the last a lamb pass, ppr. Crest—On a mount vert before a calvary cross gu. a lamb pass. ppr.