Fanning Family Crest, Coat of Arms and Name History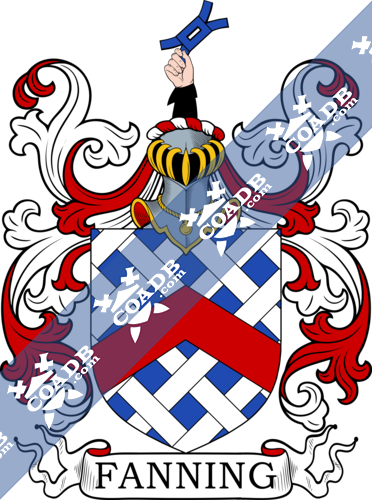 Fanning Coat of Arms Gallery
Don't know which Coat of Arms is yours?
We can do a genealogical research. Find out the exact history of your family!
Learn More
FANNING
The English surname Fanning is a derivative of the old English word "foenn" which translates to a marsh or bod with the name evolving with an alternate spelling of "fenn." It would have been used regarding someone who lived near a lived in or near a low-lying marshy area, in this context it would be considered geographical.
Surnames in Britain prior to the Norman conquest were largely unheard of. In the small settlements and villages which existed during earlier times, residents found little need for surnames as everyone in these communities new each other and a given name would usually suffice. However, with the passage of time, population growth and expansions of communities as villages gave way to towns and cities, it became necessary to add a qualifier to a people's names to distinguish them, one from another. Therefore one person may have been identified by their given name plus their occupation while another may have been identified by their given name and one of their parent's names. The introduction of surnames by the Norman aristocracy after the invasion seemed to be the next logical step in this evolution. There was a boundless supply from which surnames could be formed, in addition to the use of patriarchal/matriarchal names or reference to the individuals occupation, there were things such as defining physical traits, a familiar geographical location or a topographical landmark found near the individuals home or birthplace, the name of the village in which the person lived, and so much more. Soon, surnames would come not just to represent an individual but whole families.
There often exists variations in spelling of many surnames, as with many given names which date back to the early centuries. The variation in spelling of both given and surnames during this time period can be attributed to a lack of continuity regarding guidelines for spelling which was compounded by the diversity of languages in use in European countries at this time. The variations in the spelling of the surname Luke include but not limited to; Fanning; Fannin; Fannon; Finan; Finnan; and Fanningly among others.
The earliest record of any variation of this surname is that of John del Fan which appears in the in Essex tax rolls from 1199. These rolls, were a series of census and tax records kept by the English
Treasury by order of King Richard II. Spanning over seven hundred years with the oldest dating back to the 12th century, they hold the distinction of being the oldest consecutive set of records detailing English governance in the United Kingdom.
One of the first recorded immigrant to America bearing the surname or any variation of the spelling was Edmund Fanning who arrived in 1653 and settled in New London, Connecticut. William Fanning landed and settled in Newbury, Massachusetts in 1668 and John Fanning arrived and settled in Maryland in 1668.
There were also many immigrants to the British Common Wealth countries of Canada, Australia, and New Zealand bearing the surname. John Fanning landed in 1767 and settled in Bonavista, Newfoundland as did Edward Fanning in 1775. Henry Fanning landed in 1849 and settled in Adelaide, Australia. Johanna Fanning landed and settled in Adelaide, Australia in 1854. William Fanning landed in 1864 and settled in Auckland, New Zealand. Bridget Fanning landed and settled in Wellington, New Zealand in 1874.
Worldwide, the highest concentration of people with the surname Fanning are found in Ireland, Australia, Canada, the United States, and the United Kingdom. By state, the largest percentile of those with the surname Fanning live in South Dakota, Georgia, Alabama, Nebraska, and Tennessee.
There are many persons of note who bear the surname such as, American Protestant theologian and educator, Buckner Fanning, who promoted religious tolerance and often held religious services with Jewish rabbis and Roman Catholic priest.
American born, Eric Kenneth Fanning, is the 22nd and current United States Secretary of the Army. He was nominated in 2015, and was confirmed by the United States Senate on May 17, 2016.
American born journalist, newspaper editor, and publisher, Katherine "Kay" Fanning was the first woman to edit a national American newspaper when she was made editor of the Christian Science Monitor. Fanning was the president of the American Society of News Editors from 1987 until 1988.
Blazons & Genealogy Notes
1) Az. fretty ar. a chev. gu. Crest—A dexter hand ppr. vested sa. holding a millrind az.
2) (Ballingarry and Fanningstown, co. Tipperary, and Stone House, co. Waterford. Ulster's Office). Or, a chev. betw. three doves ppr. Crest—A cherubim ppr.