Fels Family Crest, Coat of Arms and Name History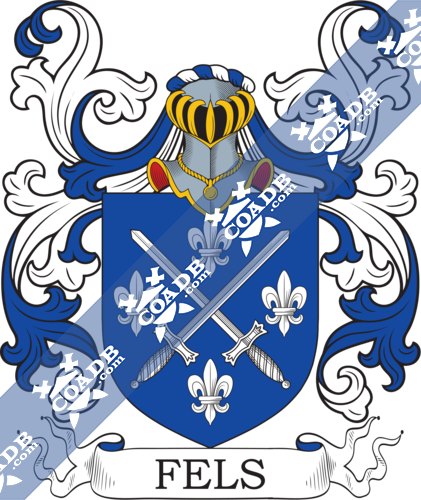 Fels Coat of Arms Gallery
Don't know which Coat of Arms is yours?
We can do a genealogical research. Find out the exact history of your family!
Learn More
This section has not yet been completed. If you are interested in having your genealogy done, we offer an affordable research servicethat traces your lineage so you can learn more about your ancestors, where they came from, and who you are.
Blazons & Genealogy Notes
1) Hollande – D'azur à deux épées d'argent passées en sautoir cantonnées de quatre fleurs-de-lis du même
2) Saint-Gall – D'or à un bouquetin rampant de sable colleté d'or soutenu d'une terrasse rocheuse de sinople Casque couronné Cimier le bouquetin issant. English: Or with an ibex rampant sable collared or standing on a mount rocky vert Crowned with a helmet Crest: the ibex issuant.
3) Tyrol – Parti d'argent et de sable à une croisette pattée de l'un en l'autre Casque couronné Cimier un panache de plumes d'autruche aux armes de l'écu. English: Per pale argent and sable with a crosslet pattee counterchanged Crowned with a helmet Crest: a plume of ostrich feathers with the arms of of the shield.
4) Bavière – (An., 19 juin 1868) (Branche de la maison de la Tour et Tassis). – Tranché au 1 d'or au lion de gueules tenant une épée au 2 d'azur à un rocher d'argent mouv du flanc dextre. English: Per bend 1st or a lion gules holding a sword 2nd azure with a rock argent coming from the flank dexter.
5) (Barons) – Tyrol – Écartelé aux 1 et 4 parti de sable et d'argent à un rocher escarpé de l'un en l'autre ch d'une croisette pattée au pied fiché encore de l'un en l'autre aux 2 et 3 d'argent à un cheval naissant de sable bridé d'or Deux casques le 1er couronné Cimiers 1° un panache de six plumes d'autruche parti d'argent et de sable 2° le cheval issant Lambrequin d'argent et de sable. English: Quarterly 1st and 4th per pale sable and argent with a rocky escarpment counterchanged charged with a crosslet pattee foot fitchy also counterchanged 2nd and 3rd argent with a horse naissant sable bridled or two helmets the 1st crowned Crests: 1st a plume of six ostrich feathers per pale argent and sable 2nd the horse issuant Mantling: argent and sable.
6) (Comtes) – Autriche – Écartelé aux 1 et 4 de gueules à une colonne d'argent le chapiteau et la base d'or soutenue d'une champagne du second au 2 de gueules à la fasce d'argent ch d'une croisette pattée du champ au 3 coupé d'argent à une rose à six feuilles de gueules sur gueules plein Sur le tout d'argent à quatre bandes de sable et au canton de gueules ch d'une coupe couverte ciselée d'or Trois casques couronnés Cimiers 1° un demi-vol contourné aux armes du 2 2° la coupe entre deux proboscides d'argent et de sable 3° une sirène de carnation couronnée d'or supportant de sa main dextre une étoile (8) d'or Lambrequin à dextre d'argent et de gueules à senestre d'argent et de sable. English: Quarterly 1st and 4th gules with a column argent the capital and the base or standing on a base [of the shield] of the second 2nd gules a fess argent charged with a crosslet pattee of the field 3rd per fess argent with a rose with six leaves gules over gules plain [uncharged] overall argent four bendlets sable and a canton gules charged with a covered cup engraved or Crowned with three helmets Crests: 1st a single wing reversed with the arms of 2 2nd the fess between two proboscides argent and sable 3rd a mermaid carnation crowned or supporting of her dexter hand an etoile of 8 points or Mantling: to the dexter argent and gules to the sinister argent and sable.
7) Bavière – D'argent au pal échiqueté d'azur et d'argent Casque couronné Cimier une aigle issante de sable. English: Argent a pale checky azure and argent Crowned with a helmet Crest: an eagle issuant from sable.
8) Von der Fels – D'azur à un rocher escarpé au naturel posé sur une terrasse de sinople et un ruisseau au naturel qui découle dudit rocher à mi-hauteur vers dextre (V Brenner de). English: Azure with a rocky escarpment proper placed on a mount vert and an stream proper which flows from the aforesaid rock to halfway down the dexter [edge].