Felton Family Crest, Coat of Arms and Name History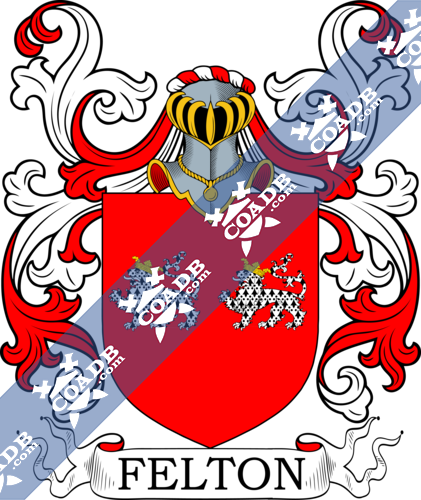 Felton Coat of Arms Gallery
Don't know which Coat of Arms is yours?
We can do a genealogical research. Find out the exact history of your family!
Learn More
Surname Name Meaning, Origin, and Etymology

This Anglo-Saxon name is a local surname meaning "of Felton", which were parishes in counties Northumberland, Hereford, Salop, and Somerset. One source states it means the rocky area. Another source, Dictionary of American Family Names, states it derives from the old English word feld (pasture or open country) and tun (enclosure or settlement). Hence it means the village or farm in the open country. The locale Felton Hill in Northumberland is named with the Old English first name Fygla (from the word fugol meaning bird).
The family was first found in Norfolk, where according to Samuel Lewis' book A Topographical Dictionary of England, "the village of Litcham, which is large, consisting of several streets, had formerly a market and some annual fiars, granted by Edward I to Robert de Felton".
Spelling Variations
The most common spelling variant of Feltone.
Popularity & Geographic Distribution
The last name ranks Felton ranks 2,115th in popularity in terms in the United Status as of the 2000 Census. The name is highest ranked in Wyoming, Georgia, Virginia, Mississippi, and West Virginia. The name ranks 1,852nd in England, where it ranks highest in the following two counties: Essex and Shropshire. It ranks 9,178th in Canada, 5,450th in South African, 2,671st in Australia, 1,303rd in Wales, 4,204th in New Zealand, 5,546th in Scotland, and 3,314th in Ireland.
Early Bearers of the Surname
The Poll Tax of Yorkshire in 1379 AD documents one bearers: Johannes de Felton. The History of Norfolk lists one William de Felton in county Norfolk in 1349 AD who was rector of St. Mary Magdalen in Warham, county Norfolk. The Placita de Quo Warranto lists one John de Feltone in county Nottinghamshire during the reign of King Edward I (1272-1307) and William de Feltone in county Northumberland. Two early marriages involving this surname include Edward Felton to Elizabeth Crockett in 1578 and Thomas Felton to Jane Smith at St. James Clerkenwell in London in 1669 AD.
History, Genealogy, and Ancestry
The history of the family begins with two brothers who came to England in 1066 AD with William the Conqueror. In return for the military service and loyalty, they were granted gifts of land in Northumberland near the Scottish borders Near the end of the thirteenth century, a second son was given the village and lands around it as his inheritance.  His eldest brother inherited a Barony. The name of the village was Felton. The website feltonfamily.org states "The Family were mainly warriors in service to the various Kings of England and gained fame and fortune by their service.  In 1381, one of the men was a trusted soldier of the Black Prince and was "created a Knight of the Garter."  He had served the Prince in many battles in France and became the "Seneschal" or keeper of the province of Guienne and Aquitaine."
Sir William de Felton was born in 1260. He married Constance Pontop and had a daughter named Margaret. Margaret was born in 1308 in Eldingham Castle and married Robert Betram in 1328 with whom she had a son named Helen.
Sir William Felton, the Sheriff of Northumberland, died in 1328 but had three issue: Robert, William, and Edmund. His son Sir Robert was born in 1264 AD in Litcham, Mitford. He married Hawise Strange and had a son named John. John was born in in 1289 and married Sybil (last name not known). They had a son named Thomas who was born in 1342. Sir Thomas married Joan Walkefare and had two daughters with her: Mary and Eleanor (Hoo).
Harrell Irvin Felton was born in 1768 in North Carolina. He married Permelia Gentry and they had a son named Grief who was born in 1806 in South Carolina. He married Mellissa Staton and they had a daughter named Lucinda (Roberson). He died in 1860 in Caroline, Arkansas.
Early American and New World Settlers
The book Genealogical Guide to the Early Settlers, mentions two people bearing this surname: 1) Benjamin Felton of Salem in 1635 who became a freeman four years later, who had a wife named Mary with whom he had three issue with: John (1640), Remember (1643), and Benjamin (1641) and 2) Nathaniel Felton who was came to Salem in 1633 at the age of 17 and was the brother of the aforementioned Benjamin. He died at age 90 in 1705 and left several children: John, Nathaniel, Elizabeth, Ruth, Hannah, Mary, and Susanna.
Other early settlers include Jon Felton (Virginia 1637), Elinor Felton (Virginia 1637), Richard Felton (Virginia 1702), and Johann Valentine Felton (New York 1709). A one John Felton (with wife, one child, 16 slaves, and several servants) was recorded in the town of St. Michael's Barbados in 1680.
Grantees
We have ten coats of arms for the Oakes surname depicted here. These ten blazons are from Bernard Burke's book The General Armory of England, Ireland, and Scotland, which was published in 1848. The bottom of this page contains the blazons, and in many instances contains some historical, geographical, and genealogical about where coat of arms was found and who bore it.
Notables
Famous people with this last name include: 1) John Brooks Felton (1827-1877) who was the 14th Mayor of Oakland, California, 2) John Felton (died 1570) was a Catholic martyr in England who was exceuced during the reign of Queen Elizabeth 2, 3) William Felton (1715-1769) who was an English composer, and 4) Nicholas Felton (1556-1626) who was an English academic and Bishop of Bristol in 1617.
Blazons & Genealogy Notes
1) (Baron Felton, summoned to Parliament 1313, abeyance 1402). (Felton, co. Northumberland). Gu. two lions pass. erm. crowned or.
2) (Litcham, co. Norfolk; Sir Thomas Felton, son of Sir John and grandson of Sir Robert Felton, both of same place, attended the Black Prince to Bordeaux, 1355, witnessed his marriage, 1361, and served under him in the French wars; elected a Knight of the Garter, 1381). (Playford, co. Suffolk, bart., extinct 1719; descended from Thomas Felton, Esq., of Playford, 4 Henry VIII., son of Thomas Felton, Esq., of Shotley, by Margery, his wife, dau. and heir of Thomas Sampson, Esq., of Playford; Elizabeth, only dau. and heir of Sir Thomas Felton, of Playford, bart., by Elizabeth, his wife, dau. and co-heir of James Howard, Earl of Suffolk, m. John Hervey, Earl of Bristol). (Ipswich, co. Suffolk). Gu. two lions pass. in pale erm. ducally crowned or. Crest—Out of a ducal coronet or, two wings inverted gu. quilled gold.
3) Same Arms. Crests—1st: In a ducal coronet a pair of wings or and ar.; 2nd: A stag lodged gu. ducally gorged and lined or, attires vert, at the top of each branch a bezant.
4) (co. Gloucester). Gu. two lions pass. in pale ar. (another, within a border flory counterflory of the last).
5) (co. Gloucester). Per pale vert and gu. a lion pass. ar.
6) (co. Suffolk). Ar. (another, or) on a bend cotised az. three plates (another, bezants).
7) Gu. two lions pass. in pale ar. a baton gobonated of the second and az.
8) Gu. a buck's head or.
9) Ar. on a bend az. three garbs or, a bordure of the second.
10) Gu. three lions ramp. ar.