Field Family Crest, Coat of Arms and Name History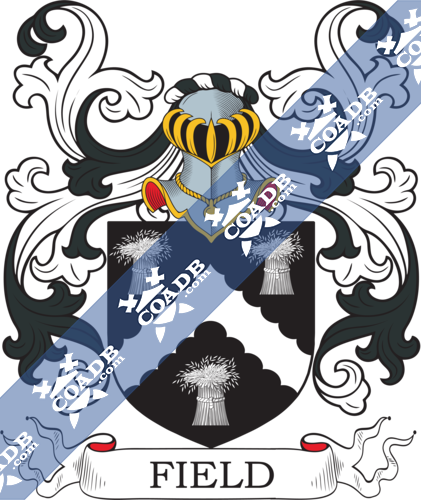 Field Coat of Arms Gallery
Don't know which Coat of Arms is yours?
We can do a genealogical research. Find out the exact history of your family!
Learn More
Field
Field, is a surname which is thought to be primarily Anglo-Saxon. Variations of the name; however, can be traced back to families in Ireland, Scotland, Germany, and Normandy. Variations of the name include Fields, Fielding, Delafield, Veld, Van den Veld, and De la Felda as well as others. It should also be noted, many Jewish surnames containing Feld also derive from Field. Many of the Jewish surnames we are familiar with today which contain "Feld" resulted from the shorting of the original in order to Americanize the name. The name and its variants translate to mean one who lives near an open expanse of land such as a field or meadow.
The, first, recording, of an individual bearing any variation of the name is found in the Gloucestershire, England registers of the Knights Templar. In 1158 Robert de Felde's name was listed in the register during the reign of King Henry 11th century. Because of the popularity of the Field name it is difficult to determine main family lines of descent. It should be noted that the 17th century saw several Field family members rise to prominence within England.
One such notable personage the Reverend Richard Field, an academic, philosopher, and cleric. He was one of the early driving forces behind the nascent Anglican church of England. He earned his Doctorate of Divinity at Oxford (Queen's College.) The Lord Chamberlain of the Royal Household, 2nd Baron Hundson brought Richard Field to preach a sermon to Queen Elizabeth at her court in Windsor. He was shortly thereafter installed as a religious minister ( in the ordinary) at Windsor. His writings have been seen as inflammatory, in their virulent defense of the new Anglican church. He was one of its staunchest supporters, and his writings helped to influence the new protestant church being formed in Scotland.
Another notable individual bearing a variation of the name is William Feilding. Feilding was a soldier, he was rewarded for his service by King James I. In 1622, the Earldom of Denbigh was created, which was in addition to Fielding already holding the titles Baron Feilding and Viscount Feilding, which had been created for him in 1620.
William Feilding had two sons. The eldest son, Basil, inherited his father's titles upon his father's death. In 1628 the title of Earl of Desmond was created for the youngest of the two sons, George. When Basil died he had no children; therefore, left no heir to his title it then transferred to his nephew, William, who was George's oldest son.
William then became 3rd Earl of Denbigh and 2nd Earl of Desmond as he not only gained his uncle's title but his father's as well. Both titles are still held by William Feilding's antecedent. Alexander Stephen Rudolph Feilding is the current 12th Earl of Denbigh and 11th Earl of Desmond. The heir apparent is Alexander's son Peregrine Rudolph Henry Feilding.
Major General Sir Geoffrey Percy Thynne Feilding was a distinguished figure in the British military in the last half of the 19th and the early part of the 20th Century. He fought in the Second Boer war rising to the rank of Major. He was awarded the Distinguished Service Order ( one of the highest awards for bravery in the British military.) He rose the rank of General and then was promoted to Major General. He was mentioned in dispatches seven times in the first world war. (dispatches, were a way to commend a soldier for their bravery.) He was knighted as both a Knight Commander of the Bath ( a military order.) Knight Commander of the Royal Victorian Order (for personal service to the crown,) Companion to Order of St Michael and St. George. Major-General Fielding served in the battle of the Somme.-Incidentally one of the bloodiest battles of World War I.
The earliest mention of immigrants to America appear in records from 1607. Thomas Field arrived and settled in Jamestown, Virginia. Immigration records show additional Fields arrived in the new world settling along the eastern coast of America, from Virginia to the New England states.
Places associated with Field, Fields, Fielding:
England, Denbigh, Oxfordshire, Oxford University, Somerset, Windsor Chapel, Windsor Castle, Peninsular War, Crimean, South Africa, France, Battle of the Somme, Virginia, Jamestown Virginia, Chesterfield, Driffield, Huddersfield, Lichfield, Macclesfield, Mansfield, Sheffield.
Notable Personalities with the name of Field:
Frederick Field and Marshall Field, scientist and inventors, E. J. Field, David Field, and Roger C. Field. The surname Field is also represented in the entertainment industry by such people as actors; David Field, Sally Field, and Sylvia Field, athletes; William Field, Ernie Field, and Amon Field, and musician; Billy Field.
Royal personages and Nobles associated with Field:
Queen Elizabeth I, 2nd Baron Hundson Lord Chamberlain to Elizabeth I, James I, Queen Anne, Queen Victoria to Elizabeth II. House of Lords, Royal College of Heralds, Dynastic Military Knightly Orders of the Garter, Bath and the Royal Victorian Order.
Blazons & Genealogy Notes
1) (Stanstedbury, co. Hertford; granted 9 March, 1653). Sa. a chev. engr. betw. three garbs ar.
2) (co. Oxford). Same Arms. Crest—A dexter arm issuing from clouds, holding a javelin all ppr. habited gu. cuffed az.
3) (Ardestow, co. York; confirmed to John Field, of East Ardsley, the "Proto Copernicum" of England, 4 Sept. 1558). (Ulceby Grange, near Hull). (Horton, Shipley, and Ardsley, co. York, and Bayside and Flushing, New York; confirmed to John Field, of East Ardsley, 4 Sept. 1558. York's Pedigrees). Same Arms. Crest—A dexter arm issuing out of clouds fesseways ppr. habited gu. holding in the hand also ppr. a sphere or.
4) (co. Surrey). Or, on a pile vert three garbs of the field.
5) Per chev. or and vert, in chief two dolphins respecting each other gu. in base a garb of the first. Crest—A dolphin embowed per pale or and gu. in front of two darts in saltire ppr. points upward.
6) (Heaton Hall, Helmsley Lodge, and Weston House, co. York). Barry wavy of six ar. and az. a lion ramp. or, in chief two escallop shells of the second. Crest—A dexter hand ppr. holding an armillary sphere, all surrounded by clouds ppr.
7) (Fun. Ent. 1610, Walter Field, of Dublin, merchant). Or, a lion ramp. gu. armed and langued az. charged on the shoulder with a trefoil slipped of the field, a crescent for diff.
8) (Fun. Ent. 1623, James Field, M.D., Dublin). Per pale or and ar. a lion ramp. gu. armed and langued az. charged on the shoulder with a trefoil slipped of the first.
9) (granted, 1815, to Jane Anne Elizabeth Field, dau. of Lieut. Michael Field, R.N., formerly of Dublin, and wife of Edmond Lodge, Esq., Norroy King of Arms). Or, a lion ramp. gu. on a chief of the last a trefoil slipped of the first.