Flanders Family Crest, Coat of Arms and Name History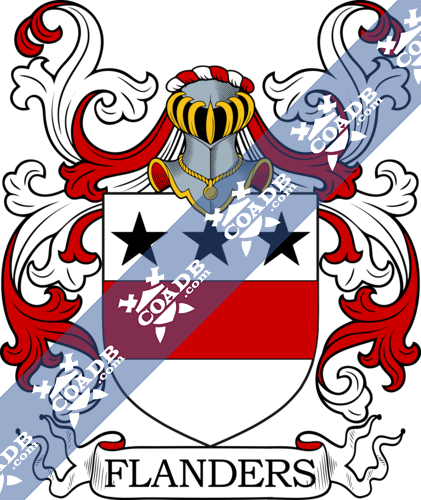 Flanders Coat of Arms Gallery
Don't know which Coat of Arms is yours?
We can do a genealogical research. Find out the exact history of your family!
Learn More
Flanders Origin:
England
Origins of Name:
The Flanders surname derives from geographical locations in England during the Middle Ages. The surname appeared as early as the 8th century and was used to describe an immigrant from the Low Countries, i.e. "of Flanders". The Low Countries constitute the present day Netherlands and Belgium. In the 13th century a "de Flanders" settled in Cambridgeshire, where the surname would become well known. It is thought this "de Flanders" is the ancestor of all Flanders in the county of Cambridgeshire. In Yorkshire there is another recorded person of the name "de Flandres"; however, that individual left no descendants with that name, unless the name was changed to Fleming.
Variations:
More common variations are:
Flander, Flaunders, Flenders, Flinders, Flounders, Flandres, Flinders, Flindres, Flandre
History:
England:
The surname Flanders describes someone who left coastal Netherlands and Belgium and immigrated to Britain. During the Middle Ages, using geographical names to identify strangers where they were from was commonly used. The first known recording of the name hails from Warwickshire, where the Flanders clan were medieval lords and held political and economic power in the area. In the early part of the 11th century, the Norman invasion and occupation of England shifted power in England. The culture and language of the courts changed to French for the following 300 years. Anglo-Saxon surnames would continue to exist, however. The Flanders surname was first cited in 1191, when Euerdai Flanders was recorded in the Danelaw Charters for the county of Lincolnshire.
In the Middle Ages England and the Netherlands had built a commercial trade primarily in wool. Many immigrants from the Low Countries would thereby settle in England on their own or due to English monarchs paying weavers and merchants to set up business in England. Flanders was the heart of the European textile trade and while many set up shop in England, the name Flanders has passed on while the ethnic and culture has not.
The surname Flanders would originally be limited to East Anglia, the West Country and mainly coastal areas. The name would then spread to other parts of England. In 1327 the name was recorded in Somerset for Thomas Flaundres. Finally, the name would begin to appear in church records in 1606 – Alice Flownders christened at St. Mary Whitechapel in Stepney, 1642 – Henry Flanders a witness at St Giles Cripplegate in London, and 1842 – Isabell Flounders married in St Martins in the Field in Westminster.
Ironically the place with very few Flanders surnames, is Flanders. Only 133 exist in the Netherlands and only 89 exist in Belgium.
Flanders is the 3948th most common name in Great Britain. The highest concentrations are found in Bournemouth and Dorset.
Flanders Today:
10,000 in the United States (mainly in New Hampshire)
914 in England
654 in Australia
449 in Canada
Notable People:
Benjamin Flanders (1816), Louisiana state governor in 1867
Harley Flanders (1925), American mathematician
Laura Flanders (1961), English journalist
Michael Flanders (1922), member of the duo Flanders and Swann
Ralph Edward Flanders (1880), U.S. senator
Stephanie Flanders (1968), English journalist
Walter Flanders (1871), American automobile pioneer
Blazons & Genealogy Notes
1) (Flandres, co. Warwick, temp. Richard II.; descended from Hugh de Flanders, third son of Gerard de Odingsells, Baron of Makerstoke, co. Warwick, in right of his wife, Basilia, dau. and heir of Geoffrey, Lord Lindsey, Baron of Makerstoke, temp. Henry II. Visit. Leicester, 1619). Ar. a fesse gu. in chief three mullets sa.
2) Or, a lion ramp. sa. over all a bend gu. Crest—A harp gu.
3) Same Arms, a bordure engr. gu.
4) Barry of six ar. and sa. in chief three mullets gu.
5) Sa. fretty or.
6) Gyronny of eight or and az. an inescutcheon gu.
7) Ar. three mullets in chief pierced gu.
8) Sa. a lion ramp. or.