Fry Family Crest, Coat of Arms and Name History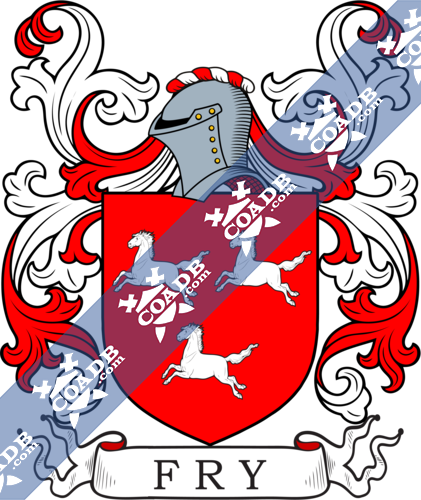 Don't know which Coat of Arms is yours?
We can do a genealogical research. Find out the exact history of your family!
Learn More
Fry Surname Name Meaning, Origin, History, & Etymology
There are five origins or meaning to the surname Fry. The first theory is that it derives from the nickname "the fry", meaning "the free", having a double meaning, as in some cases it means a person who is free in a civil sense (similar to Freeman, not a feudal serf) and in other cases it refers to a person with a frank disposition. It is mainly found in the south and southwest of England and is a variant of the surname Free, deriving from the Old English byform frig or freo. Wikipedia states "the name could also have included land ownership, knighthood, title or other privilege. It could also have been a designation bestowed upon a master craftsman who was "free" to travel to exercise his craft". Second, it may also have derived from a nickname for a small person, deriving from the Middle English word fry, meaning small person, child, or offspring, which in turn derives from the Old Norse word frjó, meaning seed. The third theory is that this is a Cornish British locational name deriving from a town or house on the most prominent or eminent part of a hill, a promontory, literally a nose. Fourth, one author asserts it derives from a place name in Normandy France, which assumedly came to the British Isles during the Norman Invasion of 1066 AD. Fifth, in some instance, it can also be an Americanized spelling of the German last name Frey or Frei (meaning free, similar to the Dutch word vry, also meaning free).
There was a prominent Fry family (from Dorset England) associated with Colonel Joshua Fry who served in the American Revolution. They were documented as ardent supporters of the cause of Independence. They established themselves in Washington D.C., Virginia, Kentucky, and Tennessee.
Another branch of the family began with Henriche Frey who was born in Alsace, Germany around 1660 who came to Pennsylvania around 1685.  He owned land in the city of Philadelphia.
Spelling Variations
Some spelling variants or names with similar etymologies include Frye, Free, Frey, and Fray. Similar foreign names include Fria (Swedish), Freyer or Frayr (Norse), Frey (Icelandic), Frey (Flemish), and Frey/Frie/Freij (Dutch).
Popularity & Geographic Distribution
The last name Fry ranks 838th in popularity in the United Status as of the 2000 Census. The name ranks particularly high in the following five states: Pennsylvania, Ohio, Indiana, Iowa, and Kansas.
The surname Fry frequency/commonness ranks as follows in the British Isles: England (541st), Scotland (1,179th), Wales (311th), Ireland (2,634th) and Northern Ireland (1,763rd). In England, it ranks highest in counties Wiltshire and Somerset. In Scotland, the surname ranks highest in Kirkcudbright. In Wales, it ranks highest in Monmouthshire and Glamorganshire. In Ireland, it ranks highest in county Longford. In Northern Ireland, it ranks highest in Armagh.
The name is also present throughout the remainder English speaking world:  Canada (1,278th), New Zealand (925th), Australia (434th), and South Africa (1,858th).
The 1890 book Homes of Family Names by H.B. Guppy, states the following in regard to this surname: "Of the old Wilts families of yeomen, few can boast a greater antiquity, and few have shown more love of their county by remaining in it, than those bearing the name of Fry. Numerous as they now are, especially around Chippenham, we find that as far back as in the reigns of Henry III. and Edward I., the Fryes or Fries found in Wiltshire their main abode (H. R.). The Frys of Ashgrove, in the parish of Donhead St. Mary, appear to be one of the parent stocks; they gave the burial ground for Quakers in that parish, which has been used for this purpose ever since the Society of Friends was first established in England; to this stock belonged the husband of Mrs. Fry, the philanthropist".
Early Bearers of the Surname
The earliest known bearer of this surname was William Frie who was documented in the Sussex Pipe Rolls of 1195 AD. The Hundred Rolls of 1273 AD, a census of Wales and England, known in Latin as Rotuli Hundredorum lists two bearers of this surname: Thomas le Frye and Geoffrey le Frye, both in county Wiltshire. Thomas le Frie was recorded in the Close Rolls in Wiltshire in 1284 AD. Roger le Frye was recorded in Wiltshire in 1290 AD. William le Frye was recorded in 1327 AD in Somerset in Kirby's Quest.John le Frye was recorded in county Southampton in the Testa de Neville. An early baptism involving this name was Dorothie, daughter of Robert Frye, at St. James Clerkenwell, London in 1595 AD. Early marriages involving this surname include Judith Berry to David Fry at St. Dunstan's, Stepney in 1589 and John Fry to Eme Draper at St. Pancras, Soper Lane, London in 1589.
Fry Family Tree & Fry Genealogy

Fry of Oare
Sir Geoffrey Storrs Fry, 1st Baronet, was born in 1888. He was created a Baronet in 1929. He was educated at King's College Cambridge and was a Barrister-at-Law of the Inner Temple. He held several other titles and was also a Member of Parliament. In 1915, he married Alathea Margaret Gwendolen Valentine Gardner, daughter of Baron Burghclere, and had a daughter with her named Ann Jennifer Evelyn Elizabeth (married Robert Vernnon Heber Percy of Hodnet Hall). The Fry genealogy traces back to Francis James Fry of Cricket St. Thomas, Chard, Somerset, England who was a Justice of the Peace, Deputy Lieutenant, and High Sheriff in 1906. He was born in 1835, the eldest son of Francis Fry of Tower House, Cotham, Bristol. In 1861, he married Elizabeth Greer, daughter of Joseph Rake, and had issue with her. In 1885, he married Elizabeth, daughter of Capper Pass, and had issue with her as follows: Alfred Harold (2nd Lieutenant London Regiment, married Margaret Alice Carbery) and Sir Geoffrey Storrs (mentioned at the beginning of this paragraph). The Fry Coat of Arms (erroneously called the Fry Family Crest) is blazoned in heraldry as follows: Gules, three horses courant in pale within a bordure argent. Crest: In front of a dexter arm embowed in armour the hand grapsing a sword proper, pomel and hilt or, three roses gules barbed and seeded proper. Motto: Esto fidelis. They were seated at Oare House, Marlborough, Wilts, England.
Fry of Woodburn
The lineage or ancestry of this branch of the Fry family tree begins with Robert Fry, of Corston, Malmesbury, Wiltshire who was died on 1619 and with his wife Margaret, had two daughters and two sons. His second son was Alexander Fry of Corston. He married a woman named Mary, and had seven daughters and four sons with her. His youngest son was named William. This William was of Sutton Benger, Wiltshire, who was baptized in 1627. He had a wife named Mary, and he had six daughters and four sons with her. One of these sons was Zephaniah Fry of Sutton Benger who was born in 1658. In 1686, he married Jane Smith of Marden, with whom he had several issue, including, but not limited to the following: Zephaniah (married Margaret Jefferies of Bremhill), Richard (of Calne, married Martha Storrs), John, and Margaret (married Anthony Lawrences of Malmesbury). His youngest son, John Fry, was of Sutton Benger, Chippenham, and Melksham, and was born in 1701. He married Mary, daughter of Joseph Storrs of Chesterfield, and had several issue with her. Several generations down the line came Sir Theodore Fry, 1st Baronet, of Woodburn, Blackwell, county Durham who was a Justice of the Peace, Deputy Lieutenant, and Member of Parliament for Darlington. He was born in 1836 and was created a Baronet in 1894. He married Sophia, daughter and co-heir of John Pease of East Mount, and had nine children with her: Sir John Pease (2nd Baronet), Theodore Wilfrid, Walter Raymond (married Lilian Athens, had daughter named Eleanor Priscilla), Bernard Cecil (married Denise Marie Marguerite Angela, daughter of Count Henri de Goursac), Sophia Matilda, Anna Gertude (married Edward George Wills), Hilda Geraldine (married Revered Edward Harbin Bates Harbin), Isobel Penrose (married Sir George Keith Elphinestone), and Gabriele Iris (married E.B. Kleu, had issue). Sir John Pease Fry, 2nd Baronet, of Woodburn, Blackwell, county Durham, England was born in 1864 and succeeded his father in 1912. In 1891, he married Margaret Theodora, daughter of Francis Edward Fox, and had three sons and three daughters with her: Theodore Penrose (married Sheila Kaye-Smith), John Nicholas Pease (married Helen Murray Bott, had daughter named Margaret Jane and Geraldine Fry(, Francis Wilfrid (served in World War II and married Anne Pease Wilson), Helen Joyce (married John Christopher Wilson of Park Hall), Margaret Isobel (married Miles Crawford Burkitt), and Sophia Geraldine. The Fry Coat of Arms (mistakenly called the Fry Family Shield or Crest) is blazoned in heraldry as follows: Per fesse gules and sable three horses courant in pale argent two flaunches of the last each charged with a horseshoe of the second. Crest: A dexter arm embowed in armour, proper, garnished or, the hand grasping a sword, also proper, the pommel and hilt gold between two horseshoes sable. Motto: Esto fidelis.
Early American and New World Settlers
Richard Frye came to Virginia aboard the Friendshipe of London in March 1636.
John Frye was recorded as living in Virginia (in Elizabeth Cittie) in February 1623.
Henry Fry was recorded among the dead in Virginia in February 1623.
Other early settlers in colonial America bearing this surname include Alice Fry (Virginia 1650), Alexander Fry (Virginia 1650), Thomas Fry (Virginia 1650), William Fry (Virginia 1663), Peregrin Fry (Virginia 1701), Christopher Fry (Pennsylvania 1729), Hance Uldrick Fry (Pennsylvania 1729), Hans Peter Fry (Pennsylvania 1733), and Elizabeth Fry (Pennsylvania 1733).
In Canada, two of the earliest settlers with this surname were Simon and Abiel Fry, who came to Nova Scotia in 1760. In Australia, one of the first bearers was John Fry, a stone mason who came to Tasmania (then called Van Diemen's Land) around 1830. In 1838, a family of this surname came aboard the Winchester, arriving in Adelaide, including Enoch, Hannah, Martha, and John Fry. In New Zealand, one of the earliest settlers was Joseph Fry who came to the city of Wellington in 1840.
Early Americans Bearing the Fry Family Crest
Charles Bolton's American Armory (1927) contains one entry for this surname: Gules two horses courant argent. Crest: An armed arm embowed, holding a sword all proper. Motto: Fidelitas. "Based on the arms of Fry of Exeter, Devon". Bookplate Charles Fry, engr. by Spenceley.
Crozier's General Armory (1904) contains two entries for this name:
1) Thomas Fry of Newport, Rhode Island, 1669. Arms: Vert, three horses courant argent, bridled or. Crest: An arm embowed in armor grasping a sword enfiladed with a Moor's head, all proper.
2) William Congdon Fry, Esquire of Providence, Rhode Island. He bore the same arms as Thomas of Newport mentioned above.
Matthew's American Armoury and Bluebook (1907) does not contain an entry for this surname.
Mottoes
I have identified three Fry family mottoes:
1) In rebus arctis (In straitened circumstances)
2) Fidelitas (Fidelity)
3) Eso fidelis (Be faithful)
Grantees
We have 7 coats of arms for the Fry surname depicted here. These 7 blazons are from Bernard Burke's book The General Armory of England, Ireland, and Scotland, which was published in 1848. The bottom of this page contains the blazons, and in many instances contains some historical, geographical, and genealogical about where coat of arms was found and who bore it.
Notables
There are hundreds of notable people with the Fry surname. This page will mention a handful. Famous people with this last name include: 1) Arthur Fry (1931) who was an American inventor and scientist who was the co-creator of the Post-It note, 2) Birkett Davenport Fry (1822-1891) who was a Confederate Brigadier General during the American Civil War who fought at the Battle of Gettysburg and was born in Kanawha County, West Virginia, 3) William Henry Fry (1813-1864) who was a pioneering American composer born in Philadelphia, Pennsylvania, 4) Shirley June Fry Irvin (1927) who was an American tennis player born in Akron, Ohio who was won the US Open, Australian Open, French Open, and Wimbledon and was ranked the number one player in 1956, 5) Anna Ruth Fry (1878-1962) who was a British Quaker author and peace activist born in Highgate, London, 6) Robert Nelson Fry (1922-1993) who was an American professional golfer from Keokuk, Iowa, 7) Vice Admiral Scott Allen Fry (1950) who was born in Bellefonte, PA and became the Director of the Joint State for the US Department of Defense and was also commander of the Sixth Fleet, 8) Edwin Maxwell Fry (1899-1987) who was an English modernist architect and painter born in Liscard, Merseyside whose works range from private houses, to railway stations, to corporate headquarters, 9) Laura Anne Fry (1857-1943) who was an American artist who specialized in wood carving, ceramics, and china painting who was born in White County, Indiana, who was the head of the Art Department of Purdue University for 25 years,  10) Jacob Fry Jr. (1802-1866) who was a Democratic member of the U.S. House of Representatives from Pennsylvania in the 1830s, and 11) John Anderson Fry (1960) who is the president of Drexel University and previously the President of Franklin & Marshall College, having been born in Brooklyn, New York City.
Blazons & Genealogy Notes
1) (Witheridge, co. Devon. Visit. 1620). Gu. three horses courant ar.
2) (Exeter, co. Devon, and Tarrant Gunfold, co. Dorset). Vert three horses courant ar. bridled or. Crest—An arm embowed in armour, grasping a sword, enfiled with a Moor's head all ppr.
3) Gu. a fleur-de-lis or, betw. three horses courant ar. Crest—A demi horse saliant ar.
4) Ar. a fesse betw. three beehives sa. the field replenished with bees volant of the second.
5) Per pale vert and gu. three horses courant ar. bridled or.
6) (Yartye, Deer-Parkwood, and Dulcis, co. Devon, temp. Edward IV.). Gu. three horses courant ar. Crest—A dexter arm embowed in armour, grasping in the hand ppr. a sword of the last, hilt and pommel or.
7) (St. Winnion, co. Cornwall). Same Arms and Crest. Motto—In rebus arctis.