Fullwood Family Crest, Coat of Arms and Name History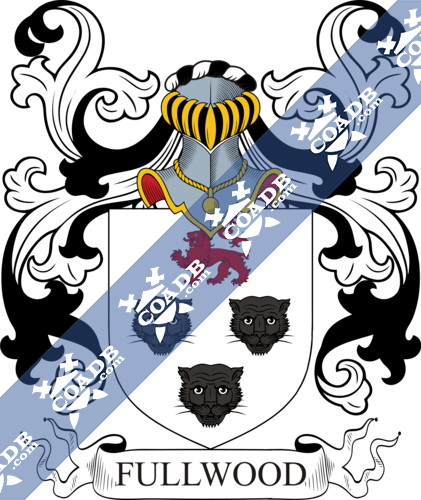 Fullwood Coat of Arms Gallery
Don't know which Coat of Arms is yours?
We can do a genealogical research. Find out the exact history of your family!
Learn More
Surname Name Meaning, Origin, & Etymology
This surname has two origins. The first is "of Fulwood", which is a township in Lancaster, Lancashire, England, recorded as Fulewude in 1252 AD, which was the seat of the family for many generations. The second is also "of Fulwood", an ecclesiastical district in the parish of Sheffield, in West Riding, Yorkshire.  Another source notes it was a place in Nottinghamshire as well. It derives from the Old English word ful (dirty ort muddy) and wudu (woods). One source claims it possible, but not likely, the name meant "the woods containing wild fowl". One source (fullwood.org.uk) claims the name was not derived from the Lancashire locale, and it is more likely it means a dark wooded area or fowl smelling woods.
The original arms belonged to John Fullwood from Tanworth-in-Arden Warwickshire in 1330 AD: Gules a chevron between three mullets pierced argent a bordure or.
Spelling Variations
Common spelling variants of this last name include Fullewood, Fulwood, Fulward, Fulwode, and numerous others.
Early Bearers of the Surname
A one Adam de Foulewood was documented as holding lands in England in 1326 AD. The Poll Tax of Yorkshire in 1379 records one Hugo de Folewode, who was a tailor, Richarsus de Folewod, and Hugo de Fulewode.
History, Genealogy, and Ancestry
One book claims the family originated in the 1100s AD when Drugo Normannus, Lord of the Manor of Whitley in Wootten Wawen parish Warwickshire.
A one John Fullwood was born in 1540 and was the husband of Mary Hill. Together they had a son named Robert Fullwood in 1562. Robert married Elizabeth Hill and they had a son named Robert, prior to passing away in 1636 in Little Alne, Warwickshire. The son Robert was born in 1610. He married Dorcas Weigham. They had a son named Thomas. Thomas was born in 1655 and married Elizabeth Simcoe in 1681 in Aston Juxta, Birmingham. They had a daughter named Ann Fullwood (Fluitt). He died in 1712 in Birmingham.
Early American and New World Settlers
A one John Fulwood was recorded as living at "Hogg Hand" in Virginina in 1623. A one George Fullwood was recorded as leaving the Port of London bound for Virginia aboard the Expedition in November of 1635. A one George Fullwood went to the Barbados in 1635, and John Fullwood arrives in New York in 1637.
Notables
Famous people with this last name include: 1) Albert Henry Fullwood (1863-1930) who was an Australian artist who made art for World War I, 2) Harold Fulwood (1920-1993) who was a judge in St. Louis, MO, and Walter Fullwood (1907-1988) a famous English cricket player who played for Derbyshire.
Blazons & Genealogy Notes
1) (Middleton, co. Derby, cos. Stafford and Warwick: confirmed 1579). Gu. a chev. betw. three mullets ar. Crest—A stag ppr. holding in the mouth an acorn branch vert, fructed or. Another Crest—A demi stag or.
2) (co. Salop). Ar. three leopards' faces sa. in chief a lion pass. gu.
3) Gu. a chev. betw. three mullets or. Crest—A demi man in armour ppr. grasping a broken tilting spear or.
4) Gu. a chev. betw. three mullets pierced ar. a bordure or.