Gaston Family Crest, Coat of Arms and Name History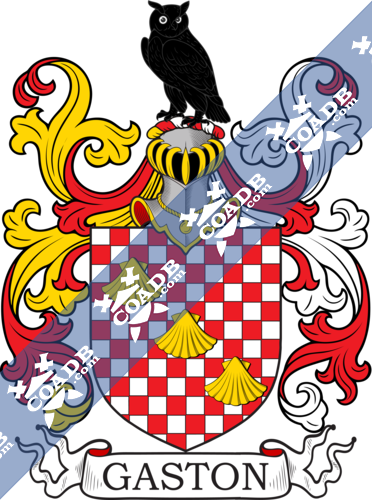 Gaston Coat of Arms Gallery
Don't know which Coat of Arms is yours?
We can do a genealogical research. Find out the exact history of your family!
Learn More
GASTON
The name Gaston is an Anglo-Saxon name of Norman-French origins. It is thought the name is a derivative of a Norman surname "gazda" which translates to "landlord(lady)", "owner", or "entertainer". The name would likely have been imported during or just after the Norman invasion in 1066 .
Surnames in Britain prior to the Norman conquest were largely unheard of. In the small settlements and villages which existed during earlier times, residents found little need for surnames as everyone in these communities new each other and a given name would usually suffice. However, with the passage of time, population growth and expansions of communities as villages gave way to towns and cities, it became necessary to add a qualifier to a people's names to distinguish them, one from another. Therefore one person may have been identified by their given name plus their occupation while another may have been identified by their given name and one of their parent's names. The introduction of surnames by the Norman aristocracy after the invasion seemed to be the next logical step in this evolution. There was a boundless supply from which surnames could be formed, in addition to the use of patriarchal/matriarchal names or reference to the individuals occupation, there were things such as defining physical traits, a familiar geographical location or a topographical landmark found near the individuals home or birthplace, the name of the village in which the person lived, and so much more. Soon, surnames would come not just to represent an individual but whole families.
There often exists variations in spelling of many surnames, as with many given names which date back to the early centuries. The variation in spelling of both given and surnames during this time period can be attributed to a lack of continuity regarding guidelines for spelling which was compounded by the diversity of languages in use in European countries at this time. The variations in the spelling of the surname Gaston include but not limited to; Gaston and Gastone. among others.
The earliest record of any variation of this surname is that of John Gacon which appears in the Wiltshire tax rolls from 1230. These rolls, were a series of census and tax records kept by the English Treasury by order of King Henry III, with the oldest dating back to the 12th century. They hold the distinction of being the oldest consecutive set of records detailing English governance in the United Kingdom. These records span a period of over 700 years and have proven invaluable to researches over the years. Additional tax rolls show records of Richard Gasdon from Hampshire in 1230 and Edward Gastone 1357 in Hampshire.
The first recorded immigrant to America bearing the surname or any variation of the spelling was Francis Gaston who arrived in 1663 and settled in Virginia. Brothers Joseph, Alexander, Hugh, and John Gaston landed and settled in Perth Amboy, New Jersey in 1720. Guillaume Gaston arrived and settled in Louisianan in 1721. William Gaston arrived and settled in South Carolina in 1721and Mary Gaston arrived and settled in South Carolina in 1772.
There were also many immigrants to the British Common Wealth countries of Canada, Australia, and New Zealand bearing the surname Gaston. Robert Gaston landed in 1834 and settled in Quebec, Canada. Charles and Mary Gaston landed in 1839 and settled in Adelaide, Australia. Alfred Gaston landed in 1856 and settled in Southern Australia. George Gaston landed in 1888 and settled in Wellington, New Zealand.
Worldwide, the highest concentration of people with the surname Gaston are found in the United States, France, Spain, Australia, and Canada . By state, the largest percentile of those with the surname Gaston live in Alabama, Arkansas, Georgia, Kansas, Mississippi, South Carolina, Texas, and West Virginia.
There are many persons of note who bear the surname Gaston. One such person is Alexander Gaston was born in Ireland. Gaston was educated at the University of Edinburgh where he studied medicine. After graduating he joined the British Navy and was assigned as a ship's doctor. While serving during the Seven Years War I Cuba, Dr. Gaston became ill while treating his men during an epidemic. For the sake of his own health, Dr. Gaston, he took a leave and went America to recover. He choose the small town of New Bern, North Carolina, which he decided to make his home. He purchased a sizable tract of land and got married. Prior to and during the Revolutionary War, Dr. Gaston supported the American cause, a fact that made him unpopular with those loyal to the English crown. This would be undoing, everyone knew where his sympathies lay and one day while in the midst of a disagreement with a loyalist, he was shot, and subsequently died of his wounds.
Blazons & Genealogy Notes
Notes: None. Blazon: Chequy argent and gules three escallops in bend or. Crest—An owl sable.