Gilman Family Crest, Coat of Arms and Name History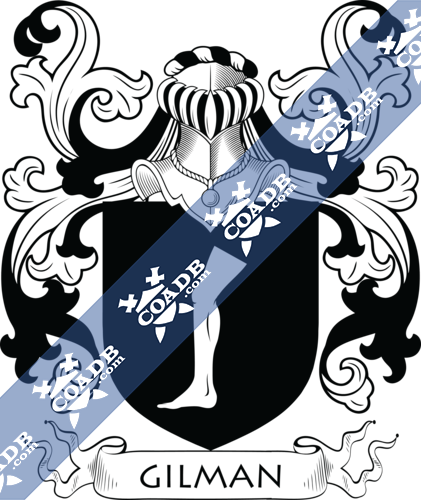 Gilman Coat of Arms Gallery
Don't know which Coat of Arms is yours?
We can do a genealogical research. Find out the exact history of your family!
Learn More
Surname Name Meaning, Origin, and Etymology
This last name is a baptismal one meaning "the son of Gilmyn". One author notes "through French Guillaume we at length attained William. In the meanwhile the Low Counties brought us Gillmein or Willemin, which we finally retained with the G prefix". The name is of Norman origin and was brought into England after the Battle of Hastings in 1066 AD, where the family first held seat in Norfolk.
Spelling Variations
Common spelling variations of this last name include: Gillman, Gillmann (German), Gelman, Gellman, etc.
Early Bearers of the Surname
The earliest known person recorded was one Wilelminus in the Oxford Rolls of 1220 AD. Gilymn was recorded in the Hundred Rolls of London in 1279 AD. The Hundred Rolls of 1273 AD, a census of Wales and England, known in Latin as Rotuli Hundredorum, documents two people bearing this surname: John Wylemin in county Buckinghamshire, William Wylemyn in London, Anketius filius Gilmyn in county Cambridgeshire, Walter Gilmin in county Oxfordshire, John Gylemyn in county Buckinghamshire, and Gylemyn Coe in county Kent. A one Richard Gilemyn was recorded in the Writs of Parliament in 1311 AD. A Christopher Gylemyn was recorded in county Somerset in Kirby's Quest during the reign of King Edward III of England. A Waldeof filius Gilmyn was recorded in county Cumb. in the E Rotuli Litterarum Clausarum in Turri Londinensi and Valor Ecclesiasticus. The Poll Tax of Yorkshire in 1379 documents Gilmyn serviens Rogeri Fulbaron and Johannes Gylmyne. Early marriages involving this surname include Gylmen Haverd to John Carter in 1546.
History, Genealogy, and Ancestry
Edward Gilman was born in Caston, England in Norfolk in 1525. He was the son of Edward Gilman (born 1500). In 1550, he married Rose Snell and had numerous issue with her before he passed away in 1573: Margaret, Katharine, John, Edward II, Robert, Lawrence, Elizabeth, Rose, Jane, Elizabeth, Regnault, and Ollyv. His son John Gilman was born in 1554 in the same city. Lawrence was born in 1561 and married Elizabeth James in 1588 and later Joan Spooner in 1604.
Early American and New World Settlers
The book "Genealogical Guide to the Early Settlers of America" discusses one person bearing this surname: Edward Gilman, from Hingham England. He came to Boston in 1638 aboard the Diligent, with his wife Mary, and two daughters and three daughters. He was recorded as a freeman in 1630 and moved to Rehoboth in 1643, and later to Ipswich, and later Exeter. He children were baptized as follows: Mary (1615), Edward (1617), Sarah (1622), John (1626), Moses (1630), and Lydia. He bore the following arms "Sable, a man's leg, in pale, couped at the thigh".
Another early American was Daniel Colt Gilman, LL.D of Baltimore, Maryland, who was the son of William C. Gilman, the Mayor of Norwich, CT. He was born in Norwich, CT in 1831 and was President of the Johns Hopkins University. He married Mary Ketcham in 1861 and later Elisabeth Dwight in 1877. He had two daughters: Alice (who married Everett P. Wheeler of N. Y.) and Elisabeth. His lineage traces back to Edward Gilman (1587-1681) who had a son named John (1624-1708), who had a son named Colonel John (1677-1750), who had a son named Major John (1712-1770), who has a son named Benjamin (1763-1835), who in turn had a son named William C., mentioned above.
Other early settles in the New World with this last name include Edward Gillman (Massachusetts 1638), Richard Gillman (Virginia 1653), John Gillman (Maryland 1755), and Verena Gillman (Carolina 1762).
Mottoes
The family mottoes include: 1) Si Deus quis contra, meaning "If God is with us, who can be against us?".
Notables
Famous people with this last name include: 1) Benjamin Ives Gilman (1766-1833) who was a pioneer in the state of Ohio in the United States, 2) Harold John Wilde Gilman (1876-1919) who was an English painter, and 3) and John Taylor Gilman (1753-1828) who was a shipbuilder, farmer, and statesman who represented New Hampshire in the Continental Congress.
Blazons & Genealogy Notes
1) (co. Norfolk). Ar. a man's leg couped at the thigh in pale sa. Crest—On a chapeau gu. turned up erm. a demi lion ramp. ar.
2) (co. Gloucester). Same Arms, tinctures reversed.
3) (Deptford-Strand, co. Kent). Ar. a man's leg couped at the thigh in pale sa. charged below the knee with a bar gemel or. Crest—A man's leg, as in the arms, issuing out of rays or, the foot in chief.