Glass Family Crest, Coat of Arms and Name History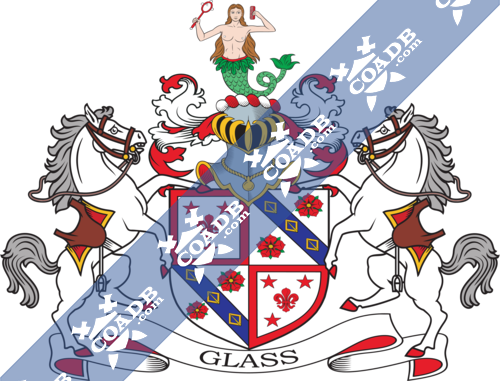 Glass Coat of Arms Gallery
Don't know which Coat of Arms is yours?
We can do a genealogical research. Find out the exact history of your family!
Learn More
Glass Origin:
Scotland, England
Origins of Name:
The surname of Glass is determined to be an uncommon one, but was recorded throughout Scotland, even though it is of Anglo-Saxon origin. This surname of Glass is said to be used as an occupational surname for someone who was a glazier or a glass blower. This surname of Glass derives from the Old English Pre 7th Century word of "glaes" which can be translated to mean the word "glass," although this particular Old English word sometimes was spelled "glaed" which actually was translated to meant the bright shine of glass, rather than the actual object itself. In Scotland, this surname comes from the Old Gaelic word "glas" which can be translated to mean the colors of "grey" "green" and "blue."
Variations:
More common variations are:
Glas, Glasse, Glassy, Glasso, Gllass, Glaess, Glauss, Galass, Glyass, Glassi, Glassa
History:
Scotland:
The first recorded spelling of the surname of Glass was in the 16th century, when half of the lands of Langilculcreich belonged to onle Alexander Glass in the year of 1506. Those who bear this surname of Glass and live in the country of Scotland can be found all over this country. However, the areas of Scotland where there is a high concentration of people who are known to bear the surname of Glass are Lanarkshire, Midlothian, Angus, Aberdeenshire, Fife, Perthshire, and Renfrewshire counties.
England:
The first recorded spelling of the surname of Glass in England was in the year 1540. In this year of 1540, one person with the name of Ricardus Glase was married to Margeriam Higgons at Pontesbury in Shropshire, on the date of October 11. This marriage was unified under the reign of one King Henry VIII, who was known as and commonly referred to throughout history as "Bluff King Hal" and ruled from the year of 1509 to the year 1547. Those who bear the surname of Glass and reside in England are in high concentrations throughout the country, as well as spilling over into Wales. These areas of high concentration are Nurthumberland, Durham, Lanarkshire, Devon, Hampshire, Wiltshire, and the city of London.
United States of America:
In the 17th Century, European citizens began to emigrate to the United States in search of a new and better life. The United States of America was a popular destination for these disgruntled English and European settlers because the area was largely unexplored, and promised freedoms that were not afforded to these citizens in the country of their birth. During this European Migration, the first recorded person to reach the United States whose surname was Glass was one Duncan Glass, who settled in the state of Virginia with his wife, Mary Glass, in the year 1651. It is possible that someone who bore the surname of Glass attempted to make the journey to the New World before the year of 1650, but were not able to make it because of the living conditions on the vessels of transport. Many people who arrived in the United States in the 1600's arrived starving and riddled with diseases. Those who bear the surname of Glass are found in New York, Pennsylvania, Virginia, Texas, Illinois, Ohio, Kentucky, New Jersey, Georgia and Alabama.
Glass Today:
United States 48,921
England 5,087
Germany 3,833
South Africa 3,415
Australia 2,447
Canada 2,258
Pakistan 1,509
Brazil 1,367
Israel 1,249
Scotland 1,227
Notable People:
Bradley McConnell Glass (1931-2015) who was a Member of the Illinois House of Representatives in the year 1971, and was an American politician
Noah Glass, who was the co-founder of Twitter, and is a software developer from America
Hermann Glass (1878-1961) who was an Olympic gold medalist for gymnastics at the 1904 Summer Games, from America
Rear Admiral Henry Glass (1844-1908) who was a naval officer best remembered for his role in the bloodless capture of Guam in the Spanish-American War
Presley Thornton Glass (1824-1902) who was a member of the United States House of Representatives and was an American politician
Julia Glass (born in 1956) who was a writer from America who won the National Book Award in the year 2002
Joanna McClelland Glass (born in 1936) who was an American playwright that was Canadian-born
Philip Glass (born in 1937) who was a Academy Award nominated composer from America
Hiriam Bentley Glass (1906-2005) who was a geneticist and noted columnist from America
Mr. David Reuben Glass, who was a Marine from Britain and sailed on the HMS Price of Wales and survived the sinking
To receive a complete surname meaning report by PDF you can order our SURNAME MEANING PACKAGE for $129.   This report is great to share with family and friends.  It includes everything you see above plus any other information we can find on the specified surname.  It does take approximately 10 to 15 days for us to complete this custom report.
To receive a direct lineage & coat of arms search for your specific line(s) you can order one of our GENEALOGY PACKAGES ranging in price from $249 to $999.   All research is completed by a professional genealogist with over 30 years' experience.  All reports and coat of arms files are sent by email in PDF and JPG format.
Blazons & Genealogy Notes
1) (Sauchie, Scotland). Motto—Luctor, non mergor. Ar. a fleur-de-lis betw. three mullets within a bordure gu. Crest—A mermaid with mirror and comb ppr
2) (East Indies; representative of Sauchie, 1812). Motto—Luctor, non mergor. Quarterly, 1st and 4th, ar. a fleur-de-lis betw. three mullets gu. a bordure of the last; 2nd and 3rd, ar. on a bend az. betw. two roses gu. barbed vert, three buckles or. Crest—As the last. Supporters—Two horses ar. saddled and bridled ppr. the housing gu. fringed or.