Glassford Family Crest, Coat of Arms and Name History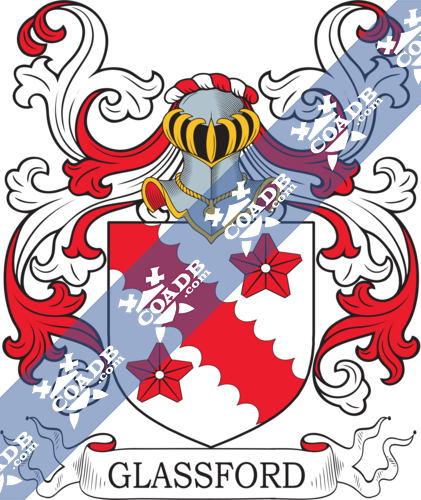 Glassford Coat of Arms Gallery
Don't know which Coat of Arms is yours?
We can do a genealogical research. Find out the exact history of your family!
Learn More
Glassford Origin:
Scotland
Origins of Glassford:
It is an old Scottish surname, where the tribe is known as 'Glassford and all that Ilk.' The name is noted in the spellings of Glasford, Glassford, and Glasfurd. It said that they acquired their name from the area known as 'the lands of Glasforde, in Stratheven, Lanarkshire,' in the 13th century. Surely, the first name ancestor was listed as being in the service of the English government, south of the Forth Estuary, though for what reason is unknown. In 1296, the Scots created a short-lived republic called 'The Interregnum' from 1296 to 1306, when it was defeated by the popular Robert, the Bruce. During this time Roger de Galsford and his son known as Aleyn Fitz Roger de Glasfrithe presented a tribute to this government. This 'Aleyn' may be Sir Alan Glasfrud, who in 1300 was a contract witness. Other early documentation contain as Willelmus de Glasfurd in the year 1413, while in 1636, John Glasfuird of Maxwell settled as heir to John Duncane of Barnaycht. The explanation of the name is quite different from its condition being perhaps the Olde English pre 7th-century 'glassjo' which means a water source, and 'frith,' which means a forest. So, the forest stream. In the US the name became famous in 1929, Major General Glassford being chief of police in Washington D C.
Variations:
More common variations are: Glassford, Classford, Glussford, Glassfort, Glassferd, Glossford, Golsford, Glasfurd, Gallsford, Clasoford
Scotland:
The surname Glassford first appeared in Lanarkshire, an old district in the central Strathclyde area of Scotland, now parted into the Cabinet Areas of North Lanarkshire, South Lanarkshire, and the City of Glasgow, where they held a family seat from old times.
The very first recording spelling of the family was shown to be that of Alexander de Glasfrith, dated about 1289, in the "Bain's Register of Scottish documents," Edinburgh. It was during the time of Queen Margaret of Norway dated 1286 – 1290.
Ireland:
Many of the people with surname Glassford had moved to Ireland during the 17th century.
United States of America:
Some of the individuals with the name Glassford who arrived in the United States in the 17th century included Allan Glassford and Eliza Glassford, both came to America from Glasgow, in 1904. Nora Glassford and Saml. Glassford, both moved to America from Glasgow, in 1905. David Glassford, who moved to the United States from London, England, in the year 1907.
Canada:
People with the surname Glassford settled in Canada in two different centuries respectively in the 18th and 20th Some of the people with the surname Glassford who came to Canada in the 18th century included Mr. John Glassford U.E. who settled in Osnabruck [South Stormont], Stormont County, Ontario near the year 1784. Mr. John Glassford U.E. who settled in Matilda [South Dundas], Ontario c. 1784. Mr. Lytle Glassford U.E., "Lyttle" who settled in Eastern District [Cornwall], Ontario near the year 1784. Mr. Paul Glassford U.E. and Mr. Robert Glassford U.E., both settled in Eastern District [Cornwall], Ontario near the year 1784.
The following century saw more Glassford surnames arrive. People with the surname Glassford who settled in Canada in the 20th century included Hugh Glassford, who settled in Montreal, Canada, in 1911. Jennie Glassford, who moved to Sault St. Marie, Canada, in 1922.
Here is the population distribution of the last name Glassford: United States 1,045; Canada 567; England 161; Australia 119; New Zealand 78; Scotland 39; South Africa 3; Slovenia 2; Saudi; Arabia 1; Japan 1.
Notable People:
Bill Glassford (1914-2016), was an American football player and referee.
John Glassford (1715-1783), was a Scottish Tobacco King.
John Glassford (cricketer) (b. 1946), is an English cricket player.
Samuel M. Glassford (1825-1901), was an American political leader.
William A. Glassford (1886-1958), was an American administrator.
Blazons & Genealogy Notes
1) (that Ilk, co. Lanark). Ar. a bend engr. betw. two spur-rowels gu.
2) (Douglastoun, 1769). Motto—Prisca fides. Ar. a bend engr. betw. two spur-rowels gu. Crest—Two hands conjoined issuing out of clouds, grasping a caduceus ensigned on the top with a cap of liberty all betw. two cornucopias all ppr.