Glazebrook Family Crest, Coat of Arms and Name History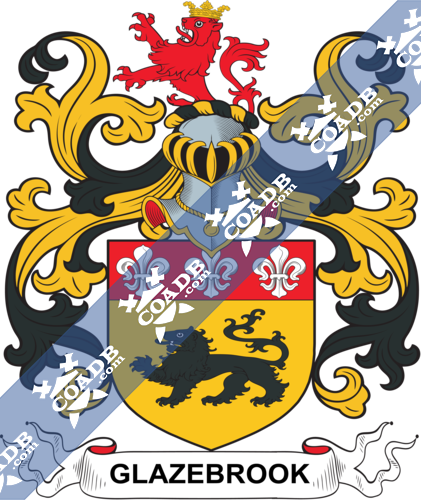 Glazebrook Coat of Arms Gallery
Don't know which Coat of Arms is yours?
We can do a genealogical research. Find out the exact history of your family!
Learn More
Glazebrook Origin:
England
Origins of Glazebrook:
According to the early recordings of the spellings of the name, this interesting and unique name was listed as Glazebrook, Glasebrook, Glasbrook, Glassbrooke, and perhaps more, this is an English geographical surname. It acquires from Glazebrook, a hamlet near the town of Warrington in the division of Cheshire. The name means "shiny (or probably clear) water." Geographical Surnames are regularly "from" names. That is to say, names are given either to the local king of the palace and his ancestors or frequently after the 14th century when labor was becoming more free, to people as an easy classification of a foreigner, after they departed from their real hamlet to live in another place. Spelling being at best average and local languages very thick, often lead to the production of "sounds like" forms. It seems to have been the case here, with the first known recording being that of Elena de Glazebrok listed in the census Tax record for the division of Yorkshire in 1379. The name also traveled down to London, and we have a documentation in the time of King Charles 11nd (1660 – 1685) of Mary Glasebrooke, the daughter of Robert Glasebrooke, who named at the parish of St Mary Backchurch, in the city of London, in 1675.
Variations:
More common variations are: Glazbrook, Glazebrooke, Glaizebrook, Glazebrok, Glazebrooke, Glazabrook, Glazbbrook, Galzebrook, Glazbroke, Glozebroke
England:
The surname Glazebrook first appeared in Yorkshire where they held a family seat as Kings of the palace of Greysbrook or Greasborough, some say, from the time of the Norman Invasion in the year 1066 AD. On the record in near the year 1100, was Bartholemew de Gresbroke who bought a land in Shenston in Staffordshire from Robert of Grendon, and it considered that from this line declined the Greysbrooks of Middleton, Warwickshire, who arrived there in the early 15th century. Rixton-with-Glazebrook is a civil church in the unitary authority of Warrington, Cheshire. The church records back to at least 1227 when it noted as Glasbro c. It acquired from Glaze Brook, a Celtic river-name meaning "grey- green" having acquired from the Old English word broc.
Ireland:
Many of the people with surname Glazebrook had moved to Ireland during the 17th century.
United States of America:
Some of the individuals with the name Glazebrook who arrived in the United States in the 19th century included George Glazebrook at the age of 40, landed in New York in the year 1812. Charles Glazebrook, who arrived in Boston, Massachusetts in the year 1830.
Here is the population distribution of the last name Glazebrook: United States 980; England 796; Australia 321; Canada 117; South Africa 91; New Zealand 64; Wales 56; Scotland 26; Spain 8; Thailand 2.
Notable People:
Otis Allan Glazebrook (1845 – 1931), was an American Representative.
Michael George Glazebrook was a Headmaster of Clifton College, after that a Canon of Ely, and named to have once held the world record for the high jump.
Sir Richard Tetley Glazebrook KCB KCVO FRS (September 1854– December 1935) was an English scientist.
Major Philip Kirkland Glazebrook, DSO (December 1880–March 1918) was a British businessperson and Conservative leader. He was the son of John K. and Cecilia Glazebrook of Twemlow Hall, Holmes Church, Cheshire, and trained at Eton College and New College, Oxford. He was a partner in the firm of Spurrier and Glazebrook Limited, oil merchants, Manchester. He held the rank of captain in the Cheshire Yeomanry.
Robert E. Glazebrook was born in March 1956 in Fresno, California. He is an old professional American football player who played safety for six seasons for the Atlanta Falcons.
Karl Glazebrook is a stargazer, known for his work on galaxy structure, for playing a key role in improving the nod and shuffle technique for doing spectroscopy with large telescopes, and for starting the Perl Data Language (PDL).
Dame Susan Gwynfa Mary Glazebrook, DNZM was born in February 1956. He is a justice of the Supreme Court of New Zealand.
Hugh de Twenbrokes Glazebrook (1855-1937), was a British artist and brother of Michael George Glazebrook.
Blazons & Genealogy Notes
(Glazebrook, and other parts of co. Lancaster, and Toronto, Canada). Motto—Dum spiro spero. Or, a lion pass. sa. on a chief gu. three fleurs-de-lis ar. Crest—A demi lion ramp. gu. ducally crowned or.