Goff Family Crest, Coat of Arms and Name History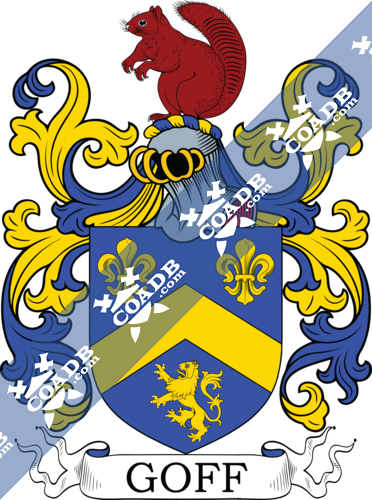 Goff Coat of Arms Gallery
Don't know which Coat of Arms is yours?
We can do a genealogical research. Find out the exact history of your family!
Learn More
Goff Origin:
England, with French, Cornish and Breton origins
Origins of Name:
The surname of Goff can be derived from Old English, French, and Celtic origins. The first possible origin is that it derives from the Old English pre seventh century word "gobha" or the Cornish words "gov" or the Breton word "gof" which all means a blacksmith, or one who blacksmiths. It is possible that this word comes from the East Anglian region, after being introduced in Brittany by the followers of Duke William of Normandy, wither during or shortly after the Conquest of 1066. Another conceivable derivative of the surname Goff is from the Welsh word "coch" which means red, which was normally given to a redhead, or someone with red hair. The third potential derivative is from the French name Geoffrey, which was also introduced into the British Isles after the year 1066. Another possible translation of the name is from Gaelic personal name, Eochaidh, or Eachaidh. This name is patronymic, and literally translates to horseman. Surnames at this time were recorded largely by priests and other individuals who were believed to be literate, but the people who had the surname Goff were often unsure how to spell their own surnames. This, in part, is why these surnames of Goff, and others, have variations in spelling, aside from the fact that they are derived from different languages.
Variations:
More common variations are:
Goff, Geoff, Goeff, Goffe, Gough, Gaugh, Goffi, Goffo, Goffa, Gouff, Gooff, Ghoff, Gaoff, Gof,
History:
England:
The very first recorded spelling of this surname was Bertram Goffe, who in 1208 was named in the Fines Court Rolls of Lincolnshire, which occurred during the reign of King John, who ruled from the year 1199 to 1216. Soon after, many variations of the Goff surname were recorded in history. Geoff, Goeffe, Gough, and very similar others were shown on scrolls and rolls around the English countryside, as well as becoming prevalent in France and Wales. The next concrete mention of someone with this surname was Stephen Goffe, which was also spelled Gough, who lived from the year 1605 to the year 1681, and was a Divine and Poet DD. Oxford.
Wales:
It has been said that very few surnames are actually native to Wales, but for the few surnames that can actually be credited to Wales, there are many variations due to both spelling and location. In the Middle Ages, the lack of literacy determined that recorded surnames would vary in spelling, and often are changed to reflect the dialect of a particular county, or area of land. The language of Wales was Brythonic Celtic, which is where the "coch" which was spelled phonetically as "gough" or those with red hair, derivative came from. Welsh words were often changed when someone moved or was forced to migrate to England, because the native language didn't copy well, leaving room for variations in spelling, and pronunciation.
The Goughs who herald from Steeple Barton in Oxfordshire were known as one of the oldest landed families in that county.
Ireland
Goff and Gough came to Ireland from Wales. The surnames arrived with the name Coch which means 'red'. They would eventually settle in Dublin County and Waterford County. Still today, the majority of descendants from this family line can be found today.
Goff Today:
United States 38,087
England 3,635
France 1,714
Australia 908
Germany 639
Canada 590
South Africa 584
Honduras 518
Ireland 360
Mexico 262
Notable People:
Robert Lamar Goff (born in 1965) NFL (National Football League) player who played from the years 1988 to 1996 from America
Nathan Goff Jr. (1843-1920) who was a member of Congress from West Virginia, and an American politician
Mr. George Henry Goff, who sailed into battle on the HMS Price of Wales, and was able to survive the sinking, also was a British Petty Officer during this time, and during the sinking
Sir Park Goff KC (1871-1939) Member of Parliament for Cleveland between the years of 1918 and 1923, and served again between the years of 1924 and 1929, Also served as a Member of Parliament for Chatham between the years of 1931 and 1935, also served as the Registrar of the Imperial Society of Knights Bachelor between the years of 1908 and 1911, was also a 1st Baronet
Philip Bruce Goff (born in 1953) who was the 32nd Leader of the Opposition from 2008 and 2011, the 35th Minister of Defense from 2005 and 2008, New Zealand politician
Robert Lionel Archibald Goff PC, DCL, and FBA (born in 1926) who was a retired British Judge, Baron Goff of Chieveley
Miss Agnes Goff (1887-1914) who was the Canadian Third Class Passenger from Toronto, Ontario, Canada, who died in the sinking of the Empress of Ireland on May 29, 1914
Stan Goff (born 1951) writer and activist from America
Bruce Alonzo Goff (1904-1982) architect from America
Blazons & Genealogy Notes
1) (Hale Park, Fordingbridge, co. Hants.; descended from a family formerly settled in cos. Waterford and Wexford; certified in Ulster's Office to Joseph Goff, Esq.). Motto—Fier sans tache. Az. a chev. betw. two fleurs-de-lis in chief and a lion ramp. in base or. Crest—A squirrel sejant ppr.
2) (Davis-Goff Horetown, co.Wexford; exemplified 7 May, 1845, to Strangman Davis, Esq., on his assuming, by royal licence, the additional surname and arms of Goff, in compliance with the testamentary injunction of his maternal uncle, Jacob William Goff, Esq., of Horetown). Motto—Honestas optima politia. Quarterly, 1st and 4th, az. a chev. betw. two fleurs-de-lis in chief and a lion ramp, in base or, a crescent for diff., for Goff; 2nd and 3rd, per pale gu. and ar. a chev. betw. three boars' heads couped counterchanged, for Davis. Crest—A squirrel sejant ar.
3) (Oakport, co. Roscommon; confirmed to Thomas William Goff, Esq., of that place, M.P. for co. Roscommon, 1859). Motto—Honestas optima politia. Az. on a chev. betw. two fleurs-de-lis in chief and a demi lion ramp. couped in base or, an annulet gu. Crest—A squirrel sejant ppr. charged on the shoulder with a fleur-de-lis or, and holding in its forepaws a nut also ppr.