Golden Family Crest, Coat of Arms and Name History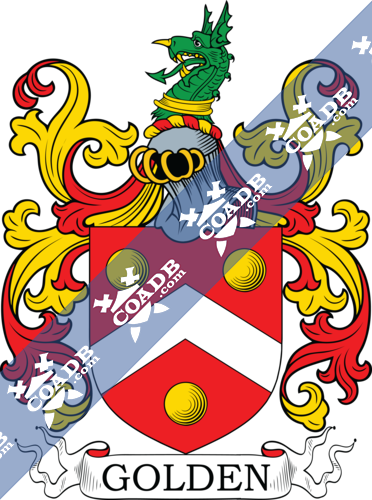 Golden Coat of Arms Gallery
Don't know which Coat of Arms is yours?
We can do a genealogical research. Find out the exact history of your family!
Learn More
Golden Origin:
England, Germany
Origins of Name:
The surname of Golden is determined to be an unusual one, but comes from an Anglo-Saxon origin and comes from a nickname. This nickname was determined to be used for a person who had bright yellow, or golden yellow hair, referencing the color of the metal—gold. The nickname comes from the Old English pre 7th Century word "gylden" which literally translated to mean "golden haired" or "one with golden hair." It is important to note that many surnames in medieval England derived from nicknames, which were given for many reasons, from occupation to distinguishing characteristics about a person.
Variations:
More common variations are:
Goulden, Goolden, Gold, Golding, Goulding, Goolding, Gouwlden, Gowlden, Goulden, Goelden, Goldeen, Geoldeni, Goalden, Goldien
History:
England:
The first recorded spelling of the surname of Golden was found in the year 1212. This surname was recorded and reported in the Hampshire Curia Rolls as one named Walter le Gelden, in the year 1212, which was decreed and recorded under the reign of King John, who was commonly referred to as the "Lackland" and ruled from the year 1199 to the year 1216. Other early mentions of this surname include Hilde Golden, who was recorded in 1297 in Cambridgeshire, Henry le Gulden, who was recorded in the year 1316 in London, and Roger le Gildene who was recorded in the year 1327 in Somerset. In church records, Thomas Golden and Mary Fouler were recorded as being married at St. James in Clerkenwell, London on November 6, in the year 1669. In England, those with the surname of Golden can primarlity be found in he counties of Durham, Yorkshire, Lancashire, Norfolk, Essex, Kent, Suffolk, Hampshire, and the city of London.
Scotland:
Those with the surname of Golden can be found in Lanarkshire and Angus, and other spellings of this surname commonly found in this country are Golding, Goldin, Gouldin, and Goulten.
United States of America:
During the 17th Century, there was a large migration from European countries to the United States of America, which at that time was referred to as The Colonies, or the New World. These settlers were seeking out a better life for them and their families, and America promised freedom from religious persecution, a life without an overarching ruler, and better living conditions. This migration was reffered to as The Great Migration, and is also referred to as The European Migration. The first of these settlers who bore the surname of Golden was one George Golden, who was said to have settled in the state of Virginia in the year 1652. It is possible that someone bearing this surname was en route to the United States of America before the year 1652, and died on the way, thus never being recorded. Those who were coming to the United States were transported in boats that had many people on them, thus creating cramped living conditions. Many of these people died from starvation or disease, and those who made the voyage began their lives in the New World riddled with these ailments. Those who bear the surname of Golden in the United States of America can be found in high concentrations in the states of New York, Pennsylvania, Ohio, New Jersey, Michigan, Georgia, Illinois, Texas, California, and are often found in the state of Mississippi.
Golden Today:
United States 58,496
Nigeria 9,934
South Africa 2,867
England 2,484
Algeria 1,607
Canada 1,537
Brazil 1,510
Ireland 1,327
Tanzania 1,253
Mexico 1,073
Notable People:
Charles A. Golden (born in 1914) who was an American politician, and the Mayor of Monroe, Michigan in the year 1889, and was a Circuit Judge in Michigan in the 38th Circuit from the year 1909 to the year 1914
William Lee Golden (born in 1939) who is an American country music singer, best known as being the baritone singer in the country music group The Oak Ridge Boys
Michael Henry Golden (1851-1929) who as an American MLB player
William Nelson "Pop" Golden (1868-1949) who was an American football and baseball coach
Martin J. Golden, who is an American politician, and a Member of the New York State Senate in the 22nd District from the year 2003 to present
James Stephen Golden (1891-1971) who was an American politician, and a U.S. Representative in Kentucky in the 8th District from the year 1949 to the year 1955
Henry Lewis Golden (1902-1981) who was born with the name Hershel Goldhirsh, and was an American Jewish writer and newspaper publisher
Blazons & Genealogy Notes
1) (Gainsborough, co. Lincoln). Gu. a chev. ar. betw. three bezants. Crest—A dragon's head erased vert, collared and lined or.
2) Ar. three trefoils triple-fitched vert. Crest—A cinquefoil ppr.