Gorton Family Crest, Coat of Arms and Name History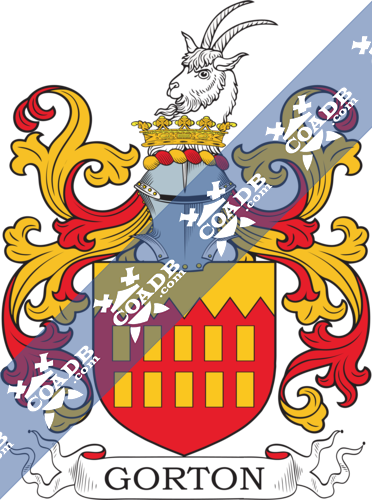 Gorton Coat of Arms Gallery
Don't know which Coat of Arms is yours?
We can do a genealogical research. Find out the exact history of your family!
Learn More
Gorton Origin:
England
Origin of Gorton:
It is an interesting surname with an Anglo-Saxon origin, and it is also a locational name from Gorton, an ancient church in the administrative division, and southeast of, the city of Manchester in Lancashire. It is listed as "Gorton" in the "Inquisitiones post mortem," dated 1282. The basic components of the name are the Olde English pre 7th Century word "gor," which means mud, and "tun" which means an agreement or enclosure. Regional surnames, like this, were authentically provided to the local entrepreneur, and king of the castle, and particularly as a means of recognition to those who migrated from their place of birth to live in another place. In October 1563, John, son of Richard Gorton, named at St. Margaret's, Westminster, London, and in March 1571, Jhon Gorton named in Kirkburton, Yorkshire. Previous name holders to live in America were Steven Gorton, who at the age of 35 yrs., arrived from London on the ship "Safety" bound for Virginia. In August 1635, Samuel Gorton, of Gorton, Lancashire, went to New England, and finally lived in Boston and New Plymouth.
Variations:
More common variations of this surname are: Gortone, Goretown, Gordon, Garton, Gurton, Corton, Graton, Gortin, Gorten, Korton.
England:
The surname Gorton first originated in Higher Manchester at Gorton, a place of worship, in the union of Chorlton, classically a part of Lancashire. The region name means "dusty field" which is associated with the Ancient English word "gor" plus "tun." The first documentation of the region was recognized in 1282 when it was recorded as Gorton.
The very first recorded spelling of the family was shown to be that of John Gorton, which was dated March 1563, named at Brindle, Lancashire. It was during the time of Queen Elizabeth 1, who was known to be the "Good Queen Bess," dated 1558 – 1603. The origin of surnames during this period became a necessity with the introduction of personal taxation. It came to be known as Poll Tax in England. Surnames all over the country began to develop, with unique and shocking spelling variations of the original one.
United States of America:
Individuals with the surname Gorton settled in the United States in two different centuries respectively in the 17th and 19th. Some of the people with the name Gorton who settled in the United States in the 17th century included Samuel Gorton settled in Boston in 1630. Steven Gorton settled in Virginia in 1635. Steven Gorton at the age of 35, landed in Virginia in 1635. John Gorton, who arrived in Roxbury, Massachusetts in 1636. Samuel Gorton landed in New England in 1636.
Some of the people with the name Gorton who settled in the United States in the 19th century included A. Gorton settled in Baltimore in 1820.
Australia:
Some of the individuals with the name Gorton who settled in Australia in the 19th century included William Gorton, an English prisoner from Lancaster aboard the ship "Asia" in September 1820, settling in New South Wales, Australia. Margaret Gorton arrived in Kangaroo Island aboard the ship "Buffalo" in 1836. Thomas Gorton and Alfred Gorton, both came to Sydney aboard the ship "Madawaska" in the same year in 1849.
Here is the population distribution of the last name Gorton: United States 5,094; England 2,700; Wales 90; Australia 1,209; Scotland 98; Canada 158; South Africa 438; Sweden 138; France 61; New Zealand 263.
Notable People:
Andrew Gorton was born in September 1966 in Salford. He is an old English professional football goalkeeper.
Assheton Gorton (1930 – 14 September 2014) was an English production planner.
Don Gorton is a Massachusetts authority who served as a state tax justice from 1997 to 2008.
Frank H. Gorton (c. 1876 – March 20, 1939) was an old American football, basketball, baseball, and track and field coach.
Gary Bernard Gorton (born c. 1951) is an American financial expert who now teaches as the Professor of Economics at the Yale School of Management.
George Gorton (born March 30, 1947) is a famous political advisor from California.
Blazons & Genealogy Notes
(Gorton, and other places, co. Lancaster). Gu. ten billets or, a chief indented of the last. Crest—A goat's head erased ar. ducally gorged or.