Grace Family Crest, Coat of Arms and Name History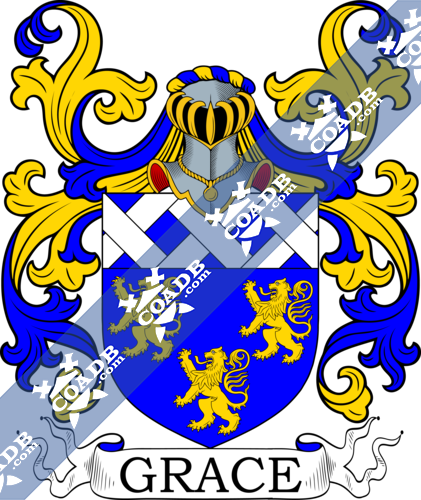 Grace Coat of Arms Gallery
Don't know which Coat of Arms is yours?
We can do a genealogical research. Find out the exact history of your family!
Learn More
Grace Origin:
England
Origins of Name:
The Grace surname derives from either a nickname or as a female given name. The nickname "grace" was an old Middle English and Old French word used to describe someone who was pleasant, and charmful, it is also a derivative from the Latin word "gratia". The second origin is from the female name "Grace" that became popular throughout the Middle Ages. The female name Grace is believed to derive from the Old German word "grisja" or Old French word "gris" meaning grey, then used in Middle English as the word "grece" or "greyce". The name quickly changed from being associated with grey, and became associated with "grace" meaning pleasant or charming person.
Variations:
More common variations are: Grass, Gracey, Graice, Grayce, Gracea, Garace, Gracee, Greace, Griace
History:
England:
The surname was first found in Buckinghamshire, where the family is believed to be descendants of the Norman knight "Le Gras" who came to England during the Norman Conquest.
The first known recorded instance of the name is William le Grace in 1199 in Gloucestershire in the Pipe Roll. In 1200 in Staffordshire, Roger le Gas was recorded in the Curia Regis Roll.
The first known variations of the name was in Suffolk, England in 1188 and used as "Grecie", later listed as "Gracia" in Surrey in 1213.
Henry Grece in 1275 was recorded in Northamtonshire in the Hundred Rolls.
Eventually the surname would evolve. Later instances were recorded, Gilbert Gracye in Sussex in 1296, and Adam Grace in 1302 in Suffolk.
William ate Grase was recorded in 1327 in Somerset in the Subsidy Rolls.
In 1635, George Grace would set sail aboard the "Globe" from London to Virginia in the New World.
Ireland:
The surname Grace in Ireland derives from the Norman name "le Gras". It first appeared in Ireland in the 12th century. The original settlement of the le Gras line was in Kilkenny, and there are many descendants who still live there today.
United States:
In 1635, the first Grace, Geo Grace at the age of 25 would arrive in Virginia. That same year Robert Grace would arrive as well to Virginia. 2 years later in 1637, Roger Grace landed in Virginia, and finally 2 years later in 1639 Georg Grace would arrive in Virginia. The next Grace that would arrive in the United States was George Grace at the age of 40 in 1643 in what would eventually be New York.
In the 18th Century, Edward Grace would settle in Maryland in 1726. The 19th century would see a large number of Graces arrive. At the age of 19, Saml Grace arrived in New York in 1804. James Grace would arrive in America in 1811, but it is not known where he would settle down. In 1812, PH grace at the age of 33 arrived in South Carolina along with his brothers Samuel Grace and Solomon Grace, aged 26.
Bridget Grace would emigrate from Ireland with her husband Michael Dunn in 1858 for the United States. They are believed to be the ancestors of many Dunn lines in America.
Today, the Grace surname can be largely found in Alabama, Mississippi, Kentucky, Missouri, Vermont, and New Hampshire.
Here is the population distribution of the last name Grace:
34,000 in the United States, 31,000 in Nigeria, 23,000 in Uganda, 11,000 in Philippines, 8,000 in England, 5,000 in Kenya, 5,000 in Australia
Notable People:
John Hilton Grace (1873-1958) British mathematician. He is the namesake of the famous theorem "Grace Walsh Szego theorem".
John W. Grace (1927-2009) privacy commissioner of Canada. Born in Canada, and earned is PHD at the University of Michigan. He returned to Canada entering journalism and would eventually serve a seven-year term as Privacy Commissioner of Canada.
Oliver Grace (1689) Irish Parliament. He was chosen in 1689 as the representative of the Ballynakill borough in Ireland.
Thomas Grace (1841-1921) Catholic Bishop. He was the second Catholic bishop of the Diocese of Sacramento. He was born in Ireland, attended college in Dublin. He would emigrate to the United states and work in the American missions, eventually becoming a bishop.
W. G. Grace (1848), English cricketer. He is widely considered one of the greatest cricket players in history. He was very important in developing the sport, and played for an astonishing 44 seasons.
William Russell Grace (1832-1904) founder WR Grace and Co. He was an Irish born politician who emigrated to the United States. He was the first Roman Catholic mayor of New York City.
Blazons & Genealogy Notes
1) (Barons of Courtstown, and Lords of Grace's country, co. Kilkenny). Supporters as they appear on the monument of Sir Oliver Grace, in Jerpoint Abbey, co. Kilkenny. Mottoes—En grace affie; and, Concordant nomine facta. (Ballylinch Castle, co. Kilkenny, and Shanganagh, now Gracefield, Queen's County). Gu. a lion ramp. per fesse ar. and or. Crest—A demi lion ramp. ar. Supporters—A demi lion and a talbot.
2) (Mantua House, co. Roscommon: Oliver Dowell John Grace, Esq., J.P. and D.L., of Mantua House, co. Roscommon, and Gracefield, Queen's co., M.P. for the former co., chief of his house, and male representative of the ancient feudal Lords of Courtstown, bore a shield of nine quarterings). Mottoes—En grace affie; and, Concordant nomine facta. Gu. a lion ramp. per fesse ar. and or, quartering Windsor, Butler, Sheffield, Dowell, &c. Crests—1st: A demi lion ramp. ar.; 2nd: An arm embowed in armour, holding a dagger all ppr.
3) (Grace Castle, co. Kilkenny, bart.). Mottoes—Over the crests: En grace afflie; under the arms: Concordant nomine facta. (Knole House, co. Sussex; as borne by Sheffield Grace, Esq., of that place, Barrister-at-law, LL.D., F.S.A., brother of Sir William Grace, Bart.). Quarterly, 1st, gu. a lion ramp, per fesse ar. and or, for Grace (modern); 2nd, gu. a saltire ar. betw. twelve crosses crosslet or, for Grace (ancient, alias Windsor); 3rd, or, a chief indented az. in bend three escallop shells counterchanged, for Butler, Lord Dunboyne; 4th, ar. a chev. betw. three garbs gu., for Sheffield, Duke of Buckingham and Normandy. Crests—1st, for Grace: A demi lion ramp. ar.; 2nd, for Sheffield: A boar's head and neck erased or.
4) (Ellington, co. Durham, cos. Somerset and Wilts). Gu. a lion ramp. or, within an orle of cinquefoils of the second. Crest—A lion pass. per fesse ar. and or.
5) (London). Gu. semee of cinquefoils, a lion ramp. ar.
6) Or, a lion ramp. vert.
7) Az. three lions ramp. or, a chief ar.
8) (Ellington, co. Hunts). Gu. semee of cinquefoils or, a lion ramp. per pale ar. and or.
9) (Burley, Leeds). Gu. a lion ramp. per fess erm. and erminois betw. two roses ar. barbed and seeded ppr.
10) Az. three lions ramp. or, a chief of the first fretty ar.
11) Az. a fesse betw. three lions ramp. or (another, ar.).
12) Gu. a lion ramp. per fesse indented ar. and or. Crest—A demi lion ramp. ar.
13) Ar. a chev. sa. betw. three round buckles gu.
14) (Hamilton Grace, Knole, Frant, Tunbridge Wells, co. Sussex; Lieut.-Col. Sheffield Hamilton Grace, of Knole, only son of Sheffield Grace, Esq. of Knole, LL.D., by Harriet Georgiana, his wife, dau of General Sir John James Hamilton, 1st bart., of Woodbrook, and sister and co-heir of Sir James John Hamilton, 2nd bart. of Woodbrook, assumed by royal licence, dated 21 Feb. 1880, the prefix surname of Hamilton). Motto—Concordant nomine facta. Quarterly, 1st and 4th, gu. a lion ramp. per fesse ar. and or, a crescent for diff., for Grace. 2nd and 3rd counter quartered. 1st and 4th, gu. three cinquefoils erm. 2nd and 3rd, ar. a lymphad, sails furled, sa. in the fesse point, a crescent of the last, together with the honourable augmentation, viz., a chief ar. there­upon a mount vert, inscribed, "Alba de Tormes," in letters gold, a castle, with the wail on either side broken, and from the battlement the flag of Spain flying ppr., for Hamilton, of Woodbrook. Crests—1st, Grace, a demi lion ramp. ar. Motto over, En grace affe; 2nd, for hon. augmentation, a mount vert, thereon a castle, as in the arms, and in the escrole above the Motto over "Alba de Tormes'" 3rd, Hamilton, an oak tree ppr. charged with a crescent sa. a frame saw, through the fessewise, also ppr. Motto over, Through.