Grandin Family Crest, Coat of Arms and Name History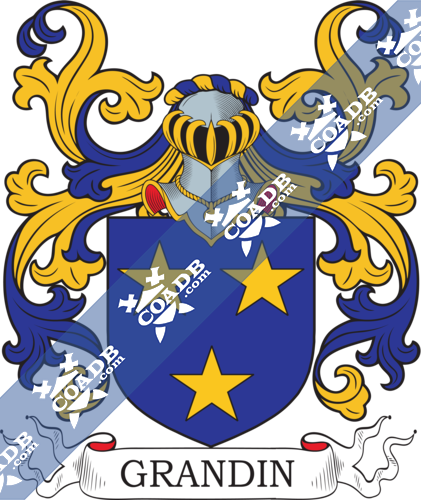 Grandin Coat of Arms Gallery
Don't know which Coat of Arms is yours?
We can do a genealogical research. Find out the exact history of your family!
Learn More
Grandin Origin:
England
Origins of Grandin:
It is a shortened variant spelling of the English Grandison, itself a shortened form of the Swiss "Grancione," and first introduced to England by Otes de Grandison in near the year 1320. The move was brought about through the wedding of Henry III to Eleanor of proof and the frequent move to England of her Courtiers of whom "Grandison" was one. The name advancement has contained a Peter de Grandisson (1335, Warwickshire) and Roger Graundison (1397, Yorkshire), while John Grandison (c.1365) was the priest of Exeter. The first noted spelling of the family name is shown to be that of Rigaldus de Grancione, which was dated C.1040, The Village of Granson, Neuchatel. It was during the reign of King Hardicanute of England, 1040 – 1042.
Variations:
More common variations are: Grandini, Grandino, Grandine, Grandien, Grahndin, Grandina, Gryandin, Granadin, Grandion, Grandn.
France:
The surname Grandin first appeared in Normandy (French: Normandie), the earliest Duchy of Normandy, where they held a family seat in the seigneurie of l'Eprevier. They were one of the leading aristocratic families of Normandy. They also branched to De Grondin, a hamlet in the section of Gers in Aquitaine in the region of the midi-Pyrenees.
Ireland:
Many of the people with surname Grandin had moved to Ireland during the 17th century.
United States of America:
Individuals with the surname Grandin landed in the United States in two different centuries respectively in the 18th, and 19th. Some of the people with the name Grandin who arrived in the United States in the 17th century included Michel Grandin, who arrived in Louisiana in 1719. Arnice and Elizabeth Grandin both arrived in Boston Massachusetts in the year 1769.
The following century saw much more Grandin surnames arrive. Some of the people with the surname Grandin who arrived in the United States in the 19th century included Helene Grandin arrived in New York state in 1825.
Here is the population distribution of the last name Grandin: France 2,964; Sweden 921; Italy 627; Brazil 620; United States 499; Germany 303; South Africa 201; Canada 105; Argentina 75; Australia 69.
Notable People:
Egbert Bratt Grandin (March 1806 – April 1845) was a printer in Palmyra, New York, known for publishing the first version of the Book of Mormon, a holy text of the churches of the Latter Day Saint movement. He was born in Freehold, Monmouth Division, New Jersey, the youngest of ten children, and raised on a farm near Palmyra, New York. At eighteen, he became an apprentice printer at the office of Palmyra's Wayne Sentinel, which he bought in 1827.
Elliot Grandin was born in October 1987. He is a French football player. A winger, Grandin can also play as a central attacking midfielder. He previously played in France for Caen, Marseille and at Grenoble, as well as in Bulgaria for CSKA Sofia.
Ethel Grandin (March 1894, New York City – September 1988, Woodland Hills, California) was an American silent film actress.
Mary Temple Grandin was born in August 1947. She is an American professor of animal science at Colorado State University, world-renowned autism spokesperson and consultant to the livestock industry on animal behavior. She is widely celebrated as one of the first individuals on the autism spectrum to publicly share insights from her personal experience of autism.
Thomas "Tom" Grandin (b. July 1907—d. Oct. 1977) was an American broadcast scholar during World War II. He, along with many other reporters, were known as "Murrow's Boys". He was born in Cleveland, Ohio.
Vital-Justin Grandin (February 1829–June 1902) was a Roman Catholic priest and bishop who gave services in the Church in the western parts of what is now Canada both before and after Confederation.
Philomène Grandin was born in September 1974 in Stockholm. She is a Swedish actress and television host.
Blazons & Genealogy Notes
1) Az. three mullets or.
2) Az. six mullets or, three, two, and one.