Gratton Family Crest, Coat of Arms and Name History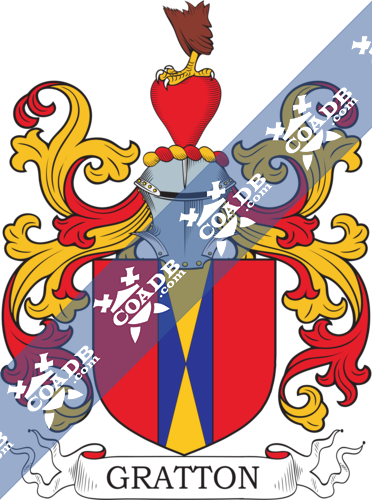 Gratton Coat of Arms Gallery
Don't know which Coat of Arms is yours?
We can do a genealogical research. Find out the exact history of your family!
Learn More
Gratton Origin:
England, Ireland, France
Origins of Gratton:
This interesting name is of old English origin and is locational from different places so called, in Devon and Derbyshire. However, these places do not all stem from the same source, for example, Gratton in High Bray, Devon, listed in the Domesday Book of 1086 as "Gretedone", and acquired from the Old English pre 7th Century "greate" which means great, with "dun" which means hill, while Gratton in Meavy, Devon, noted in the 1242 Fees shows as "Gropeton", and acquired from the Old English "grop", which means a canal, with "tun", a settlement, hamlet. The place in Derbyshire, listed in the Domesday Book as "Gratune," acquires from "greate," and "tun." So, the whole meanings of the name "great settlement," and there are also many small places in Devon which have as their source the dialectal word "Gratton" which means stubble field. In Atherington, Devon in May 1630, one Margaret Gratton, the infant daughter of John and Prudence Gratton named.
Variations:
More common variations are: Grattoni, Grattone, Graytton, Graton, Grtton, Grattn, Garattoni, Gretton, Grattan, Gritton.
England:
The surname Gratton first appeared in Tipperary (Irish: Thiobraid Arann), built in the 13th century in South-central Ireland, in the county of Munster, where they held a family seat from very early times.
The very first recorded spelling of the family was shown to be that of William de Gratton, dated about 1327, in the "Subsidy Rolls of Derbyshire." It was during the time of King Edward III who was known to be the "The Father of the Navy," dated 1327 – 1377. The origin of surnames during this period became a necessity with the introduction of personal taxation. It came to be known as Poll Tax in England.
Ireland:
Many of the people with surname Gratton had moved to Ireland during the 17th century.
United States of America:
Individuals with the surname Gratton landed in the United States in the 19th century. Some of the people with the name Gratton who arrived in the United States in the 19th century included Mary Gratton settled in Boston Massachusetts in the year 1848. John Gratton, who settled in New York in 1820 and Edward Gratton landed in Philadelphia in 1862.
Here is the population distribution of the last name Gratton: Canada 4,757; United States 2,559; England 2,124; Italy 571; France 478; Australia 388; Germany 168; Argentina 134; Wales;124; Brazil 95.
Motto:
The motto was originally a war cry or catchword. Mottoes first started to be shown with arms in the 14th and 15th centuries but were not in general use until the 17th century. Thus, the oldest coats of arms do not contain a motto. Mottoes sometimes form part of the grant of arms. Under most heraldic authorities, a motto is an optional element of the royal symbol and can be added to or modified at will like many families have chosen not to display a motto.
Motto: Pro patria vivere et mori
Motto Translation: For my country, I die and live
Notable People:
Christopher A. Gratton (born July 1975) is an old Canadian professional ice hockey player who last played with the Columbus Blue Jackets of the National Hockey League. He is the cousin of Josh Gratton, who had also quickly played in the NHL as a member of the Philadelphia Flyers and the Phoenix Coyotes.
Dean Anthony Gratton (born 1968) is a writer and analyst specializing in wireless communications. He is married to film director and writer of Sarah-Jayne Gratton.
Sarah-Jayne Gratton, nee Camden (born 1966 in Cambridge, England) is a producer, writer, and an old theater actress. She is married to writer and columnist Dean Anthony Gratton.
Benoit Jacques Joseph Gratton (born December 1976 in Montreal, Quebec) is a Canadian professional ice hockey forward currently playing for Jonquière Marquis of the Ligue Nord-Americaine de Hockey (LNAH).
Lynda Gratton (born February 1955) a British organizational scholar, specialist, and Professor of Management Practice at London Business School and the founder of the Hot Spots Movement.
Josh Gratton (born September 1982) is a Canadian professional ice hockey left winger who is currently on trial play with Ässät of the Liiga after previously playing for the Manchester Monarchs of the American Hockey League (AHL).
Blazons & Genealogy Notes
Gu. a pale per saltire az. and or. Crest—On a human heart ppr. an eagle's leg.