Griffin Family Crest, Coat of Arms and Name History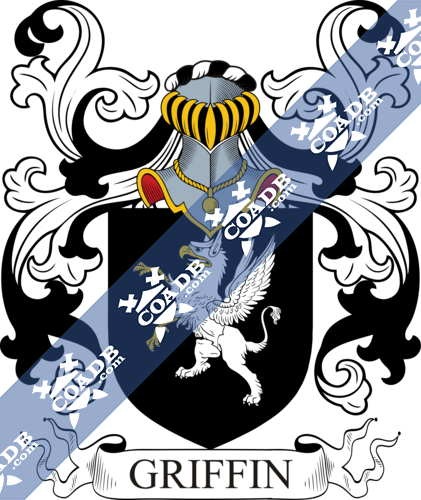 Griffin Coat of Arms Gallery
Don't know which Coat of Arms is yours?
We can do a genealogical research. Find out the exact history of your family!
Learn More
We don't yet have this section of research completed for this name. If you are interested in being notified when research becomes available, please use this form to contact us and we will let you know as soon as we have something!
Blazons & Genealogy Notes
1) (Lord Griffin of Broybroke; created 1688, extinct 1742). Sa. a griffin segreant ar. beak and forelegs or.
2) (Lord Braybrooke). Quarterly, 1st and 4th, sa. a griffin segreant ar. beaked and forclegged or, for Griffin; 2nd and 3rd, quarterly, 1st aud 4th, gu. on a saltire ar. a rose seeded and barbed ppr., for Neville, 2nd and 3rd, or, fretty sa. on a canton per pale erm. and gold, a galley with sails furled of the second, also for Neville. Badges: on the dexter a rose gu. seeded or, barbed vert, on the sinister a portcullis or. Crests—1st: A talbot's head erased sa., for Griffin; 2nd: A hull ar. pied sa. armed gold, and charged on the neck with a rose gu. barbed and seeded ppr. Supporters—Two lions ramp. reguard. ar. maned and tufted sa. gorged with a chaplet of laurel vert. Motto—Ne vile velis.
3) (Bartherton, co. Chester). Ar. two bars gu. a griffin segreant sa.
4) (London; one of the six clerks of the Court of Chancery). Sa. a chev. betw. three fleurs-de-lis ar. Crest—Out of a ducal crown or, a demi griffin erm. membered or.
5) or Griffith (co. Stafford). Gu. on a fesse dancettee betw. three griffins segreant or, as many martlets sa. Crest—A woman's head couped at the breast ppr. hair flotant or.
6) (cos. Stafford and Suffolk). Gu. on a fesse dancettee ar. betw. six lions pass. or, three martlets sa.
7) (Penrith, Wales). Gu. on a fesse betw. three lozenges or, each charged with a fleur-de-lis of the first, a demi rose betw. two griffins segreant of the field.
8) (co. York). Erm. a bend gu. cotised or.
9) Gu. three griffins' heads, two in chief couped ar. and one in base erased or.
10) Gu. a lion ramp. or, within a bordure invecked ar.
11) Az. three eagles displ . or.
12) (Violet Hill, Bray, co. Wicklow; confirmed to Edward Lysaght Griffin, Esq., Barrister-at-Law, second son of the late Right Rev. Henry Griffin, D.D., Bishop of Limerick, by Jane Eyre, his wife, dau. and co-heiress of Edward Lysaght, Barrister-at-law). Quarterly, 1st and 4th, ar. on a chev. betw. three bucks' heads erased gu. an annulet betw. two fleurs-de-lis or, for Griffin; 2nd and 3rd, ar. three spears erect in fess gu. on a chief az. a lion pass. guard. or, a crescent for diff., for Lysaght. Crest—A demi griffin sergeant ar. charged on the shoulder with a fleur-de-lis az. Motto—Fide et fortitudine.
13) (Reg. Ulster's Office). Gu. three escallops ar. in chief three piles of the last.
14) Per pale or and sa. a chev. betw. six martlets all counterchanged.
15) Sable a griffin, segreant, or.
16) (Prince of North Wales) Gules three lions passant, guardant, argent. (Source: Siddon's Welsh Heraldry).