Grimes Family Crest, Coat of Arms and Name History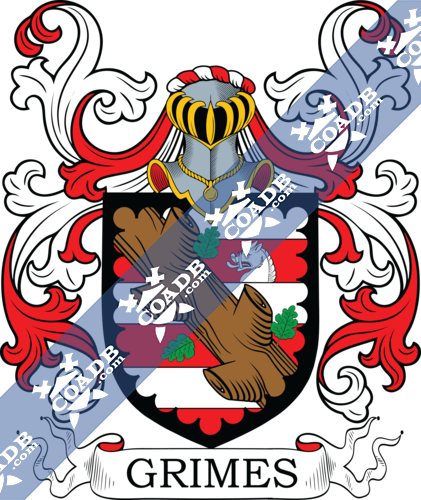 Grimes Coat of Arms Gallery
Don't know which Coat of Arms is yours?
We can do a genealogical research. Find out the exact history of your family!
Learn More
Grimes Origin:
England, Ireland
Origins of Name:
The surname of Grimes originates from the Norse-Viking pre 7th Century personal name of "Grimr" which is both an Old Danish and Old Swedish name as well, appearing in both of these ancient languages as "Grim." In England, this surname of Grimes was popular due to the influence of Scandinavian settlements in the particular areas of the northwestern and eastern counties. This pre 7th Century Norse personal name is also similar to the Old English word "grima" which translates to mean " a mask." This personal name was also given to the god named Woden. Thus, this name translates to mean "masked person," and it is debatelably able to be translated as "shape-changer" or "shape-shifter" which was given to male children to encourage the god Woden's protection. It is also plausible that the surname of Grimes derives from the Old English word "grim" which translates to mean "fierce." The plural of this name, as in "Grimes" or other spelling variations of this surname, is said to be translated to mean "son of Grim."
Variations:
More common variations are:
Grim, Grimson, Graeme, Grahame, Graham, Graimes, Ghrimes, Griemes, Grimmes, Wgrimes, Grimees, Grimese, Grimesy
History:
England:
The first recorded spelling of the surname of Grimes was found in the year 1170. One person names Godwin Grim was recorded and mentioned in the Pipe Rolls of the County of Norfolk, under the reign of King Henry II, who ruled from the year 1154 to the year 1189. Other mentions of this surname include Peter le Grim, who was mentioned in the Subsidy Rolls of the County Sussex in the year 1327. One Ellis Grymes was recorded in London n 1552, and Katherine Grimes married Thomas Burchill on September 20, in the year 1640 at Frodsham in Cheshire. In England, those who have the surname of Grimes are often found in Lancashire, Norfolk, Yorkshire, Essex, Hampshire, and Warwickshire, as well as the city of London.
Scotland:
Those who have the surname of Grimes in the country of Scotland are found in the counties of Lanarkshire and Angus.
United States:
During the European Migration, which is when English settlers were fed up with their homeland and it's poor living conditions, and emigrated out of their home country, many settlers sought out the United States of America, which at that time was referred to as the Colonies, or the New World. The United States promised freedom from religious persecution, better living conditions, and no overall ruler. The first of these settlers who was recorded to bear the surname of Grimes was one George Grimes, who landed in the state of Virginia in the year 1622. Shortly after him, in 1624, Ann Grimes arrived in Jamestown Virginia, and in 1635, pewterer Samuel Grimes landed in Boston, while both Jon Grimes and Walter Grimes landed in Virginia. Those who have the surname of Grimes are found all over the United States of America today. The states where this surname of Grimes is most common are the states of New York, Ohio, North Carolina, South Carolina, Georgia, Alabama, Texas, Indiana, Pennsylvania, Kentucky, California, and Maryland.
Canada:
In the 18th Century, settlers began moving from the United States of America up into Canada. The first person to bear the surname of Grimes that did so was James Grimes, who settled in Nova Scotia in 1750.
Grimes Today:
United States 56,728
England 6,421
Liberia 2,525
Ireland 2,105
Algeria 1,517
Canada 1,492
Australia 1,374
South Africa 676
Brazil 461
Northern Ireland 453
Notable People:
Oscar Ray Grimes Sr. (1893-1953) who was an American Major League Baseball first baseman
Henry Grimes (born in 1953) who was an American jazz double bassist, violinist, and poet from Philadelphia, Pennsylvania
Tammy Lee Grimes (born in 1934) who was an American two-time Tony Award winning actress and singer, who starred in her own ABC TV series The Tammy Grimes Show in the year 1966, and who was also inducted into the American Theater Hall of Fame
James Wilson Grimes (1816-1872) who was an American politician, and from the year 1859 to the year 1869 served as a United States Senator from Iowa, and who also served as the third Governor of Iowa
Burleigh Arland Grimes (1893-1985) who was an American MLB pitcher, and was inducted into the Baseball Hall of Fame in 1964
Major-General William Middleton Grimes (1189-1951) who was an American Commanding General in the Antilles Department from the year 1945 to the year 1946
Martha Grimes (born 1931) who was an American author of detective fiction, best known for her Richard Jury series
Blazons & Genealogy Notes
(London; granted, 1575, by Cooke, Clarenceux, to Thomas Grymes, of London) Or, on three bars gu. as many martlets of the first, on a chief of the second two bars nebulee ar. Crest—A martlet vert.
1) (Bonchurch, near Newport, Isle of Wight). Or, a bordure engr. az. on a chief sa. three escallops ar. Crest—A pair of wings addorsed or.
2) Sa. a horse's head erased or, betw. three mullets ar. Crest—A horse's head couped or, betw. two wings expanded ar.
3) Barry of six ar. and gu. on the second bar a boar's head couped of the first, over all the trunk of an oak in bend, leaved ppr. a bordure engr. sa.