Griggs Family Crest, Coat of Arms and Name History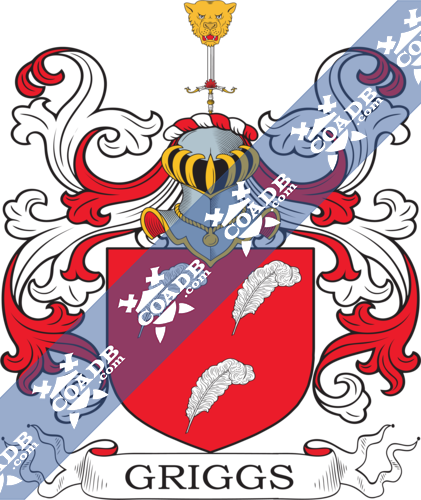 Griggs Coat of Arms Gallery
Don't know which Coat of Arms is yours?
We can do a genealogical research. Find out the exact history of your family!
Learn More
Griggs
Griggs is an Anglicization of Greek and later Latin forms of the name gregorin/gregorius, meaning someone who is 'awake.' It is originally a pastoral occupational name associated with a herder of cattle or sheep. The Latin form of the name is present in the old bible before the King James translation and it was passed down to agricultural workers and farmers at roughly the time of Norman Conquest, when the Roman Catholic church flourished in England after 1066. The Normans were known for their ferocity in battle and their pious nature in building churches, and abbeys. it was at this time the name Griggs started to appear in parishes throughout England. The name can be spelled Griggs, Grigg, Gregg and Greg.
The first Griggs to appear are recorded in Suffolk, England in 1497. The same year the Cornwall rebellion happened in the month of May. Henry VII traveled there to put down the troubles, as they threatened royal property and taxes, only to have the rebellion to rise up one more time in December. Henry VII in 1498, moved English settlers into the region to help stabilize the area, with people he felt would be loyal to the Crown. It is interesting to note several members of the Griggs family moved to Cornwall in the mid 16th century. By the beginning of the 17th century Griggs began to leave Cornwall for parts bound to the Colonies of North America, and also to the West Indies along with Jamaica after the British had captured Port Royal from the Spanish in 1655. Soon Jamaica was flooded with British farmers and planters seeking their fortune in the Sugar, Indigo, Rum trade.
In Massachusetts one of the first recorded Griggs is a William Griggs Sr, who is recorded in a Salem Essex County will, as having a farm left to his children in 1691. In all there were at least four different Griggs antecedents who settled in or around Boston and Salem Massachusetts who arrived in the third wave of settlers to the colony. It has been determined they were of a common surname but had not familial connection what so ever. Their forenames were, George who died in 1660 in Boston. Thomas who died in Roxbury in 1646 and Humphrey who passed away in 1657 in Boston.
There is further historical research indicating the Griggs family had become tin miners in Cornwall. A 1793 will of Jacob Griggs who lived in Cornwall's mining district listed his occupation as a 'Tinner' or someone who mined Tin. Cornwall historically had some of the richest Tin mines in Western Europe, and had been a source of Tin since the time of Phoenicians. Because of Cornwall's rich history of mining, experienced Cornish miners were in high demand.
In 1849 the California Gold Rush, was announced. Miners from all over the world moved to California, especially miners from Cornwall. Then in the 1860's the Bonanza gold strikes in the Sierra Mountains of Nevada were announced. Grigg(s) family members are found in Nevada, and later in Colorado in the gold mines of Colorado Springs, and Golden, and at least a dozen other locations all along the eastern ramparts of the Rocky Mountain chain. It is interesting to note, as of 2016, Colorado State University in Ft. Collins, offers the 'Grigg Family Graduate Scholarship in Water Engineering.'
In 1891 the Western Australian gold rush, was announced to the world. This proved for the British Empire, a sizable boon to immigration to Australia, which in previous years had been a difficult proposition for many families because of the vast distances from England and the harsh environment. The lure of Gold proved to be an irresistible pull, and large numbers of Cornish miners and their families immigrated in mass to Australia and to Tasmania. The biggest concentrations originated in Ballarat, Victoria. Then followed by Bathurst, Gulgong, and High End New South Wales and with the gold strike in Queen's Town in Tasmania.
Specifically Tasmania/Australia then followed by New Zealand has the highest concentrations of the Griggs surname, followed by United Kingdom, Canada and then United States of America.
Places Associated with the surname of Griggs:
Suffolk, Hertfordshire, Portsmouth, Hampshire; Plymouth, Exeter, Devonshire; Bristol; Selwin, New Plymouth, Westland Districts of New Zealand. Plymouth, Massachusetts; Shelby, North Carolina; Colorado Springs, Ft. Collins Colorado, USA; Dawson City, Yukon, Canada,
The most popular forenames associated with the surname of Griggs:
David, Paul, James, William, Robert, Michael, Richard, Andrew and Susan.
Blazons & Genealogy Notes
Gu. three ostrich feathers ar. Crest—A sword in pale enfiled with a leopard's face ppr.