Groom Family Crest, Coat of Arms and Name History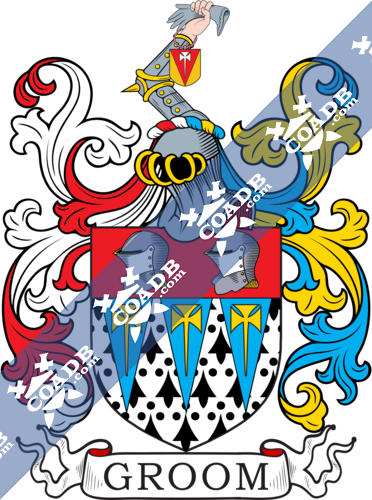 Groom Coat of Arms Gallery
Don't know which Coat of Arms is yours?
We can do a genealogical research. Find out the exact history of your family!
Learn More
Groom Origin:
England
Origins of Groom:
The origin of this unique surname evolved originally from an old English word "grom(e)" which mean a man-servant, but in some places was particular to mean "shepherd" which mean goat flock. As the previous recordings verified as John Lambegrom (Cambridgeshire 1279), John Schepgrom (Essex, 1327) and Richard le Gotegrom (Suffolk, 1335). The non-particular type of the name was first put down into writing at the starting of the 12th Century. Ernald le Grom arise in the year 1187 "Pipe Rolls of Gloucestershire" and Roger le Groom in the year 1351 "Assize Court Rolls of Essex". In the new or present style, the name has two different formations, Groom, and Groome. On 29th November 1579 Margarett Gromme, a new-born, was named in St. Giles, Cripplegate, London and on 31st December 1667, Elizabetha Groom was named in St. Martin in the area of Westminster.
Variations:
More common variations are: Groome, Guroom, Grwoom, Groomw, Grooma, Grom, Croom, Grome, Groma, Gromm.
England:
The origins of the surname Groom were in Suffolk where people held a family seat from early times, someone says better before the success of Normans and the entrance of Duke William at Hasting in 1066 A.D,
The very first recording spelling of the family was shown to be that of Richard Grom, dated about 1100. It was during the time of King Henry 1, who was known to be the "The Lion of Justice", and took place in "Pipe Rolls of Norfolk." The origin of surnames during this period became a necessity with the introduction of personal taxation. It came to be known as Poll Tax in England. Surnames all over the country began to develop, with unique and shocking spelling varieties of the original one.
United States:
People with the Groom surname also settled in the United States in three different centuries respectively in the 17th and 18th and 19th.Individuals who settled in the 17th Century included William Groom arrived in New Jersey in the year 1675.
The following century saw much more Grooms arrive including Ann Groom, Charles Groom, Anne and Charles Groom settled in Maryland respectively in the years 1739 and 1740.
People with the Groom surname who arrived in the 19th century included many people like Daniel, Edward, George, James, John, Patrick, Roger, Terrence, Thomas and William Groom all arrived between the years 1840 and 1860. James and Robert Groom landed in St Clair Division, Illinois in the same year 1870. Gerd J Groom landed in Lowa in the year 1882.
Canada:
Some of the Groom people who settled ultimately in Canada in the 19th century included Thomas Groom, John Groom, and Sarah Groom arrived in Nova Scotia in the same year 1750.
Australia:
Some of the Groom people who settled ultimately in Australia in the 19th century included Emma Groom, an English prisoner from Staffordshire, who was shifted aboard the ship "Angelina on April 25 1844, settling in Van Diemen's Land, Australia.
New-Zealand:
The settlement of Groom family also observed in the 19th century, in New-Zealand. The people who arrived in New-Zealand included Walter Groom at the age of 20 who was a laborer arrived in Auckland, New-Zealand aboard the ship " Rooparell" in the year 1874.
Here is the population distribution of the last name Groom: United States 6,336; England 5,119; Australia 1,305; Canada 641; South Africa 1,662; Germany 471; Scotland 203; New-Zealand 267; Wales 214; France 98
Notable People:
Aaron Groom (1987), was a Fiji rugby league player.
Andy Groom (1979), was an American football punter.
Arthur Groom (politician) (1852–1922), was an Australian man of politics and land manager.
Arthur Groom (writer) (1904–1953), was an Australian author, speaker, journalist, and cameraperson.
Arthur Hesketh Groom (1846–1918), was a British inventor of the Kobe Golf Club, the first golf club in Japan.
Bob Groom (1884–1948), was an American player in baseball.
Buddy Groom (1965), was also an American player in baseball.
Catherine Groom Petroski (1939), was an American writer.
Jerry Groom (1929–2008), whose nickname was "Boomer," was an American player in football.
Kathleen Clarice Groom (1872–1954), was an English writer.
Karl Groom was a British musician and composer.
Lorne B. Groom (1919–1994), was a New Brunswick physician and politician.
Michael Groom (footballer), was a New Zealand member of national football team.
Blazons & Genealogy Notes
Notes: None. Blazon: Ermine three piles azure each charged with a cross pattee fitchee or, on a chief gules two helmets close proper. Crest—A dexter arm embowed in armour proper garnished or, holding in the hand a gauntlet, both proper suspended from the wrist by a pink riband a shield gold, thereon a pile gules charged with a cross pattee fitchee argent.