Haigh Family Crest, Coat of Arms and Name History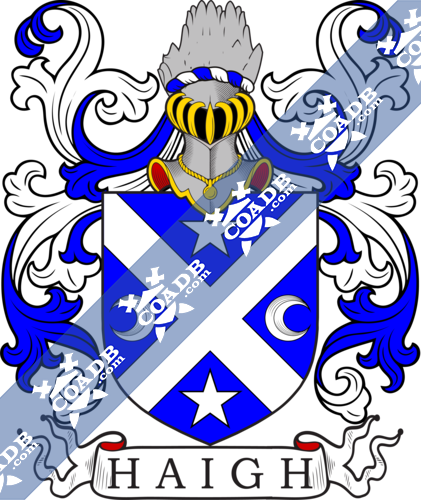 Haigh Coat of Arms Gallery
Don't know which Coat of Arms is yours?
We can do a genealogical research. Find out the exact history of your family!
Learn More
Haigh Origin:
England
Origins of Haigh:
This surname is of Anglo-Saxon origin, and may be either a geographical name from a person who lived in an area bounded by something, acquiring from the Olde English pre 7th Century "haga", which means similar, to the Old Norse "hagi", which means Bush farmland; or geographical from Haigh in West Yorkshire, or in Lancashire. Both of these regions are listed as "Hagh" in the Premium Rolls of the respective districts, dated 1194 – 1198, and called from "haga" or hagi." Geographical surnames were created in very old times since they provided easily identifiable names in the small regions of the Middle Ages. Geographical names were frequently provided to the king of the castle, or as a source of recognition to those who left their place of origin to shift to another place. The surname first shows on record in England in the first part of the 13th Century. Petrus del Hage, whose name appears in Scottish documents, dated 1160, was considered to have originally come from La Hague in Manche, Normandy, named from the Old Norse "hagi." In the new style, the name spelled Haig, Hague, and Haigh, the last mentioned form being most spread widely in Yorkshire. In April 1545, Alice Haigh and William Wilson married in Halifax, Yorkshire.
Variations:
More common variations are: Haighe, Haaigh, Haighy, Haeigh, High, Hagh, Haih, Haghigh, Haugh, Heigh.
England:
The surname Haigh first appeared in Yorkshire, where Iollan de Hagh was listed in 1229. The Scottish clan resided in Bemersyde for many centuries after their entrance in Scotland.
The very first recorded spelling of the family was shown to be that of Jollan de Hagh, dated about 1222, in the "Close Rolls of Yorkshire," It was during the time of King Henry III who was known to be the "The Frenchman," dated 1216 – 1272. The origin of surnames during this period became a necessity with the introduction of personal taxation. It came to be known as Poll Tax in England. Surnames all over the country began to develop, with unique and shocking spelling varieties of the original one.
Ireland:
Many of the people with surname Haigh had moved to Ireland during the 17th century.
United States of America:
Some of the population with the name Haigh who arrived in the United States in the 19th century included Abraham Haigh landed in New Jersey in 1812. Samuel Haigh landed in Maryland in 1812. Amos, Benjamin, Charles, Fred, John, Joseph, Samuel Haigh arrived in Pennsylvania between 1840 and 1860. David Haigh, who arrived in Allegany (Allegheny) Division, Pennsylvania in 1876.
Australia:
People with the surname Haigh who settled in Australia in the 19th century included Mary Haigh, an English prisoner from York, who was shifted aboard the "Arab" in December 1835, settling in Van
Diemen's Land, Austraila. Frederick Haigh arrived in Adelaide, Australia aboard the ship "Duke of Bedford" in 1848. John Haigh arrived in Adelaide, Australia aboard the ship "Caroline" in 1849. Allen Haigh arrived in South Australia in 1854 aboard the ship "Dirigo." Samuel Haigh at the age of 24 arrived in South Australia in 1858 aboard the ship "Bee."
New-Zealand:
Some of the individuals with the surname Haigh who settled in New Zealand in the 19th century included George Haigh landed in Wellington, New Zealand in 1840. George Haigh at the age of 33, Elizabeth Haigh, Abraham Haigh and George Haigh, all arrived in Wellington, New Zealand aboard the ship "Birman" in the same year 1842.
Here is the population distribution of the last name Haigh: England 9,481; United States 3,739; Australia 2,321; South Africa 1,169; Canada 647; New Zealand 409; Scotland 394; Wales 214; France 135; Malaysia 101.
Notable People:
Gideon Haigh was an Australian scholar.
Jennifer Haigh was an American author.
John George Haigh is an English serial killer.
Kenneth Haigh is an English actor.
Louise Haigh is a British Co-operative leader, representative of Parliament (MP) for Sheffield Heeley since May 2015.
Nancy Haigh is an American set developer.
Philip A. Haigh is a British professor and writer.
Blazons & Genealogy Notes
Notes: (Grainsby Hall. co Lincoln). Mottoes—Sola virtus invicta; and, Tyde what may. Blazon: Az. a saltire cantoned with a star in chief and in base, and with two crescents addorsed in the flanks ar. Crest—A rock ppr.