Hallom Family Crest, Coat of Arms and Name History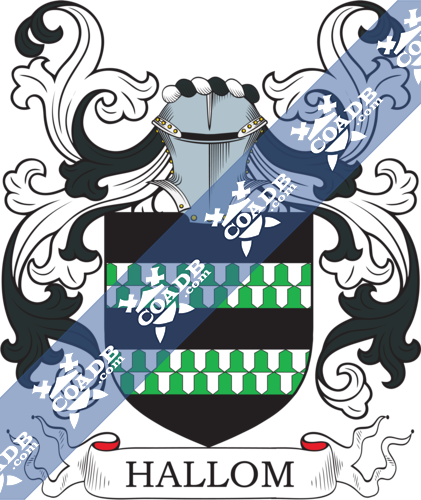 Hallom Coat of Arms Gallery
Don't know which Coat of Arms is yours?
We can do a genealogical research. Find out the exact history of your family!
Learn More
The origins of the Hallom name come from when the Anglo-Saxon clans ruled over Britain.  The name Hallom originally derived from a family having resided in Hallam, a place name found in Yorkshire and Derbyshire.  In Yorkshire, Hallam appeared in the South Riding. Further research revealed that the name is derived from the Old Scandinavian word haIIr, or from the Old English word hall, both of which meant "stony."  The place name meant "the stony place, the place at the rocks." In Derbyshire, there is a place called West Hallam and another called Kirk Hallam. These names acquired from the Old English word halh, which meant "remote nook of land."  Kirk in the Old English meat "church;" the name as a whole would be "church in a remote place," while West Hallam was a "remote place in the west."  More common variations are: Halloum, Hallm, Halom, Halloumi, Hallouma, Hallam, Hallum, Hollom, Hallem, Hellom.
The surname Hallom first found in Yorkshire at Hallam or perhaps at Halling, a hamlet on the North Downs in the northern part of Kent that dates back to the 8th century when it first recorded as Hallingas. Some of the first North American settlers carried this name or one of its variants as James Hallam who settled in Maryland in 1741.  William Hallam settled in Barbados in 1680 with his servants.  Thomas and William Hallam settled in Newcastle Co. Del. in 1855.
Blazons & Genealogy Notes
1) (co. Northumberland). Sa. two bars vaire ar. and vert.
2) Sa. a cross engr. erm. Crest—A hand gu. holding a grenade fired ppr.
3) Sa. a cross ar. guttde de poix.