Hand Family Crest, Coat of Arms and Name History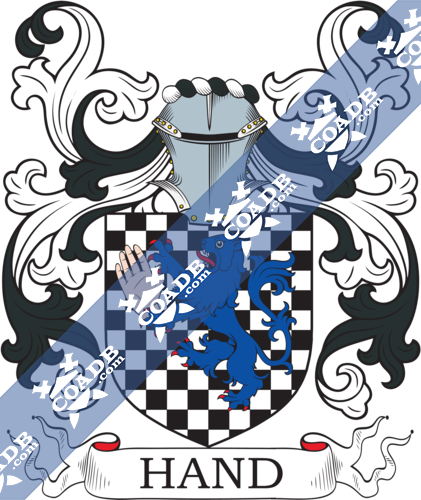 Hand Coat of Arms Gallery
Don't know which Coat of Arms is yours?
We can do a genealogical research. Find out the exact history of your family!
Learn More
HAND
The name Hand is believed to have originated from two separate sources. The first, which relates to the Anglo-Saxon surname is believed to have originated from the medieval "hond" which translates to hand. The name is thought to have been an occupational nickname given to someone who was a skilled craftsman or whose profession required the person to work a great deal with their hands. The second source, suggest the surname Hand may have been a patronymic name originating in Holland. It is believed to have derived from the given name Hans whose meaning would have translated into "Son of." European medieval culture was a patriarchal society, which meant most surnames descend through a male line of descent.
Derivatives of this name include; Hand, Hands, Hande, and Handes among others. The variation in spelling of names during this time period can be attributed to a lack of continuity regarding guidelines for spelling which was compounded by the diversity of languages in use in European countries at this time.
The first record of the name Hand, is of Walter Handes which appears in the Warwickshire "Pipe Rolls" from 1332. The Pipe Rolls often times called the "Great Rolls," these were a series of financial tax records kept by the English Treasury by order of King Henry I, with the oldest dating back to the 12th century. They hold the distinction of being the oldest consecutive set of records detailing English governance in the United Kingdom. These records span a period of over 700 years and have proven invaluable to researches over the years.
The first recorded immigrant to America bearing the surname Hand or any variation of the spelling was Thomas Hand who landed and settled in Virginia in 1621. Robert and Thomas Hand landed and settled in Virginia in 1635. John Hand landed in 1635 and settled in Lynn Massachusetts. John Hand, along with eight other men, bought Montauk Point Long Island and established the town of East Hampton.
Early immigrants to Canada include Peter Hand who landed in 1749 and settled in Nova Scotia. Mr. and Mrs. Aaron Hand arrived in 1783 and settled in New Brunswick as did John Hand and his young daughter Phoebe.
Worldwide, the highest concentration of people with the surname Hand are found in Ireland, the British Commonwealth, and the United States of America; by state, the largest number of those with the surname Hand, live in Alabama USA.
There are many persons of note who bear the surname Hand. Bishop Sir Geoffrey David Hand, KBE was born in Australia and was the first Archbishop of the Anglican Church of Papua New Guinea. Hand attended Oriel College at Oxford University where he received a degree in history, he then went on to Ripon Theological College. Upon completion of his studies in 1942, he was ordained a deacon and in 1943 he was ordained a priest. In 1946, Hand moved to Papua New Guinea where he would spend sixty years of his life serving his congregation. In 1950, he was made a bishop, this made him the youngest bishop in the Anglican Church. For his service and contribution to humanity, Bishop Hand was awarded the honor of Commander of the Order of the British Empire in 1975 and the Knight Commander of the Order of the British Empire in 1984.
David Hand is a renowned British mathematician and statistician. He has had numerous books published based on findings of his research relating to finance, statistics, and measurement. He has served as a professor at Open University and Imperial College in London where he taught statistics, The Royal Statistical Society awarded him the Guy Medal in Silver in 2002. In 2003, Hand was made a Fellow of the British Academy. He also served as the President of the Royal Statistical Society from 2008 until 2009 and then again in 2010. In 2013, for services to research and innovation, Hand was appointed Officer of the Order of the British Empire (OBE).
Frederic Hand is an American composer and classical guitarist. Hand attended Mannes College of Music. He received a Fulbright scholarship which allowed him to travel abroad to England and studied with Julian Bream who is considered one of the foremost classical guitarist of the 20th century. His many achievements include; being the official guitarist in residence for the Metropolitan Opera in
New York for the past 20 years, Department Chair for Classical Guitar at State University of
New York, faculty member at Mannes College of Music, composer for musical scores of television and feature films, an Emmy award winning composer, and a Grammy Award nominee.
Blazons & Genealogy Notes
1) Ar. a chev. az. betw. three dexter hands gu. Crest—A stag trippant ppr.
2) (Dublin; Symond Hand, merchant; Fun. Ent. 1640, of his dau. Ellenor, wife of Robert Jordan, Esq., of Barbestown, co. Dublin). Chequy ar. and sa. a lion ramp. az. armed and langued gu. holding betw. the paws a dexter hand couped at the wrist ppr.