Harley Family Crest, Coat of Arms and Name History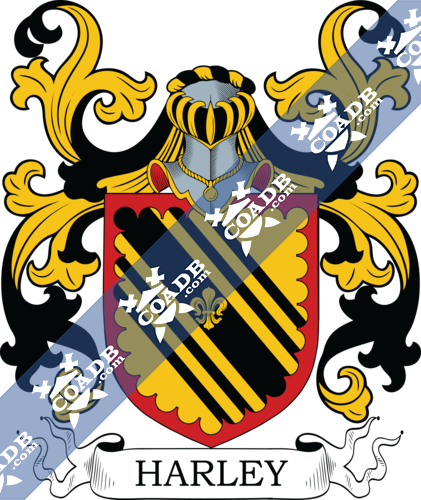 Harley Coat of Arms Gallery
Don't know which Coat of Arms is yours?
We can do a genealogical research. Find out the exact history of your family!
Learn More
Harley Family
Blazon: Or, a bend cotised sa. Crest—A castle triple-towered ar. out of the middle tower a demi lion issuant gu. Supporters—Two angels ppr. habited and wings displ. or.
Note: (Earl of Oxford; created 1711, extinct 1853). Motto—Virtute et fide.
Source: Burke, Sir Bernard. The General Armory of England, Scotland, Ireland, and Wales. London: Harrison & Sons, 1884.
In English the meaning of the name Harley is: From Old English hare wood (or meadow). From the hare's meadow. The name dates back to the Anglo-Saxon period before the coming of the Norman invasion of 1066 with William the Conqueror. Since it is a very old name it has been found to be spelled with some variations, such as Harley, Hurley, Harrily, and various phonetic spellings.
First found in Shropshire Edward and Hernulf Harley were recorded to be the founders of the family which bears their name. By the early part of the 12th Century, they were the lords of Harley. Six generations later Sir Robert Harley was a parliamentarian and master of the mint for Charles I. He also became a staunch Protestant, who helped to support the Parliament forces under Oliver Cromwell during the English civil war.
At the time of the civil war, Sir Robert Harley was in possession of Brampton Bryan Castle. The castle deep within royalist territory was besieged by royalist forces loyal to the king. Sir Robert Harley had left the defense of his castle to his wife, Brilliana Harley. She had her three children and fifty supporters. After a difficult siege, the castle and its defenders suffered only one casualty while royalist troops had suffered over a third of their force in deaths. The castle was eventually taken the following year, after Sir Robert Harley's wife succumbed to a long illness. The property was damaged severely and the local villages was plundered and burnt to the ground. It is said on September third of every year the Devil gallops through the local park with Oliver Cromwell's soul lashed behind his saddle.
The first Earl of Oxford and Earl Mortimer Robert Harley KG, was a career politician. It is argued in British political circles if in fact he was the first British Prime Minister, and not Horace Walpole, aka the Earl of Orford. The difference being Harley spent four years in service as the Premier Minister, Horace Walpole spent two decades. Variously held the positions of, Member of Parliament for Tregony,1689–1690; Member of Parliament for Radnor;1690–1707; Speaker of the House of Commons of England,1701–1705; Custos Rotulorum of Radnorshire,1702–1714; Northern Secretary,1704–1708; Chancellor of the Exchequer,1710–1711; Lord High Treasurer, 1711–1714 all in all twenty five years of service to his country.
Robert Harley came into office with the same income he roughly started with. However much of the second Earl's money (Edward Harley) went to extending his father's collection of books and manuscripts. The manuscripts, which his widow sold to the nation in 1753, formed one of the British Museum's foundation collections, a fitting monument to Robert Harley and his family.
Edward Harley had no issue (children) the titles of Earl of Oxford and Earl of Mortimer, passed to his cousin, also named Edward Harley. The titles became extinct in 1853 with the death of Alfred Harley the 6th Earl of Oxford and Mortimer. He had no children, nor were there any other Harley males to pass the line to.
Places associated with Harley:
Hereford, London, Parliament, House of Lords, Windsor, Bishopric of Hereford, Tower of London,
Knights of the Garter Chapel Windsor Castle. Brampton Bryan Castle, Tregony, Radnor, Westminster Abbey, and Shropshire.
Royalty and other famous names associated with Harley:
Oliver Cromwell, Queen Anne, William of Orange, James I, John Churchill 1st Duke of Marlborough, Henry St John, 1st Viscount Bolingbroke, George I, De Veres family,-Earldom of Oxford by marriage to a daughter of, Foley, Middleton, Holles, 1st Duke of Newcastle, Vaughan, 1st Marquess of Westmeath, Nugent, Jonathan Swift, Duchess of Portland.
Blazons & Genealogy Notes
1) Notes: (Earl of Oxford; created 1711, extinct 1853). Motto—Virtute et fide. Blazon: Or, a bend cotised sa. Crest—A castle triple-towered ar. out of the middle tower a demi lion issuant gu. Supporters—Two angels ppr. habited and wings displ. or.
2) Notes: (Thomas Harley, Bishop of Hereford, 1553-54, arms in the west window of Magdalen College, Oxford. Visit. Oxon, 1574). Blazon: Or, on a bend double cotised sa. a fleur-de-lis of the field, a border engr. gu.
3) Notes: None. Blazon: Ar. three piles sa.
4) Notes: None. Blazon: Ar. two palets sa.