Harlow Family Crest, Coat of Arms and Name History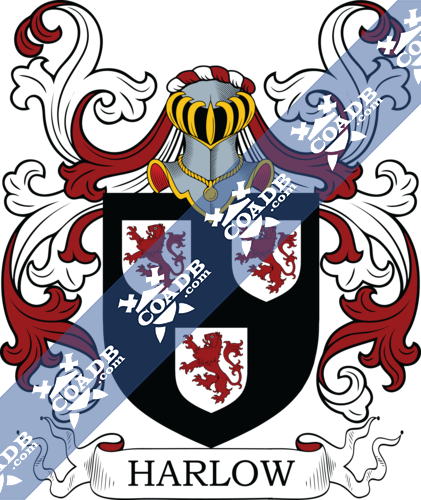 Harlow Coat of Arms Gallery
Don't know which Coat of Arms is yours?
We can do a genealogical research. Find out the exact history of your family!
Learn More
HARLOW
The Anglo-Saxon Harlow surname is habitational as it lends its self to many locations around England from Yorkshire, to Essex, to Northumberland. The name comes from the medieval English compound word "haerhlaw", Broken down the prefix "haer" translates to heap of rock or stone and the suffix "hlaw" translates to hill.
The variations in the spelling of the surname includes; Harlow; Harlowe; Harrlow; Harrlowe; Arlow; and Arlowe among others. The variations in spelling of surnames dating back to ancient times can be attributed to a lack of consistency regarding guidelines for spelling in use by the scribes who recorded such information, many of which were in the habit of spelling phonetically. The issue of multiple spellings of names in records was compounded by the diversity of languages in use in European countries at this time.
Until the mid to late sixteenth century, surnames were rarely if ever used. In the small settlements and villages which existed during earlier times in most of Europe, residents found little need for surnames as everyone in these communities knew each other and a given name would usually suffice. However, as communities grew and people began to migrate on a larger scale, along with the need of the government having a reliable way to track people for tax and census purposes, the aristocracy's penchant for using surnames seemed the appropriate evolution to this problem. In most instances to distinguish themselves, one from another, those not of the noble class would often be identified by their given name plus their occupation while others may have been identified by their given name and one of their parent's names.
There was a limitless supply from which surnames could be formed, in addition to the use of patriarchal or matriarchal names, or reference to the individuals occupation, there were things such as defining physical traits, a familiar geographical location or a topographical landmark found near the individual's home or birthplace, the name of the village in which the person lived, and so much more. Over the course or time, surnames would come not just to represent an individual but whole families.
One of the earliest record of any variation of this surname is that of Osbern de Herlaye which appears in the Suffolk tax rolls from 1121. The tax rolls, were a series of census and tax records kept by the English Treasury by order of King John, with the oldest dating back over seven hundred years to the 12th century. These documents are considered the oldest concentric set of records detailing English governance in the United Kingdom spanning a period of over seven centuries.
With the discovery of America and the addition to the British Commonwealth of countries such as Canada, Australia, and New Zealand, it was not long before people began to immigrate to these outlying areas. The use of surnames made tracking of immigrants easier. One of the first recorded immigrants to America bearing the surname was Anthony Harlow who landed and settled in Virginia in 1623. Stephen Harlow landed and settling in Virginia in 1642. William Harlow was one of the first settlers to Canada arriving Quebec in 1784. John Harlow was one of the early settlers to Australia, landing and settling in Adelaide in 1849. George Harlow arrived in 1851 and settled in Adelaide, Australia.
Worldwide, the highest concentration of people with the surname Harlow are found in the United States, the United Kingdom, Australia, New Zealand, and Ireland. By state, the largest percentile of those with the surname Harlow live in Maine, Kentucky, Virginia, Vermont, and Texas.
There are many notable people with the surname such as American born Chief Master Sergeant of the Air force Donald L. Harlow. Harlow was a veteran of World War II, was a distinguished graduate of Strategic Air Command Non-Commissioned Officer Academy, and he held the highest non-commissioned officer position in the U.S. Air Force.
American born Harry Harlow was a noted psychologist who was a pioneer in experiments regarding social isolation which showed the importance of companionship not only in social but cognitive development as well.
American born Jean Harlow was a film actress. Businessman, aviator, and filmmaker, Howard Hughes was credited with discovering her and giving her, her first major role in his picture Hell's Angles.
To receive a complete surname meaning report by PDF you can order our SURNAME MEANING PACKAGE for $129.   This report is great to share with family and friends.  It includes everything you see above plus any other information we can find on the specified surname.  It does take approximately 10 to 15 days for us to complete this custom report.
To receive a direct lineage & coat of arms search for your specific line(s) you can order one of our GENEALOGY PACKAGES ranging in price from $249 to $999.   All research is completed by a professional genealogist with over 30 years' experience.  All reports and coat of arms files are sent by email in PDF and JPG format.
Blazons & Genealogy Notes
1) (co. Essex). Sa. three inescutcheons ar. on each a lion ramp. gu.
2) (Gray's Inn, London, and Preston, co. Northampton; granted 1629). Gu. a fesse vair betw. six billets or. Crest—A cinquefoil or, issuing from betw. the horns of a crescent vaire.
3) Per saltire or and az. two martlets in pale and as many cinquefoils in fess all counterchanged.
4) Per saltire or and az. on a chief of the first a martlet of the second, charged with a cinquefoil gold.