Hart Family Crest, Coat of Arms and Name History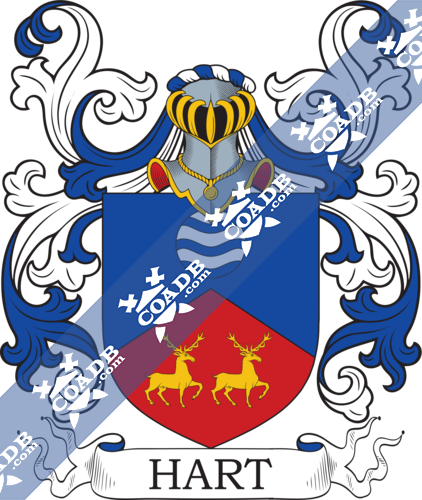 Hart Coat of Arms Gallery
Don't know which Coat of Arms is yours?
We can do a genealogical research. Find out the exact history of your family!
Learn More
Meaning, Origin, Etymology
The surname of Hart is a German, English, Jewish and Irish surname.  The German variant spelling of Hardt 1 and 2. Jewish (Ashkenazic): ornamental name or a nickname from German and Yiddish hart 'hard'. Irish: Anglicized form of Gaelic Ó hAirt 'descendant of Art', a byname meaning 'bear', 'hero'. The English name became established in Ireland in the 17th century.  There is a manor named Hert which is one of the variant spellings in Durham and it was mentioned in 1288 and in 1296 when Cristina the widow of R. de Brus, Lord of Annandale, was dowered there. The name can be found in the center and east of England in Leicestershire, Cambridgeshire, and Suffolk. Toward the north of England in the county of Durham and in the North and East Ridings, but can also be found in Gloucestershire and Wilts.  The name itself has many different origins perhaps from the numerous Harts that immigrated from England and Germany and many Jewish families carry this surname. The English version is from the name of a male ancestor and it refers to a "stag" or "deer" or "hart". The German versions mean "strong man" and the Jewish version originates from the family name of Hart or Hartman and is a patronym for Naphtali whose kinnui Herz (Harz) or Hirsch that means "deer" or "hart".  A male deer is a common charge of heraldry. Its medieval form as a surname is ' Le Hart.' We have a large importation of Harts from Germany, where the word implies hard, stiff, rude, or severe. The Old Norse version Hjörtr; A. Hjerta; from the Danish, Harth; from the Dutch, Hart; from the German, Hart, Herte; in the Domesday Book, Artor, Hard; a personal name.
Spelling Variations
Hart, O'Hart, Harte, MacArt, McArt, MacCart, McCart, Hartt, Heart, Hurt, Hort, Harts, Herz, Hirsch, Hardt, Hartog, Hartwig, Hartwick, and Hartig.
Popularity & Geographic Distribution
The last name Hart ranks 1,814th  in popularity worldwide as of the 2014 Census and approximately 306,516 people carry the Hart surname worldwide. The name ranks particularly high in the following six states:  California, Texas, Florida, New York, Georgia, and Ohio. It ranks highest in the following countries: United States (178,006), England (42,408), Nigeria (20,786), Australia (16,780), Canada (13,998) and South Africa (8,254).
Early Bearers of Surname
Early bearers of the surname Hart include Roger Hert 1166 in Pipe Rolls (Norfolk), Reginald Hurt 1185 in Templars Records (Beds), Simon le Hert 1197 in Feet of Fines (Kent), Godrich 'le Hurt 1220 in Book of Fees (Berks), Richard Hort 1221 in Assize Rolls (Warwicks), Willelmus Hert 1377 in Poll Tax (Colchester, Essex), Jul Hertes 1379 in Poll Tax (Colcester, Essex), Jul Hertes 1379 in Poll Tax (Faulston, Wilts), Thomas Herte 1482 in Feet of Fines (Canterbury, Kent), Jn. Hart 1473 in Parish Registers (Ilsington, Devon), Richard Hart 1545 in PROB II (Saint Nicholas, Gloucs), Alice Heart 1628 in PROB II (Puddletown, Dorset), John Hurt / Hart 1632 in PROB II (Saint Saviour, Southwark, Surrey), Mary Hart 1775 in Great and Hambro Synagogue Births (London), Martha Hart 1810 in New and Hambro Synagogue Records (London), Louisa Hart 1816 in New and Hambro Synagogue Records (London), Abraham Hart 1822 in Cemetery Scribes (Hackney Jewish Cemetery, Middx), Benjamin Hart 1827 in Cemetery Scribes (Brady Street Jewish Cemetery, Middx), Hyman Hart in Census 1881 (Whitechapel, Middx), and Aaron Hart 1887 in Cemetery Scribes (Willesden Jewish Cemetery, Middx)
Early American Immigration and New World Settlers
Some Hart settlers in the United States in the 17th, 18th and 19th centuries included Josyas Hart who arrived in 1623 in Virginia, Edmund Hart who arrived in 1634 in Weymouth, Massachusetts, Chri Hart who arrived in 1635 in Bermuda, Simon Hart who arrived in New York in 1709, Ulerich Hart who arrived 1740 in Pennsylvania, Hartley Hart who arrived in 1804 at the young age of 17 in New Castle, Delaware, Theodorus Hart who arrived in 1809 in New York, and Isaac Hart who arrived in 1817 in Baltimore, Maryland.    In Canada in the 18th and 19th centuries there were Jeremiah Hart who arrived in 1749 in Nova Scotia, John Hart who arrived in 1750 in Nova Scotia, Robert Hart who arrived in 1773 in English Harbour, Daniel Hart who arrived in 1833 in Saint John, New Brunswick and Jane Hart who arrived in 1833 in Saint John, New Brunswick. As for Australia and New Zealand in the 19th century we find John Hart an English convict from Middlesex who was transported on April 1, 1822 to New South Wales, Australia, Samuel Hart an English convict from Berkshire who was transported on April 4, 1829 to New South Wales, Australia, Edward Hart who arrived in 1841 to Wellington, New Zealand, and George Hart who arrived in 1850 to Wellington, New Zealand.
Genealogy
To find out which Coat of Arms above is associated with your direct lineage see the Which One is Mine? page.
Mottoes
Audacter tolle. Carry Stoutly.
CoeurJidele. A faithful heart.
Deo adjuvante vincam. God helping I shall conquer.
Parat usum. It prepares to use it.
Qui perde la fog e n'a plus de perdre. Who loses faith has no more to lose.
Via una cor unum. One way one heart.
Grantees
HART TO THOROLD., of Harmston, co. Linc., and Middle Temple, London, 182., Vol. XXXII, fol. 16.
HART, LIEUT.-COL. ARTHUR FITZROY, C.B., East Surrey Regiment, 1883, Vol. LXII, fol. 145.
HART, SIR ISRAEL, of Ashleigh, Knighton, co. Leic., 1896, Vol. LXIX, fol. 40
HART, SIR ROBERT K.C.M.G (4/17/1882), G.C.M.G (5/24/1889) BART. (1893), Vol. LXVII, fol. 221; Supporters, Vol. 247
HART, S.H., of Hillingdon House, Sutton, co. Surrey, 1890, Vol. LXV, fol. 217
Notables
Carole Hart (1943-2018), American two-time Emmy Award-winning writer and television producer, known for her work with Sesame Street and for For the Next 7 Generations (2009), Hot Hero Sandwich (1979) and NBC Special Treat (1975)
Grantzberg Vernon Hart "Grant" Hart (1961-2017), American musician, drummer and co-songwriter for the band Hüsker Dü
Smith Stewart Hart (1948-2017), American-Canadian professional wrestler and a member of the Hart wrestling family
James "Jim" Ray Hart (1941-2016), American Major League Baseball third baseman who played for the San Francisco Giants and the New York Yankees from 1963 to 1974
Al Hart (1927-2016), American radio broadcaster, inducted into the Bay Area Radio Hall of Fame in 2006
Jane Briggs "Janey" Hart (1921-2015), American aviator and widow of the late Senator Philip A. Hart, one of only 13 women (the Mercury 13) to qualify as a NASA astronaut
Brigadier-General William Lee Hart (1881-1957), American Surgeon 4th Corps Area (1940)
Lieutenant-General Charles Edward Hart (1900-1991), American Commanding General Army Air Defense Command (1957-1960)
Terry Jonathan Hart (b. 1946), former NASA Astronaut with 168 hours in space
Wilbert Hart (b. 1947), American soul singer and writer who with his brother William formed "The Delfonics", the famous Philadelphia soul singing group, popular in the late 1960s and early 1970s
Blazons & Genealogy Notes
1) (Lullingstone Castle, co. Kent; originally of Westmill, co. Hereford, where Stephen Hart was seated, temp. Edward III. John Hart, Esq., of the Middle Temple, m. Elizabeth, only sister and heiress of Sir John Peche, of Lullingstone, a Knight Banneret, and Lord Deputy of Calais, and had a son and heir. Sir Percival Hart, Knt., of Lullingstone, ancestor of the Harts, of Lullingstone, whose eventual heiress, Anne, only dau. and heiress of Sir Percyval Hart, Knt., of Lullingstone, M.P. for Kent 9 and 12 Queen Anne, m. first, John Bluet, Esq., of Holecomb Regis, co. Devon, by whom she had no issue; and, secondly, Sir Thomas Dyke, Bart., of Horeham, co. Sussex). Per chev. az. and gu. three harts trippant or. Crest—A lion's head couped erm. ducally crowned gu.
2) (Yarnacombe, co. Devon; seated there prior to 1640). Gu. a bend betw. three fleurs-de-lis ar. quartering Prowse, sa. three lions ramp. ar. langued and armed gu. Crest—A fleur-de-lis ar. issuing from a cloud ppr. Motto—Deo adjuvante vincam.
3) (Chester Herald, d. 16 July, 1572). Gu. a fesse betw. three fleurs-de-lis ar.
4) (Boston, co. Lincoln). Ar. three lozenges az. each charged with an escallop or. Crest—A stag's head erased, with an oak branch in the mouth all ppr.
5) (Lord Mayor of London, 1589). Sa. a chev. ar. betw. three fleurs-de-lis or.
6) (London). Gu. on a chief indented or, three human hearts of the first.
7) (co. York). Sa. a chev, or, betw. three fleurs-de-lis ar.
8) (London). Per chev. az. and gu. in chief two bucks drinking ar. attired or, in base a well of the third.
9) (Highgate, co. Middlesex). Gu. a bend betw. three fleurs-de-lis ar.
10) (Hampton-Wick, co. Middlesex) Sa. a bend engr. betw. three fleurs-de-lis or. Crest—A buck pass. ppr.
11) (Grimmons). Gu. on a chief ar. three harts of the field. Crest—A hart's head ppr. Motto—Via una, cor unum.
12) Per chev. gu. and az. three bucks or. Crest—A lion's head erased erm. ducally crowned or.
13) Per chev. az. and gu. in chief a fountain, in base two hearts counter-trippant or.
14) Ar. three bucks' heads couped sa.
15) (Fun. Ent. of Mrs. Rose Legge, alias Hart, widow of Robert Legge, buried at St. Michael's, Dublin, March, 1607). Gu. a bend betw. three fleurs-de-lis ar.
16) (Fun. Ent. of Capt. Pierce Hart, buried at St. John's Church, Dublin, 9 Sept. 1664). Gu. a chev. erm. betw. three fleurs-de-lis or.
17) (Kilderry, co. Donegal). Ar. a bend betw. three fleurs- de-lis gu. Crest—A heart inflamed issuant out of a castle triple-towered ar. Motto—Coeur fidele.
18) (Scotland). Vert on a saltire or, a trefoil gu. on a chief of the second a crescent betw. two stars of the first.
19) (Baltully, co. Fife). Gu. on a chief ar. three hearts ppr. Crest—A dexter arm grasping a spear all ppr.
20) (Edinburgh, 1773). Ar. two hearts inflamed ppr. Crest—A dexter arm grasping a scymitar ppr. Motto—Fide et amore.