Hatch Family Crest, Coat of Arms and Name History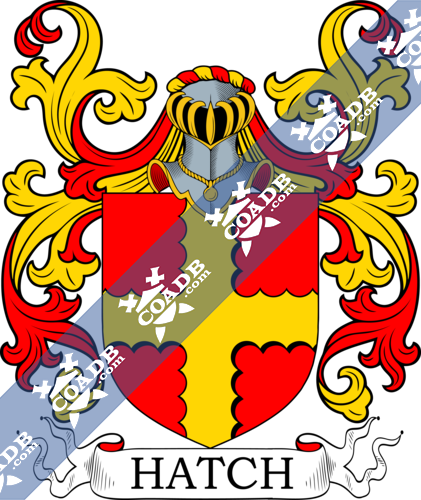 Hatch Coat of Arms Gallery
Don't know which Coat of Arms is yours?
We can do a genealogical research. Find out the exact history of your family!
Learn More
Hatch Origin:
England
Origins of Name:
The Hatch surname derives from English geographical locations such as Hatch in Hampshire, Bedfordshire, Wiltshire, and Somerset. The name is a derivation of the Old English word "haecc" which means a gate. Normally fishermen would erect stakes and piles in rivers to increase their chances to catch fish. Also used to describe a forest gate which prevented deer from escaping a park. The name could also have been used to describe someone who lived near a hatch or a gate.
Variations:
More common variations are: Hatche, Hatchi, Hatcha, Hatchu, Haitch, Hatchy, Hatcho, Hautch, Haytch, Hatchh
History:
England:
The Hatch line goes back to medieval times when the family was medieval lords in Cornwall some time before the Norman Conquest.
The first instance of the name geographically was recorded in 1086 in the Domesday Book as "Heche" in Hampshire near Basing.
The first known recorded spelling of the name is Gilbert ad Hacie in 1185 in the Knights Templars Records of Essex. Jeffery de Hatch was born around 1200 and lived in Wolly, Devon.
Adam del Hach was recorded in 1221 in Norfolk in the Bok of Ely. Henry Hache was recorded in 1230 in Suffolk in the Pipe Rolls. Walter ate Hacche was recorded in 1297 Cornwall in the "Minister's Account of the Earldom".
The surname Hatch is the 1828th most common name in Great Britain. The highest concentrations are in Derby, Oxfordshire, and Cheshire.
Ireland:
The name first appeared in Ireland in the 17th century in County Meath and Louth. The Hatch line of Ardee Castle in Louth, Ireland has the same coat of arms as the Devonshire and Cornwall families.
Canada:
In the 18th century, Christopher Hatch would settle in New Brunswick via Boston Massachusetts.
Chester Hatch would be the first Hatch to arrive in Canada in the 19th century, in 1829. However, it is not known where he would settle his home.
United States:
Thomas Hatch left England in 1619 on the ship "Duty" and settled in James City, Virginia. He was a muster of the famous George Yeardley who was three-time Governor of the Virginia Colony.
Four years later, in 1623 Rebecca Hatch arrived in Virginia as well. 7 years later in 1630, Phillip Hatch would live in the state of Maine. A large family of Hatches arrived in 1634, when William Hatch came to Boston Massachusetts with his wife and his five children
In the 18th century, Rota Hatch arrived in Virginia in 1714. Three years later Mary Hatch landed in Virginia in 1717 as well.
In the 19th Century, Captain Hatch would move westward and settle in San Francisco in 185. That same year Alfred Hatch arrived from England to Indiana. One year later, two brothers, Charles Hatch and Ignacio Hatch would go west to San Francisco. Finally near the turn of the century, in 1897 James Hatch settled in Arkansas.
The Hatch surname is the 1,262nd most popular name in the United States. It is more common in the Western states, and notably almost absent in the southeast. The Hatch surname is common today in Idaho, Utah, Maine, Vermont and Massachusetts.
Here is the population distribution of the last name Hatch:
32,000 in the United States, 3,000 in England, 2,000 in Canada, 1,000 in Australia, 500 in South Africa
Notable People:
A. Gould Hatch (1896 – 1970), New York politician. Born in New York, A Gould Hatch entered the insurance business and eventually became a politician for the Republican party. He was a member of the New York state Senate, and finally a clerk of Monroe County.
Carl Hatch (1889 – 1963), U.S. Senator from New Mexico. He was a member of the Democratic Party, and later became a United States federal judge.
Edward Hatch (1832), American general. Edward Hatch was a member of the Union Army during the American Civil War. Afterwards he became a commander of one of the first regiments of African-American troops.
George C. Hatch (1919 – 2009), American businessman. George Hatch was one of the early pioneers of cable television. He was a preservationist of outdoor wilderness lands in the western United States.
Israel T. Hatch (1808), U.S. Representative. He was a Democrat elected to the 35th Congress. His half-brother was the tenth Governor of New York, Enos T Throop
Sidney Hatch (1883), an American athlete. He won the silver medal for the 4-mile team race in the 1904 summer Olympics. He was famously known as finishing every marathon he ran in back then.
Blazons & Genealogy Notes
1) (co. Devon). Gu. two demi lions pass. guard. or. Crest—A lion's head cabossed ar.
2) (Windsor, co. Berks). Gu. two demi lions pass. guard. couped or. Crest: A boar's head.
3) Or, a cross engr. gu. (another, the tincture reversed). Crest—A flag in bend.
4) Gu. a cross engr. or.
5) Sa. two demi lions pass. guard. or.
6) (Busulstock, co. Cornwall; Christopher Hatch, descended from Jeffreyy Hatch, temp. Edward III. Visit. 1620). Gu. two demi lions pass. or.
7) (Sutton, co. Surrey). Gu. two demi lions pass. guard. couped in pale or. quartering the arms of Cliffe, viz., quarterly, 1st and 4th, ar. on a fesse betw. three wolves' heads erased sa. as many mullets or; 2nd, ar. on a bend cotised sa. three mullets of the first; 3rd, az. fretty ar. a bordure engr. or. Crest—A demi lion ramp. or, betw. the paws a sphere, a cross pattee fitchee stuck therein.
8) (quartered by Berry, of Croscombe and Chittlehampton, co. Devon. Visit. 1620). Gu. two lions pass. guard. ar. a border engr. or.
9) (Auler and Chittlehampton, co. Devon; Thomas Hatch, Esq., of Auler, m. the dau. of Sir John Chichester, Bart., of Raleigh. Visit. Devon, 1620). Gu. two demi lions pass. guard. or.
10) (Ardce Castle, co. Louth; confirmed to William Hatch, M.D., grandson of Thomas Hatch, Esq., and descendants). Motto—Fortis valore et armis. Gu. two demi lions pass. guard. couped in pale or, on a chief ar. a cannon mounted ppr. Crest—A demi lion ramp. or, armed and langued gu. charged on the breast with a pile of shot ppr. and holding in the paws a staff also ppr. thereto affixed a flag ar. charged with a cross of the second.